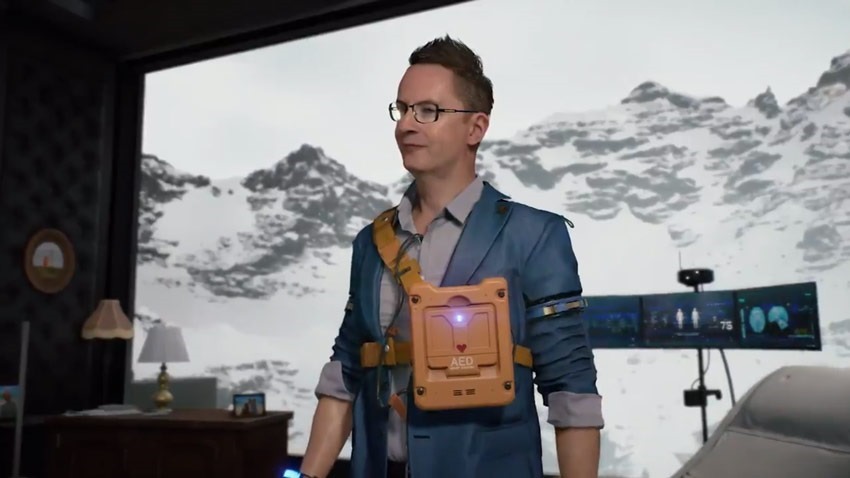 Is Hideo Kojima a genius? A visionary, light years ahead of the curve? Overrated and only interested in meeting famous Hollywood personalities so that he can place them inside of his video games? The jury may still be out on Hideo Kojima and his career, but I'll say this much about him: He's never boring. While some games may be more hit than miss, Death Stranding is shaping up nicely what with its legendary hype marketing machine detailing a postal-apocalyptic world wherein you have to guide that fella from The Boondock Saints through treacherous terrain for…reasons.
While Norman Reedus may be the face of Death Stranding, he's not the only famous name in the game as Mads Mikkelsen, Lea Seydoux and Guillermo del Toro all pop up within Kojima's grand tale of life and death. Here's another name for the list: Nicholas Winding Refn, who'll appear as Heartman and sadly isn't some loonie running around ripping hearts out of people like a deranged Mortal Kombat cosplayer.
Heartman works between life and death itself, as the scientist literally dies every 21 minutes and then relies on an automated external defibrillator to revive him. Between resurrections, Heartman spends around three minutes in the afterlife as he seeks the true meaning of death within the purgatory of Death Stranding. Mental stuff:
There's still so much that we don't know about Death Stranding, its themes of connection and life ahead of its November 8 release on PlayStation 4. "People have created "Walls" and become accustomed to living in isolation. Death Stranding is a completely new type of action game, where the goal of the player is to reconnect isolated cities and a fragmented society," Kojima said to The Verge back in May.
It is created so that all elements, including the story and gameplay, are bound together by the theme of the "Strand" or connection. As Sam Porter Bridges, you will attempt to bridge the divides in society, and in doing create new bonds or "Strands" with other players around the globe. Through your experience playing the game, I hope you'll come to understand the true importance of forging connections with others.
Although if there's one thing that the game has taught me so far, it's that you should never pack a replica pod-baby inside of your carry-on luggage unless you want to get stopped by a very concerned officer at customs in an American airport.
Last Updated: July 29, 2019