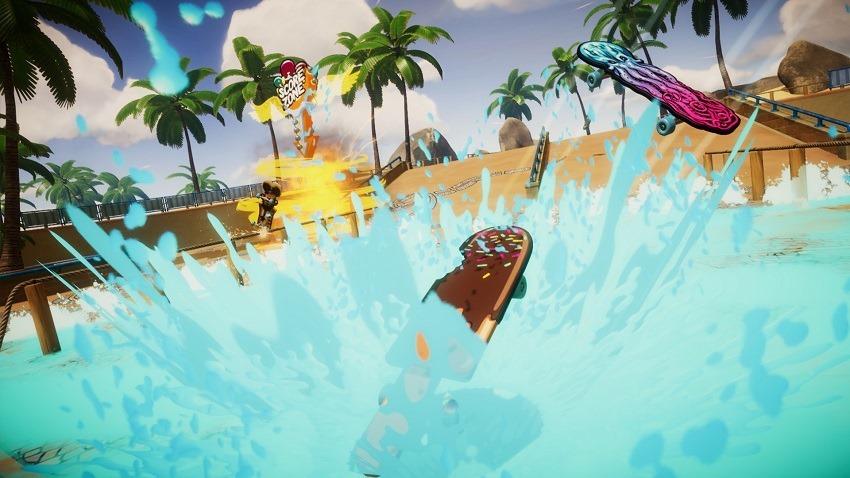 I've been slowly getting back into Splatoon these past few weeks after the announcement of its sequel got me itching to play it again, and its reminded me just how different turf-based multiplayer can be from the rest of the pack. Painting an area takes preference over killing foes, and it switches up the flow of play in some unique ways. Decksplash, a new title from surgeon Simulator developers Bossa Studios, understands this – but they're trading out squid kids for some far out decks instead.
It's often easy to make mash-up comparisons when it comes to describing videogames, but with Decksplash it's hard not to. It's a 3v3 online multiplayer title, where each player takes control of a ridiculous skateboard deck (with no human attached, which is important) and attempts to paint the park with splashes of colour to win. Think Tony Hawk's similar tagging mode from back in the day, but with the colour and ridiculousness that is Splatoon's inky guns and area of attack.
Considering Bossa are professionals at making games that purposefully control badly, it's not clear yet if certain elements of that design have permeated Decksplash just yet. What I will say is that while the decks are all incredibly well designed, not having a human avatar on top just looks so strange on first impressions. Nailing that grind to kickflip to manual isn't as satisfying when you know that failing it won't reward you with the bone crunching agony of your poor skater, but perhaps Bossa have other ideas around that integral part of every skateboarding classic.
Irrespective, Decksplash looks like a delightful distraction from the drab, and a possible time sink should its gameplay be as captivating as some of the inspirations it's drawing from. It's out on Steam Early Access a little later this year, but you can sign up for Alpha testing now if you like.
Last Updated: January 25, 2017