I'm kind of excited for you guys who jam on PC. You're not just getting Destiny this month: You're getting your first proper taste of it outside of a beta format. People to meet! Places to go! Cabal to shoot in their ugly fat faces! More than that, I have a feeling that Destiny 2's Crucible will strive on PC. It's tight, the four on four format keeps the action manageable and it has a focus on team-based action now, a far cry from its single-player that gives a solo player multiple moments of glory.
October 24 ain't so far away. But is your PC ready to handle Destiny 2 at its best? As a reminder, here's what the game looks like with every setting cranked to the max:
And again, with every setting down like a clown with the downs:
If you want to hit that 4K sweet spot, you're going to need some hefty hardware. Also around 68 gigglebytes of hard drive space to store everything on. Here's the list of final PC settings, via Bungie:
MINIMUM
CPU: Intel
Intel Core i3-3250 3.5 GHz or
Intel Pentium G4560 3.5 GHz
CPU: AMD
GPU: NVidia
Nvidia GeForce GTX 660 2GB
GTX 1050 2GB
GPU: AMD
RAM:
RECOMMENDED
CPU: Intel
Intel Core i5-2400 3.4 GHz or
i5 7400 3.5 GHz
CPU: AMD
AMD Ryzen R5 1600X 3.6 GHz
GPU: NVidia
Nvidia GeForce GTX 970 4GB or
GTX 1060 6GB
GPU: AMD
RAM:
So when do the servers go live? Locally, you can expect to log in at 19:00PM, watch the servers crash, swear at your monitor, reset and log back in properly again about five to ten minutes later. Here's a handy dandy map for you to set your watches to. Click to embiggen: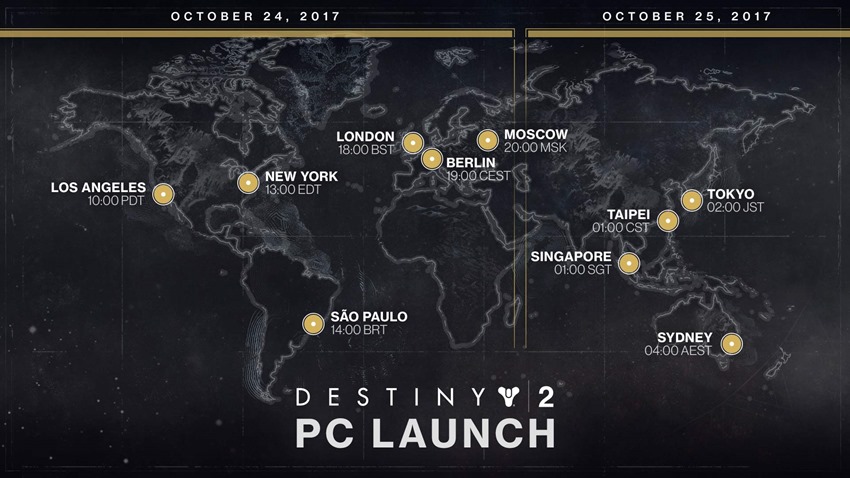 Eyes up Guardians.
Last Updated: October 13, 2017