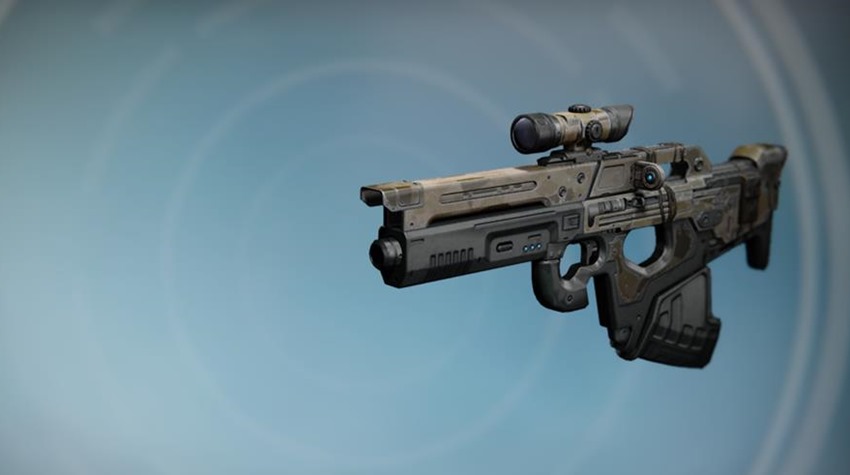 If you were ever in the market for a Jack of all trades gun in Destiny 1, then the MIDA Multi-Tool was a gift from the heavens. A scout rifle that was capable of tremendous damage in the right hands, ol' MIDA was a mainstay in PVP and a reliable backup in PVE scenarios. In Destiny 2, mighty MIDA (Mooooo) is back with a fresh coat of paint.
Naturally, you want it. Here's how.
Some spoilers possibly below, so before you start this quest make certain that you've dinged level 20 and have finished the main campaign. Steps after that are:
All EDZ story missions must be complete after the main campaign
Devrim Kay will reward you with the MIDA Mini-Tool
Vist Banshee-44 at the Tower to get the Sight, Shoot, Repeat quest
With a scout rifle equipped, get 50 precision kills, as well as 25 kills without reloading
Return to Banshee-44 to get the Under the Hood quest
Now you'll need to dismantle five rare (blue) or Legendary (Purple) scout rifles
Return to Banshee-44 to get the Fall Will Kill You quest
Get 50 kills with an SMG while airborne
Return to Banshee-44 one more time to pick up your brand spankin' new MIDA Multi-Tool
Destiny 2's MIDA doesn't stray too far from the original. It's a sharpshooter's wet dream, able to land headshots with perfect accuracy and perk your movement speed  up while giving you a more detailed radar. In the hands of someone who enjoys killing from afar, the MIDA Multi-Tool is deadly. Here's a full list of its perks:
Kinetic Damage – This weapon causes kinetic damage.
Soft Ballistics – Less recoil.
CQB Ballistics – Greatly reduced recoil.
Smart Drift Control – Predictable and controllable recoil.
Third Eye – Radar stays active while aiming down this weapon's sights.
Lightweight – When held, this weapon grants +2 character Agility.
Quickdraw – This weapon can be drawn unbelievably fast.
Field Scout – Increases carried Ammo capacity.
MIDA Multi-Tool – This weapon boosts move speed and fires on a hair trigger.
Bring on the Crucible.
Last Updated: September 8, 2017