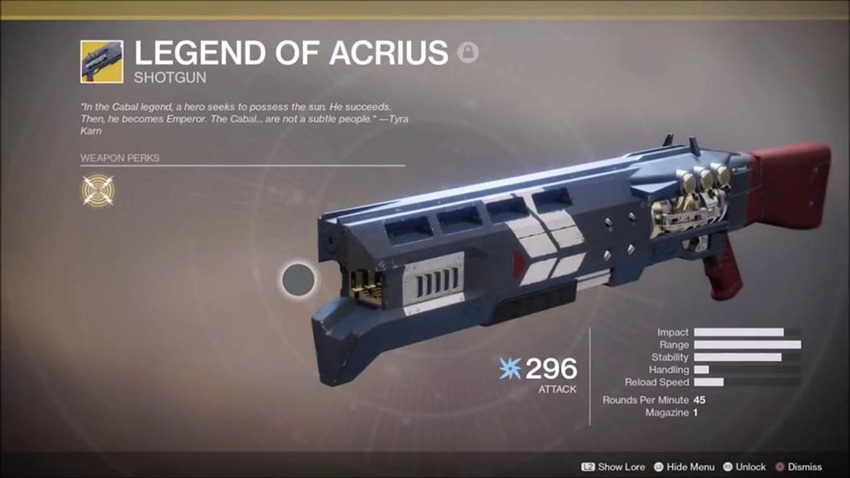 Destiny 2 is having a great launch month, bolstered possibly by the fact that it's capable of turning even the most stringent pacifist into a fan of firearms thanks to its stellar selection of weapons. Especially those of the exotic variety. By now, you've probably managed to get your hands on a few of them, such as fabled Hard Light, the delightful Sunshot or ol' faithful herself, MIDA Multi-Tool.
Want something a bit better in the shotgun category? Looking for a gun that shows just how good you are at Destiny 2 this early into its lifecycle? Well then prepare for the mother of all quests, as the Legend of Acrius is the one gun that everyone wants now that they have a Rat King. Here's how you can get it.
First thing's first, you'll need to have the basic groundwork sorted. Which means you'll need to have dinged level 20, while also having picked up the On The Comms item. Grabbing that item is easy enough, and you've probably already obtained it. If you haven't got a quest item sitting in your Power Weapon slot, just keep killing Red Legion on Nessus and you'll soon be sorted. There's a good chap.
Once you have On The Comms, keep killing Cabal until you've picked up enough of their Communication Ciphers. When you have that, the item will change to Await the World Eater, and you'll need to enter the Raid. Once you've completed the Raid (BY THE SKIN OF YER TEETH), you can head down and speak to Raid vendor Benedict 99-40.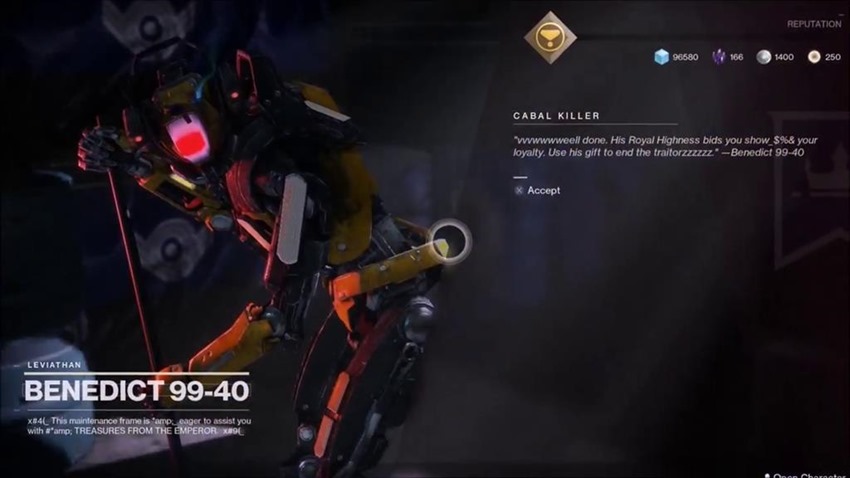 He'll hand you the End the Arms Dealer quest, which differs from the Strike of the same name as you now need to head to the EDZ and activate the new world quest on your map, around the Firebase Hades landing platform and the Legion's Anchor. This mission will run with Nightfall rules, as the clock ticks down and Prism is in effect. Pack plenty of elemental options for this mission.
Extra seconds on the clock can be gained by shooting at Anomaly Orbs to add 30 seconds at a time. Also, this is a prestige strike, so if you're anywhere under 300 Light Level, you might be in for a hard time. Maybe. With the Arms Dealer eventually defeated, head back to Benedict 99-40, where you'll then be given a new mission called Cabal Killer. That tasks you with using Legend of Acrius to:
Kill 25 Cabal
Kill 15 Cabal at close range
Kill many Cabal without reloading Acrius ten times
The last part of that quest requires you to make good use of the Intrinsic perk on Acrius, which can over-penetrate targets and kill anyone behind your primary victim in a single shot. With that mission done, you now need to head back to Benedict 99-40 where you'll be asked to complete His Highness's Seal. This means that you'll need to re-Raid, picking up 100 Emperor Seals in total. A Raid can award a maximum of 74 seals upon completion, for hitting certain actions within it.
With that done, you'll chat to Benedict 99-40 once again and guess what? You're still not finished. The final part of the Raid requires you to finish it on Prestige Difficulty, which usually results in the following quip from me:
The prestige option for the Raid isn't available yet, but it will be in a few weeks, as it will then finally allow the Acrius shotgun to achieve its maximum power. I'm starting to think that Acrius might be the new Thorn when it comes to mission objectives for an Exotic weapon. Still, if the end result is a shotgun which can take out scores of enemies with a single shot and at a decent range…I might be tempted to give it a run.
Last Updated: September 18, 2017