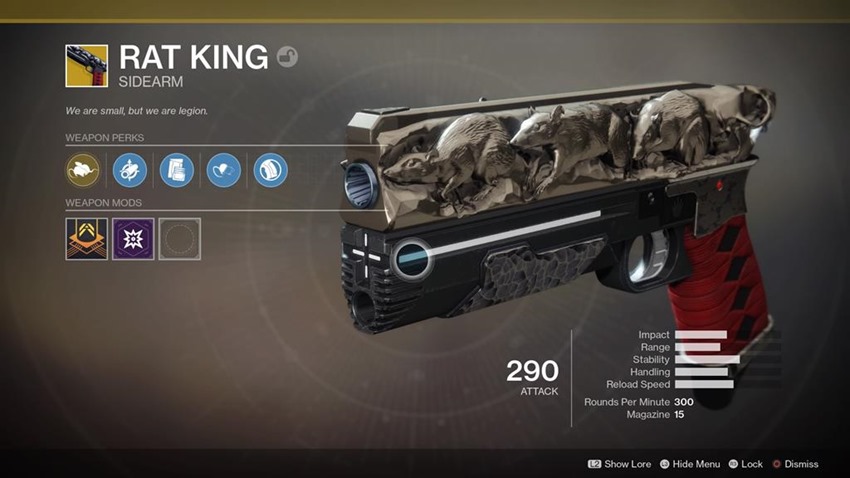 Destiny 2 may not be cranking out Exotic weapons to the tune that its predecessor did, but getting your hands on them isn't too tough. Whether it's by luck, timing or perseverance, grabbing a Sunshot or some Sweet Business isn't toot axing. Then there are those guns which require a bit more legwork. MIDA Multi-Tool can be grabbed within a day once you've done the setup for it, Sturm and Drang isn't too daunting and chances are that by now you've already earned an Exotic engram or two that has unlocked further beasts within your arsenal.
Then there are those guns which require you to experience Destiny 2 to its full. The Rat King is one such gun, a sidearm whose power grows exponentially when paired with other Guardians who also wield it. Getting your hands on the Rat King first requires a trip to Titan to complete some world quests, at which point you'll get the quest at the end of "Enemy Of My Enemy".
It's a quest wrapped in riddles, ones which are easy enough to solve. All you have to do is: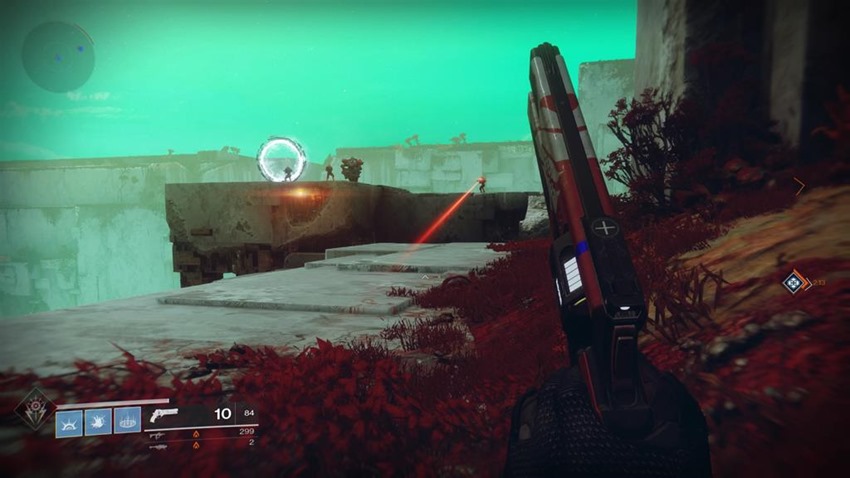 Complete three patrol missions
Complete two public events
Finish two matches in the Crucible
Beat the weekly Nightfall with at least five minutes to spare.
The catch here, is that you need to do all this with at least one other person in your fireteam. Not only that, but said person needs to also be busy with the Rat King quest. Alright, not too bad if you're in a clan and happen to be in regular contact with your fellow Guardians. The first three parts of the quest can be clocked in an easy 30-45 minute window, leaving you time to plan your assault on the deadly Nightfall strike.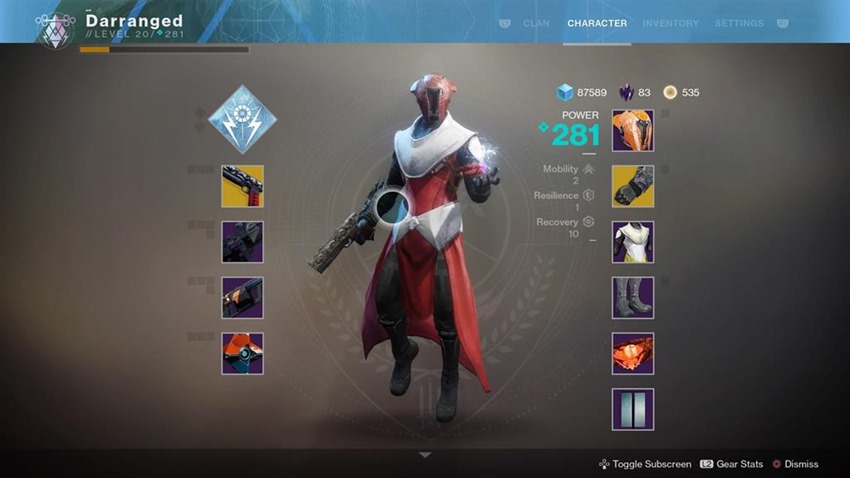 Worra bastard of a mission. Alessandro "Five More Minutes Turkish" Barbossa and I had spent our Saturday doing our prep work for the Rat King, with Sunday being our day for the Nightfall. I'd specifically avoided the first Nightfall for this quest, as the Arms Dealer strike even without Nightfall modifiers can still be a bit of a bastard to undertake.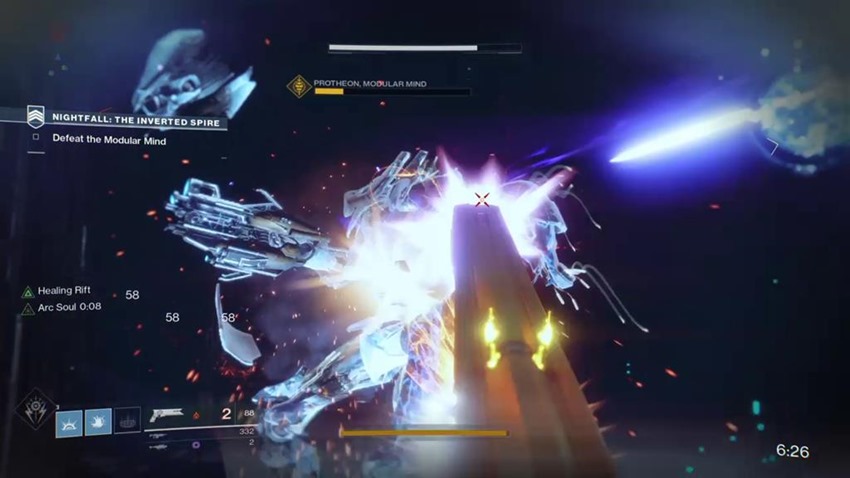 The Inverted Spire Strike was perhaps the best for the challenge ahead. Thanks to clanmate (and the living physical embodiment of Vanguard leader Zavala) Nikola who had done the Nightfall strike already, we had a guide. Remember, the Nightfall this week meant that ahead of us were tougher enemies, longer respawn times and the constant ticking of the clock. We had our work cut out for us.
Factor in the Prism modifier, and the mission got even harder. That requires the three of us to constantly keep track of which element was in play, as Prism cycles in one useful energy-type and nerfs the other two. That resulted in the team shouting out Solar, Arc and Void during the Strike, even resulting in Alessandro "I'm only 67 minutes late" Barbossa yelling back that he was doing his best to avoid the Cabal.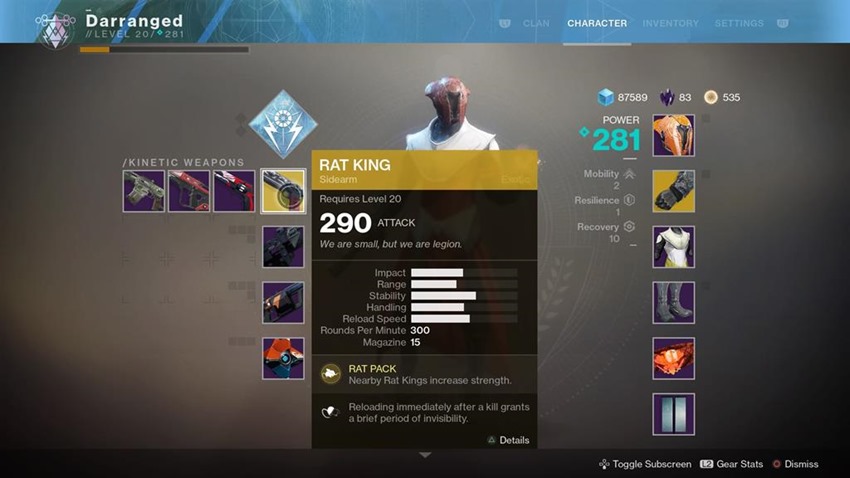 We had to restart twice, and then the old adage proved itself: The third time was the charm indeed. The three of us operated as a well-oiled machine, leveraging the prism effect with our supers and weapons to maximum effect while Sparrow-racing past every obstacle that we could. We reached the Vex temple, tackled the Modular Mind and with six minutes and ten seconds left on the clock:
We did it 🙂https://t.co/B07q6w8aT6 pic.twitter.com/W6qxdQ6ALN

— Darrestiny 2 (@Darrangedd) September 17, 2017
Rat King was ours. The preparation had paid off, the hard work shined through and the Modular Mind had its health bar depleted within two minutes by a well co-ordinated attack of Sunshot hand cannon rounds and Void RPG blasts, while the Warlock's Arc Soul rift bonus proved to be particularly devastating when the Prism modifier for that element kicked in.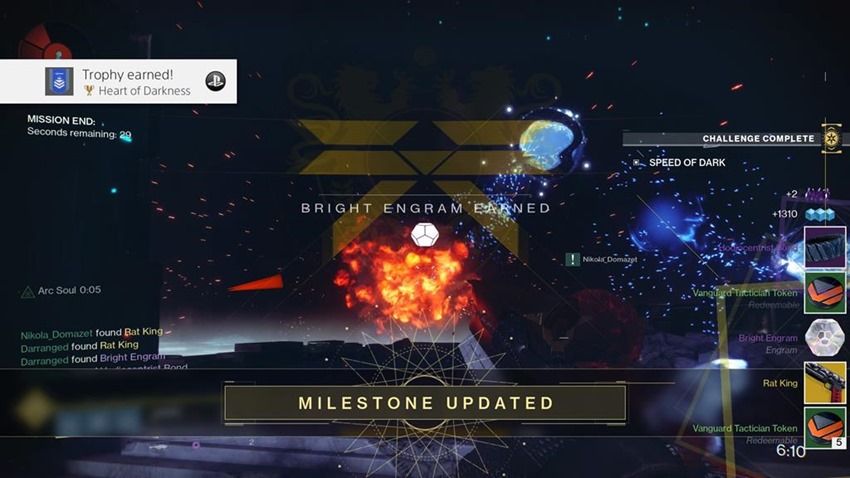 This was Destiny 2 at its finest for me. A few friends, facing the impossible and overcoming it together. Also, getting rewarded with a neat sidearm isn't too shabby either. Rat King is a handy Kinetic pistol with some perks that'll most likely come in real handy for the Leviathan raid. But the real treasure was friendship all along.
No wait, it was definitely the guns.
If you are interested in doing the quests feel free to join our clan and we will definitely be up for helping out
Last Updated: September 18, 2017