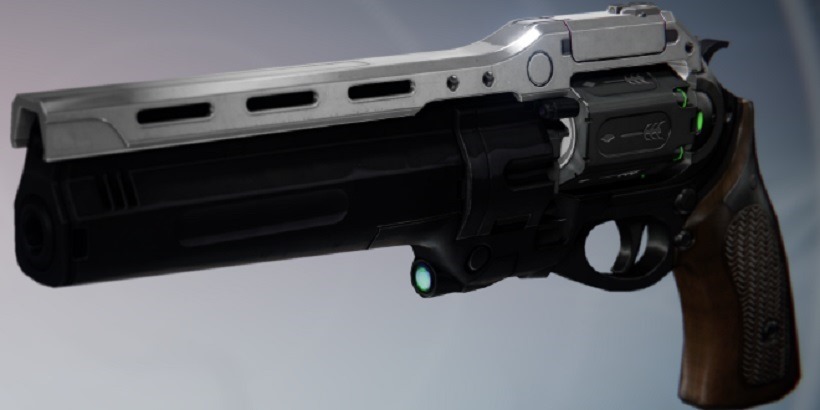 I freakin' love Exotic weapons in Destiny. It's not that they're useful and come with signature abilities. Hell, that barely plays into my poor decision-making skills, as my primary weapon right now is a Red Spectre that has been heavily-infused. No, it's the fact that these guns have stories attached to them.
Year two of Destiny has plenty of Exotics out there, waiting to be discovered, or if you were lucky, looted from the corpse of Draksis in the first week of the game. I love you Telesto fusion rifle. I love you so damn much when you spew void-damage energy grenades on to my enemies.
ANYWAY! Here's how you can get your hands on one of the latest Exotics, the First Curse.
First up, you'll need to reach rank 5 with the Gunsmith, Banshee-44. Afterwards, you'll be handed the Imprecation quest. Which consists of the following steps. And waiting. Lots and lots of waiting.
Step One
Get Hand Cannon kills with a Primary or Hand Cannon Telemetry active. Afterwards, go speak to Banshee at the tower. Top tip: Siege of the Warmind is as ever, a great quest to run through this step quickly, as that mission throws numerous waves of Hive Thralls your way.
Step Two
Wait for Tex Mechanica to drop off an Armsday delivery. Armsday is every Wednesday, so yeah, there'll be some waiting involved. Once Armsday rolls around, go speak to Banshee.
Step Three
Now the fun begins. You'll be handed a common field test hand cannon called Imprecation, that will need some infusing. Do so, and then hit the Crucible.
You'll need to earn Seven Kill Sprees (Any weapon), as well as Seven Precision Kill Sprees which works out to 3 kills where the death-dealing move is a headshot.
Step Four
Go speak to Banshee, and wait for Tex Mechanica to drop off an Armsday delivery. Again.
Step Five
Speak to Banshee once again, and you'll finally have your First Curse Exotic hand cannon.
So, is the First Curse any good then, and worth the two week wait? First Curse has poor range, fire rate, reload speed and only holds eight rounds in its chambers. When it comes to perks however, First Curse buffs those cons when you aim down the sights with the Deadeye ability.
The signature perk of First Curse, which is…First Curse, throws  increased range and stability into the gun after your first precision kill when aiming down the iron-sights.
Not exactly my kind of hand cannon to be honest. I'm a bigger fan of The Last Word with it's high rate of fire and bonus hip accuracy, while Hawkmoon has given me plenty of luck so far thanks to the Irish bullets in each chamber.
IceVenom on Reddit made the following chart, laying down the numbers of First Curse when compared to other popular Exotic hand cannons:

Still, collecting Exotics is part of the Destiny experience. And it's nice to have certain guns, just for bragging rights.
Last Updated: October 1, 2015