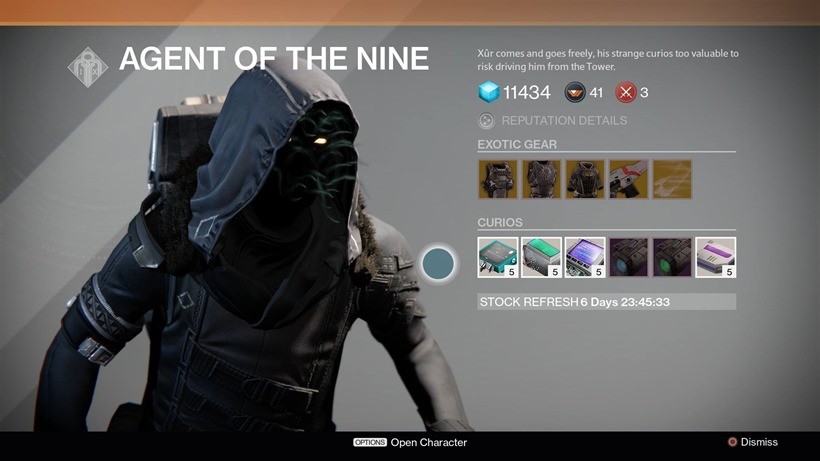 Pssst. Hey buddy. Yeah you. You looking to score? Maybe get a little piece of Hive action? Yeah, I hear ya. But if you want to get your hands on some of those Hive black wax candles, you're going to need some decent guns. And I got just what you're looking for! I got Telestos! I got the Last Word! Maybe a little Monte Carlo action to spice up your Strike-life?
Look, if you've got the Strange Coin, Xur can get you anything. Related to a gun. On a specific day. That may be maxed out at year one damage standards. Look, just buy something already…
This week, you can find the Agent of the Nine loitering around the Jukebox in the bar at the back of the hangar, on the Tower.
Here's what he has for sale this weekend:
Immolation Fists – Titan gauntlets – 13 Strange Coins
Don't Touch Me – Hunter gauntlets – 13 Strange Coins
Claws of Ahamkara – Warlock gauntlets – 13 Strange Coins
Exotic Engram: Body armour – 19 Strange Coins
Legacy Engram: Special weapon engram – 31 Strange Coins
Three of Coins – 7 Strange Coins
You've got until 9AM GMT on Sunday morning to earn some Strange Coins. Remember, Strange Coins are much easier to get your hands on lately. Just do a few daily bounties, encode a few engrams and you'll have more than enough for when Xur arrives on Friday. Have fun shopping!
Last Updated: November 20, 2015