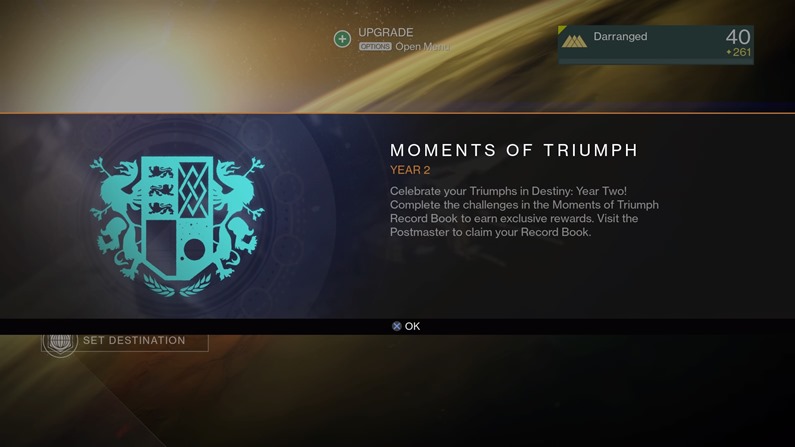 Say what you like about Destiny, Bungie's cosmic space-opera that happens to be the closest thing Firefly fans have ever seeing or hearing Nathan Fillion in space again, but it certainly isn't the kind of experience that holds your hand. There's always been a good challenge in the gunplay of Destiny as two years of fine-tuning have turned it into a balanced space adventure with a tight action core. Strikes and Raids represent the pinnacle of this challenge, but last year added an extra wrinkle: The Moments of Triumph.
A hit-list of the greatest tasks that Destiny had to offer, some of these labours were Herculean in scale and required actual teamwork to complete. Doing so didn't net much for a Guardian, save for that feeling you get when you realise that you just spent many hours shunning human contact for a digital banner reward. WORTH IT.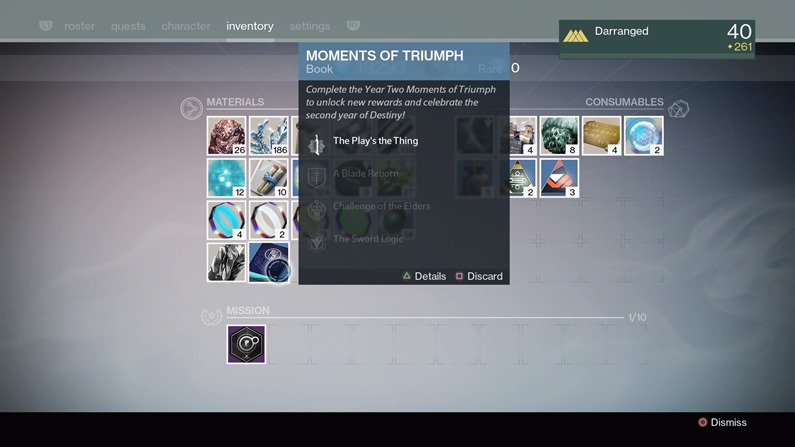 The Moments of Triumph returns this year so head on down to the Tower, visit the postmaster and you can get a record book to start filling up a scrapbook of tasks. You'll need to have the Taken King expansion to take part in the latest Moments of Triumph, with the system being tweaked so that every two challenges completed earns you a reward such as an emblem or a shader.
Triumph challenges include:
A Blade Reborn – Complete any of the Exotic sword quests from Shaxx
The Sword Logic – Defeat Oryx in the King's Fall Raid on Hard difficulty
The Play's The Thing – Complete the Taken King main questline, culminating in "Regicide."
This Is Amazing – Complete the Crucible questline culminating in "The Mountaintop."
Eris Morn's Revenge – Collect all 50 Calcified Fragments
Return To The Reef – Complete the April quests "At the Gates" and "Return to the Prison"
Challenge Of The Elders – Complete an Elder's Sigil scorecard in the Prison of Elders.
The Third Element – Equip a fully leveled Year Two subclass on any character.
And don't give me crap. That screenshot above is from my Warlock character, who I've finally started fine-tuning so that I can RIDE THE LIGHTNING! You've got until September 20 to complete the challenges, which is when year three kicks off with the Rise of Iron expansion. Check out the Bungie website for more info, and to see if you've actually completed a few of the challenges already.
Last Updated: July 8, 2016