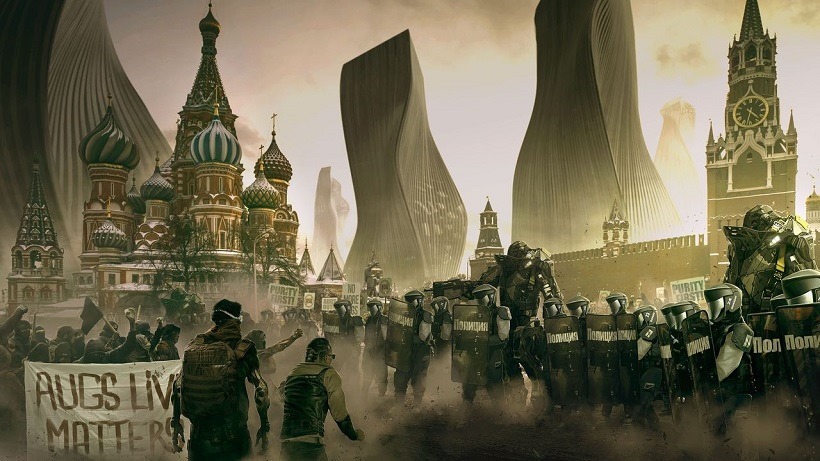 Deus Ex: Mankind Divided is coming out in just a few weeks, but it could go down in history not for what it achieves then but because of a series of blunders its marketing team is completely guilty of. Aside from the shoddy marketing of the game and it's early release (those who could afford it), the cyberpunk title has been criticised heavily in the past for its use of loaded terminology in marketing. "mechanical Apartheid" was the flavour of Deus Ex last year, but now it's all about "Augs Lives Matter".
Clearly taking reference from the Black Lives Matter movement (which was started around three years ago but has seen a resurgence in the last few weeks thanks to some horrible cases of racial profiling and police brutality in the United States), a new piece of Deus Ex promotional artwork features a rally of economically challenged augmented citizens. These people, as Eidos has painstakingly tried to tell us in the past, are the reason Mankind Divided has free access to the political terminology it uses – which is why they see no real reason with one bearing a sign reading "Augs Lives Matter".
The controversy was sparked as soon as the image hit social media, but it really reached boiling point when Mass Effect: Andromeda gameplay designer Manveer Heir took Eidos' executive brand director Andre Vu to task for it. Vu, responding to a series of tweets by Heir, called the incident an unfortunate coincidence – given that development of the game preceded the original Black Lives Movement formation. Which is ludicrous, since Eidos' don't want to be associated with the origins of the term either. So what are they saying then?
@manveerheir no u r just trying prob, these words were thought in our game way before the current events. Unfortunate coincidence for sure

— Andre Vu (@GeneralVu) 3 August 2016
It's clear that the term is trying to call to mind similarities between the plight of augmented citizens in the game and the real-life struggles of minorities with law enforcement almost globally, but Heir marks this as reckless. Speaking to Polygon, Heir explained that this single image taken out of context (which is incredible easy, given that the vast majority don't follow every piece of gaming news out there) has dire ramifications for not only the image Deus Ex is giving itself, but the one it is casting on the industry as a whole.
"I accept Mr. Vu's assertion that it was coincidental, but that doesn't negate my criticism. It is bad optics and marketing departments, of all departments, should understand optics and how to react to the current state of the actual world."
And it becomes a little more infuriating when you consider that Eidos themselves have said in the past that their entire stance on the political ties Mankind Divided shares with current, real-world events will be neutral. Back when "Mechanical Apartheid" was causing a fuss, Eidos was forced to assert their stance on the issue – which simply was that there was no stance. Mankind Divided isn't going to make any statements about it, with Eidos simply "holding up a mirror" to society. As they told Polygon in June:
"Obviously, there will be people who are very sensitive to those sorts of things, and we recognize that. But we are trying to be as truthful and honest to the world we're creating as we possibly can. We're not trying to be preachy here, just holding up the mirror."
And it's not about games tackling racially and politically charged subject matter that Heir believes is the issue, but rather the way it's being done. If Eidos really doesn't want to make a statement on this issue in the game that they're marketing, it seems cheap of them to load said marketing with words and movements that will elicit such strong responses. As Heir closes off, it's just a poor understanding of the ramifications this type of marketing has.
"My qualm is not with a game tackling matters of segregation, civil rights issues, and apartheid, in fact I applaud games that try to tackle difficult political issues. My problem is with using marketing to push a narrative, which doesn't provide the full context of the game, as a way to sell the game, when that narrative comes across as anti-blackness, even if it's not intended to be."
Last Updated: August 4, 2016