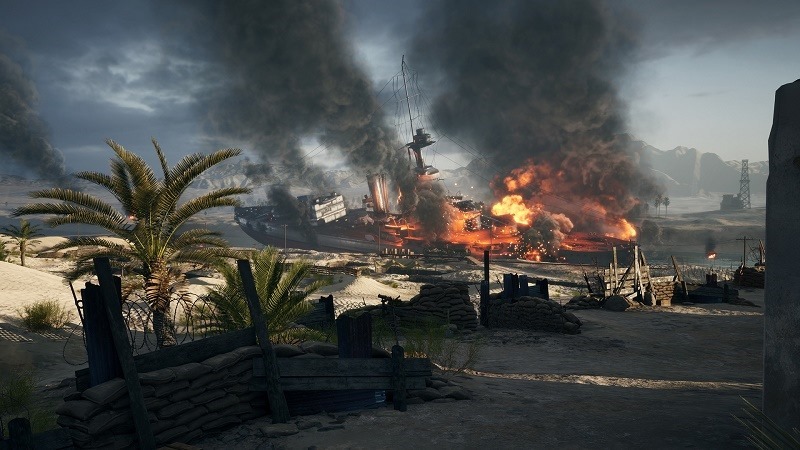 Turning the clock back a hundred years was risky, but it's a move that really seems to have paid off for DICE. People are loving Battlefield 1! Here's what one particularly Portuguese reviewer had to say about the game:
"World War I is hard material to tackle, but DICE have managed to do it respectably enough. Battlefield 1's campaign is memorable, and it's multiplayer, brutal. The latter doesn't necessarily provide a whole new experience, but a coat of paint from The Great War certainly makes the series feel nice and fresh again."
Spoiler: those words are mine – I really enjoyed Battlefield 1! I'd love to see what else DICE have in-store for it moving forward.
Speaking of which, they've just released a blog post that outlines the immediate future of the shooter (via VG247). Here's what they have planned:
Hardcore servers: We know that elite Battlefield 1 players have been eagerly awaiting fighting on Hardcore Servers, and we're just as excited as you are. They're coming soon, so keep an eye out for more news in the near future.
Suez Map Tweaks: Based on your input, we are changing the layout of the Suez map in Conquest to make the matches more balanced and the map size more fitting. We have expanded the layout to feature five instead of three flags. We're also reducing the capture area size of the two control points located within the map's villages (currently flag A and C) to create more dynamic matches. Furthermore, we're adding one armored vehicle to each team's base to give dominated teams a better chance to quickly get across the map and capture a control point behind enemy lines.
New Battlefest on November 16th: Bring out your calendars and mark November 16 with a big "PTFO" – a new Battlefest is en route. This week-long celebration of the Battlefield franchise will be packed with new activities, including log-in rewards, a livestream, a unique Battlepack revision, community missions, and much more – stay tuned for more information!
Fog of War: As the first Official Custom Game, Fog of War will premiere at Battlefest. In this unique Team Deathmatch experience, you will be challenged by limited sight as you're fighting in fog with the mini-map and soldier name tags turned off. You'll find Official Custom Games in the Battlefield 1 Multiplayer menu.
General updates: During the month of November, we will release a major update for Battlefield 1, filled with various tweaks and improvements. Among other things, we will be adding the Rent-a-Server Program, a new Custom Game and tweaks to matchmaking and server balancing.
A new playground: Giant's Shadow is an upcoming new map for Battlefield 1 which will be arriving in December as a free* update. Apart from the info already available on the Maps page, we will be sharing more about this epic addition soon.
Personally, I couldn't be bothered with hardcore servers. I spend enough time being dead in standard multiplayer, thank you very much.
As for everything else though, bring it on! I'm most interested to see that Rent-a-server Program go live. Will we get our own South African servers? I really hope so. Playing on Europe works, but it's not exactly ideal.
Anyhow, if you're a fan of Battlefield 1, you can bet that this is just the start of what's to come. I'm sure DICE have loads of other cool stuff up their sleeves which they'll roll out in the coming months.
Last Updated: November 4, 2016