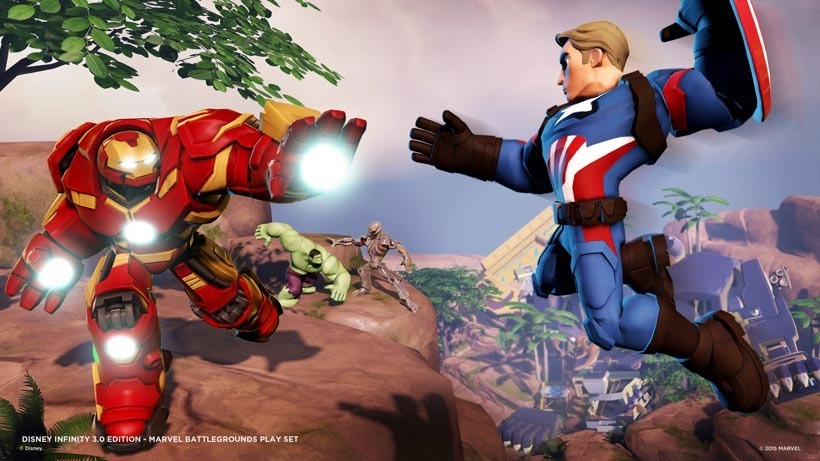 What's next for Disney Infinity? After three years, you kind of get the impression that the franchise has already tapped a significant amount of content. Wave one got the ball rolling with various Disney properties collected from decades of films and Pixar animation, Disney Infinity 2.0 drafted in the capes across the Marvel universe and Disney Infinity 3.0 went full-on with a Star Wars invasion.
So where does the Disney Infinity franchise go from here then? Right now, a new expansion for the 3.0 playset arrives later on March 15 and pits the Marvel Super Heroes against one another in 4-player combat spread across twelve levels and eight arenas. There's also at least one new figure coming for Marvel Battlegrounds, a First Avenger-inspired Captain America that shows off the perfectly punchable face of the fan-favourite shield-slinger. There's also a few other figures on the way as well, ahead of the Captain America: Civil War film launch.
According to XboxEnthusiast, you can expect to add Baloo, Ant Man, Black Panther, Vision and Symbiote costume Spider-Man to your collection soon:
Neat! I love the Marvel Cinematic Universe inspiration here, and I'm keen to see how they translate Ant-Man's powers to the Disney Infinity playsets.  If you look carefully, there's also a yellow wireless symbol on most of the packaging, which probably means that you'll need to download those characters further into Infinity 3.0's base game, as that data was not yet available after it launched.
Tomorrow night however, Disney and Avalanche will host a livestream event to reveal more details on what's next for Disney Infinity 3.0 at 10AM PT (8PM local time). That's an important bit of info right there, as it sounds like the Infinity 3.0 platform might be around for another year before the inevitable 4.0 sequel arrives. Disney Interactive's John Blackburn, GM of Production and Toy Box TV host John Vicnocchi will headline the stream.
Which will probably be about Marvel Battlegrounds, the Zootopia playset and something else in the Disney cinematic universe. Personally, I want more Tron. TRON! SAVE MY WALLET TRON!
Last Updated: February 29, 2016