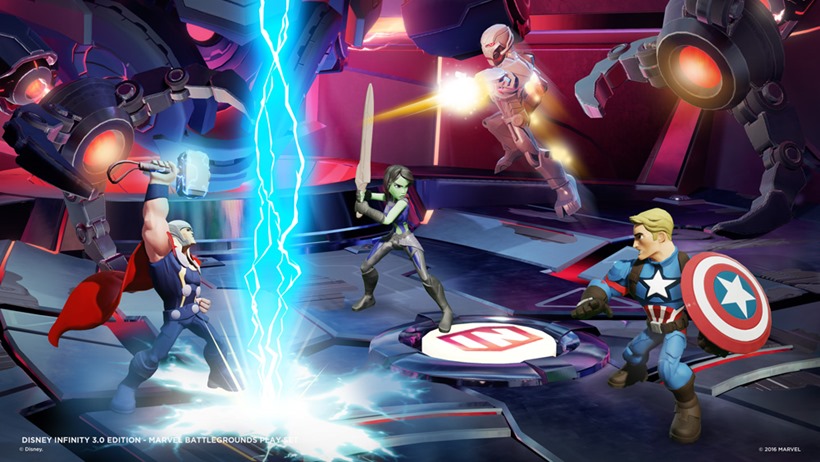 There may not be a new franchise for Disney Infinity to focus on this year (DAMMIT MY KINGDOM HEARTS PREDICTION WAS WRONG!), but there is something rather fantastic on the way: A proper super hero brawler that features the Avengers, Spider-man's amazing pals and other superheroes in spandex.
Marvel Battlegrounds is out on March 15, and the playset dropped some new details last night. With the leaked figures of Ant Man, Black Panther and Vision now confirmed, that brings the playable roster up to 25 available fighters. The playset itself packs in a Captain America figure inspired by his upcoming Civil War film, as well as a new collection of power discs via Polygon:
Cosmic Cube Blast – Unleash a powerful energy blast on nearby foes
Darkhawk's Blast – Blast obstacles with a powerful energy beam
Nova Corps Strike – Call upon the Nova Corps to unleash a tactical strike from above
Ghost Rider's Motorcycle – Take a ride on the wild side with Ghost Rider's flaming motorcycle
Hopefully that also means that a Ghost Rider figure is on the way. Voiced by Nicolas Cage. Hey, I've got lofty dreams. Developed by United Front games alongside Avalanche Software, Marvel Battlegrounds is primarily focused on four-player battles set against a quick story of the villains and heroes fighting it out for control of the Vibranium reserves found in Wakanda.
If it all sounds eerily familiar, it should be: Marvel Battlegrounds is inspired by that classic Dreamcast brawler Powerstone. If you were fortunate enough to have a Sega Dreamcast back in 1999, Powerstone was the game to have. Tight, chaotic and oozing plenty of charm in an ocean of fighting games that didn't;t know how to handle 3D environments, Powerstone was a killer title.
The Dreamcast eventually folded like Origami at a water-park, but not before Powerstone managed to pump out a sequel in 2000 and feature as a pair of remakes on the Sony PSP in 2006. Good times man, good times. Now to see if I can convince Disney to make an Infinity playset influenced by that other underrated fighting game classic, Destrega.
Last Updated: March 2, 2016