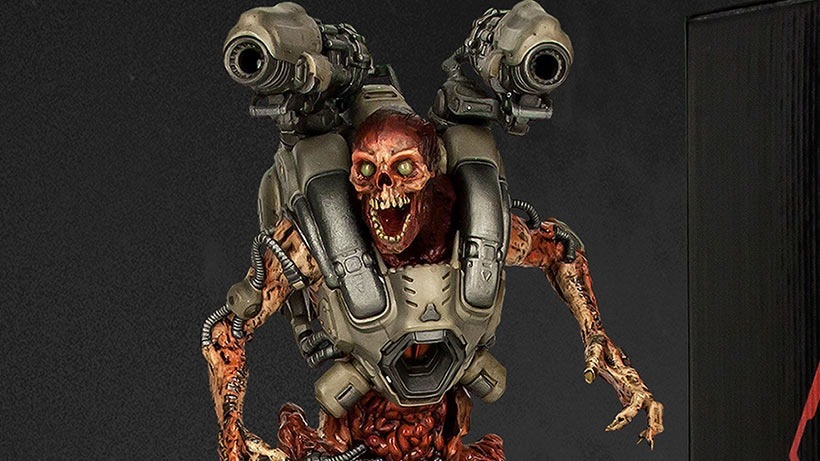 You already know that id Software's DOOM is out later this year on May 13. I've had hands on time with it, and I can honestly say that the part of me that spent many nights at Quake 3 Arena LAN events is excited. That floaty feeling of gliding through levels, not bobbing your way and clumsily mantling over walls. Guns with recoil that give the middle finger to Newtonian laws of physics.
Actual, proper health points instead of taking cover for a few seconds as you wait for your magical Wolverine healing factor to kick in. Oh my yes. Yeeeeessssssssss. Beyond that vanilla experience, you can expect the usual obligatory pre-order bonuses and whatnot. DOOM is touting hack modules, weapon skins and some demonic armour to get those early purchases in. And a collector's edition that will most likely have the M-Net complaints department fielding more irate phone calls soon. Click to embiggen:
The limited DOOM collector's edition, created in conjunction with TriForce, includes an exclusive, fully-realized 12" tall collector's statue of one of the game's most iconic demons: the Revenant. Modelled from actual in-game 3D files and striking in appearance, the demonic Revenant stands on an LED-lit base with internal, slow-spinning turbine from the UAC facility on Mars. The DOOM collector's edition also includes a copy of the game packaged in an exclusive, battle-worthy metal case.
Aside from the statue and casing…that's not a lot of content on offer for a fat stack of cash that weighs in at $120. Mind you, credit where credit is due: That Triforce designed statue looks fantastic and measures in at a height of just over 30cm when converted to a more sensible system of judging length. Just like the Triforce designed collector's edition for Batman: Arkham Knight and oooohhhh waaaaaaaaaait.
I'll say this though: That steelcase tin to house the game in, is the kind of box-art that the game really and truly deserves. It just screams of metal. THE METAL!
Last Updated: February 5, 2016