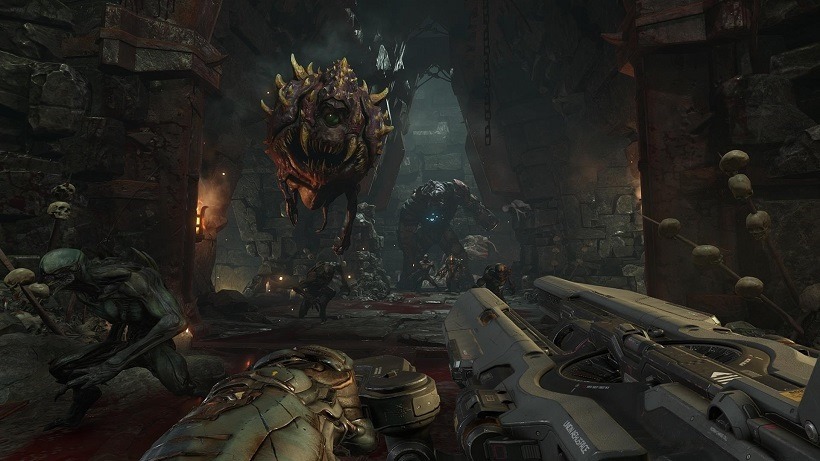 DOOM is just one of two highly anticipated titles coming out this week, with Uncharted 4 dropping today in the wake of some phenomenal reviews from last week (and yesterday). While Naughty Dog and Sony gave most reviewers plenty of time to get behind the game before launch, Bethesda and ID Software aren't doing the same for DOOM. In fact, most journalists won't even be getting their hands on the game until release day – with everyone else.
Bethesda began sending the following message out to most media outlets, explaining why DOOM needs the full launch to be accurately measured and reviewed. Similar to most games with a heavy multiplayer focus, it all has to do with servers.
"DOOM is a robust game comprised of a single-player campaign, online multiplayer, and SnapMap. All three elements are important parts of the complete DOOM experience and are meant to be experienced as part of a complete package. As DOOM's SnapMap and multiplayer modes both require access to a server that won't be live prior to launch, review copies will arrive on launch day."
And that's perfectly fine. Many games of this nature end up having review events ahead of time to try and simulate online conditions, or make special plans to have servers online for critics beforehand. Neither really replicate real life, which can often lead to inaccurate experiences (both good and bad). Bethesda seem to want to ensure that every bit of DOOM is sampled before a score is attached, and that's perfectly fine.
But it's always a bit of a red flag when a game launches without reviews, and even more so when critics aren't even given access before the game hits shelves. DOOM had its own beta last month to give everyone an early chance to play, and the game seems to be ready for launch. But a small vertical slice has fooled once before, and it can again at anytime.
I'm not trying to suggest DOOM will be a train wreck at launch. No one has any way of knowing that. But if you're slightly concerned maybe it's best to hold off on that pre-order and just wait a few days. The demons won't go anywhere. We promise.
Last Updated: May 10, 2016