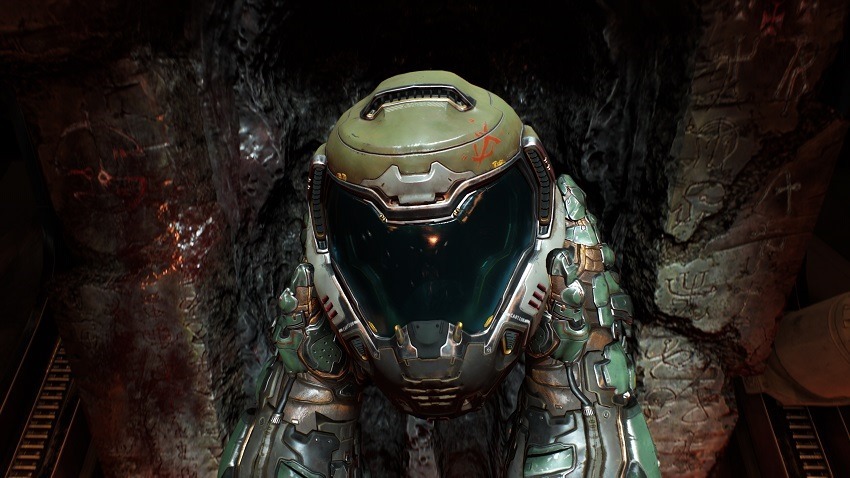 It's one thing to be shocked that Nintendo's Switch is doing far better than even Nintendo themselves might have expected. but who knew it would attract such a hard third-party support from none other than Bethesda. Not content with letting Skyrim be their only game on the portable device, the publisher announced last week that both DOOM and the upcoming Wolfenstein II: The New Colossus will be getting ports both this and next year. And while Wolfenstein II is still months away, DOOM on Switch is imminent. And it's looking impossibly good.
A few things first: it seems that whatever event Nintendo set up for some hands on time relegated attendees to playing in table top mode (that is portable with a kickstand). That means that off the bat the Switch is performing slower than it would via docked (because it's on battery), and also means all footage is captured off-screen. It's not the most ideal setup, but it's likely done on purpose to show just how well the game is running on what is essentially a powerful tablet.
And holy smokes does it look good.
Technically, there's a lot going on with this port. Development duties were handed over to Panic Room, who are also working on Rocket League for the Switch. They've used the scalability of the iD Tech 6 engine to produce wondrous results. DOOM runs at a lower, dynamic resolution than any other console version, and is targeting a locked 30FPS instead of 60FPS. Digital Foundry also got their hands on the game, and attempted to replicate the results with a PC estimation of the Switch's power. Even then, the Switch itself was pushing above what it technically should be capable of, producing a port that by all stretches of the imagination shouldn't be this damn good.
And again, that's just in portable mode. With the extra power of the dock it's not unimaginable that the game will have slightly better resolution output and a more solid 30FPS cap (60FPS is certainly a bridge too far), but it's not really why this port is so incredible. It's just that because you're able to take a game previously relegated to powerful, TV connected consoles on the go – the same content and gameplay – with only a few notches down in quality. If Bethesda can do this with their games, what's stopping even broader third-party support?
Last Updated: September 21, 2017