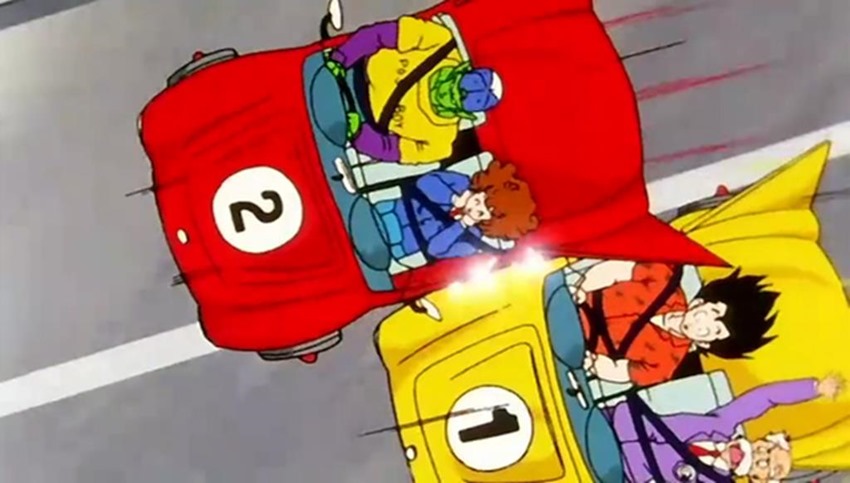 Guys! I've been on the phone with one of my sources, and while he may have been entirely wrong about the inside scoop that detailed how KFC was going to buy DC Comics and relabel the Bat-cave as the Zinger Wing Lair, I've got a feeling that he may be on to something regarding Dragon Ball Z: Kakarot. Next year's game focused on wish dragon-summoning orbs will feature plenty of new gameplay and visual tweaks, but as for the story?
My man on the ground says that this version of the Dragon Ball Z saga will take place across the Saiyan, Namek, Android and Cell sagas, just like the previous 9001 games did. Shocking, I know. He even says, and spoilers here, that Krillin is going to die. Again. Again x 9000. This evidence sounds increasingly likely to to be pulled straight out of my confidential source's bum, as SiliconEra revealed more of the scope of the game's narrative and how it'll even include some filler.
Filler material wherein Gohan's dad Piccolo and occasional Earth-saver Goku went for a driver's license test that one time. It was hilarious and you had to be there to see it or at least have a decent internet connection that allows you to watch the embedded video below because I'm awesome like that:
That classic misadventure will get its own mini-game, which will obviously make Dragon Ball Z: Kakarot 2020's game of the year. Don't even debate it, it's over now. Something else gleaned from the info-drop: A new character! Bonyu is her name, and she hails from the same planet (Space-Australia) that Jeice of the Ginyu Force comes from. In fact, she was earmarked to be part of Frieza's elite fighting force but ultimately left because she thought the dance moves were lame. I have no idea why she would think that.
Dragon Ball Z: Kakarot is out next year Xbox One, PC and PS4, and the best way to describe it is that it looks pretty much like Dragon Ball: XenoVerse but with prettier visuals so naturally I want the damn thing.
Last Updated: August 19, 2019