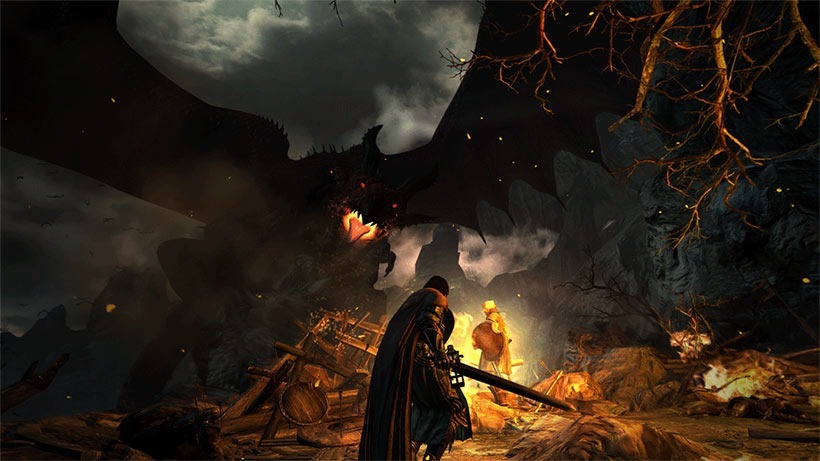 Capcom's Dragon's Dogma is a terribly divisive game. That's evidenced well enough by the 200 or so people who disagreed with Garth's assessment of the original game three years ago, with insightful comments like "What the Smurf? You give this game 4/10. You Lion-O Bravestar Freakzoid! Go play COD He-Man," only I've replaced the nasty words with characters from 80's and early 90's cartoons.
It was given a bit of a makeover and a re-release, coupled with an expansion a little while later in Dark Arisen, which improved on a number of things – but still wasn't what I'd call a good game. The game has been confined to consoles – but that's changing. Those of you who've not been able to play the game and make up your own minds, because you're PC gamers, will finally get the chance to play one of the last generation's most Marmite of games; something you'll either love or hate.
Capcom's announced that Dark Arisen is coming to PC.
As of January 2016, the epic fantasy action-RPG Dragon's Dogma: Dark Arisen will be available on Windows PC for $29.99 / € 29.99 / £ 24.99, with full Steam platform support. Huzzah!

In case you missed it on console, Dragon's Dogma: Dark Arisen is an awesome, inspired, sprawling fantasy game set in an open world, where players create their own unique character and supporting, AI-controlled characters known as Pawns, which can be "rented" and shared online by other players. Battle giant mythical beasts, master a variety of distinct vocations, and explore atmospheric dungeons to uncover endless items and loot.

The PC version will feature stunningly high-res graphics and improved fidelity, as well as support for both the Xbox 360 and Xbox One controllers, as well as a traditional keyboard and mouse control scheme.
Are any of you Dragon's Dogma fans?
Last Updated: September 9, 2015