By Dylan 'Dib' Brown
Dreamhack is an event that started as a LAN back in Sweden and has grown to one of the most significant regular esports events across the world, and across different games. They have been running Hearthstone Grandprixs since 2015 as some of the biggest events on the Hearthstone calendar. For 2018 they also count as Hearthstone Championship Tour (HCT) stops, which reward HCT points, the first step to qualifying for the World Championships.
That is why some of the top players from around the world travel to compete at events like Dreamhack Tours. The tournament is divided into two stages. Nine rounds of Swiss, where players are paired against other players that have the same win-loss record as them. A single elimination stage then pits the top 16 players from the Swiss stage against each other. Attending a Dreamhack event had always been a dream of mine, so when I was presented with the opportunity to extend my European holiday to include Dreamhack Tours, I jumped at the chance.
A South African Tours Dreamhack
I planned to land in Paris on Friday, then take a train to Tours that same day. Alas, the train driver strikes meant that I had to make other plans. Thanks go to Tristan "Tchaiklof" Brandily for rescuing me with a lift to Tours. After a 6-hour car journey with Francois "Fafa" Mouton, the other South African at the event, and some local French players we finally got there.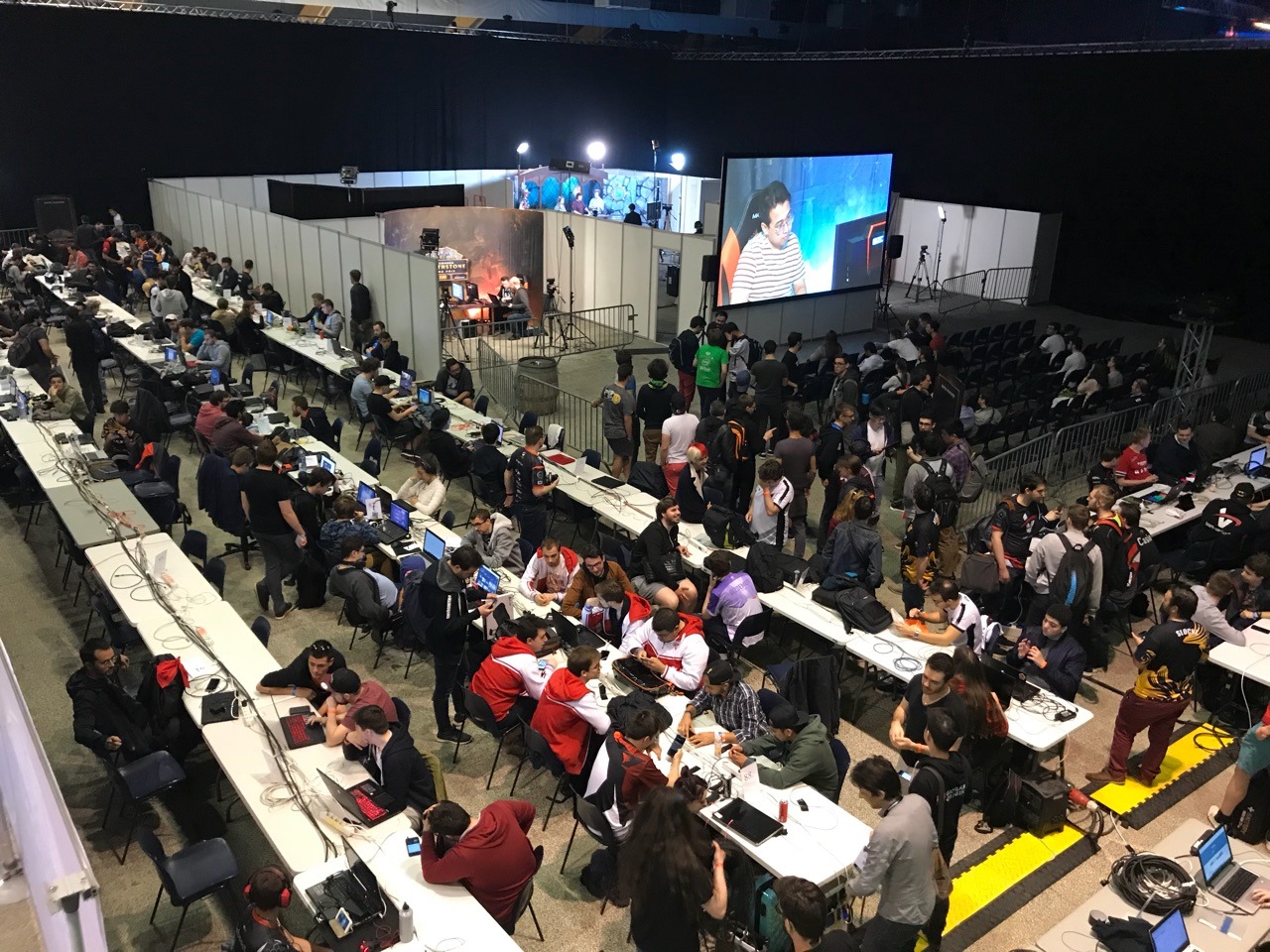 The first day of Dreamhack was Saturday the 19th of May. While waiting for the first round, I sat and chatted to some well-known pros, which was a treat. The matches started on stream for the first round, but we were still waiting. When we eventually got our pairings I found out that I would be facing RDU, a well-respected player for G2 esports. Having chatted to RDU a bit beforehand, it just felt like another game of Hearthstone. The lineups were both pretty standard, and I managed to sweep 3-0 with Even Paladin, even managing to win two unfavourable matchups. My next two rounds went similarly, with two more 3-0 sweeps leaving me 3-0 overall and 9-0 with Even Paladin. No wonder they were about to nerf the deck!
Round four paired me up against another well-known player, Casie, from Complexity Gaming. This round was much closer, with us trading games until I finally emerged the winner, 3-2. It was not only close on the overall score, but the games themselves were tight affairs. Afterwards, I chatted to Casie, a fellow Rogue enthusiast, about the games and tournament preparation. The friendly Hearthstone atmosphere, where this sort of post-game chat is common, is one of the great things about Hearthstone.
So far, so good
My final game of the day was against Maverick, a player for Arma Gaming, a local French organisation. His lineup was one that I was particularly concerned about, his Control Warrior in particular. I got off to an excellent start, winning the first two games with Paladin. Maverick only had his Warrior remaining. The matchup is usually pretty favoured for Control Warrior vs Even Paladin, especially when the Warrior is played by someone as familiar with the deck as Maverick is. It was a tough and grindy game.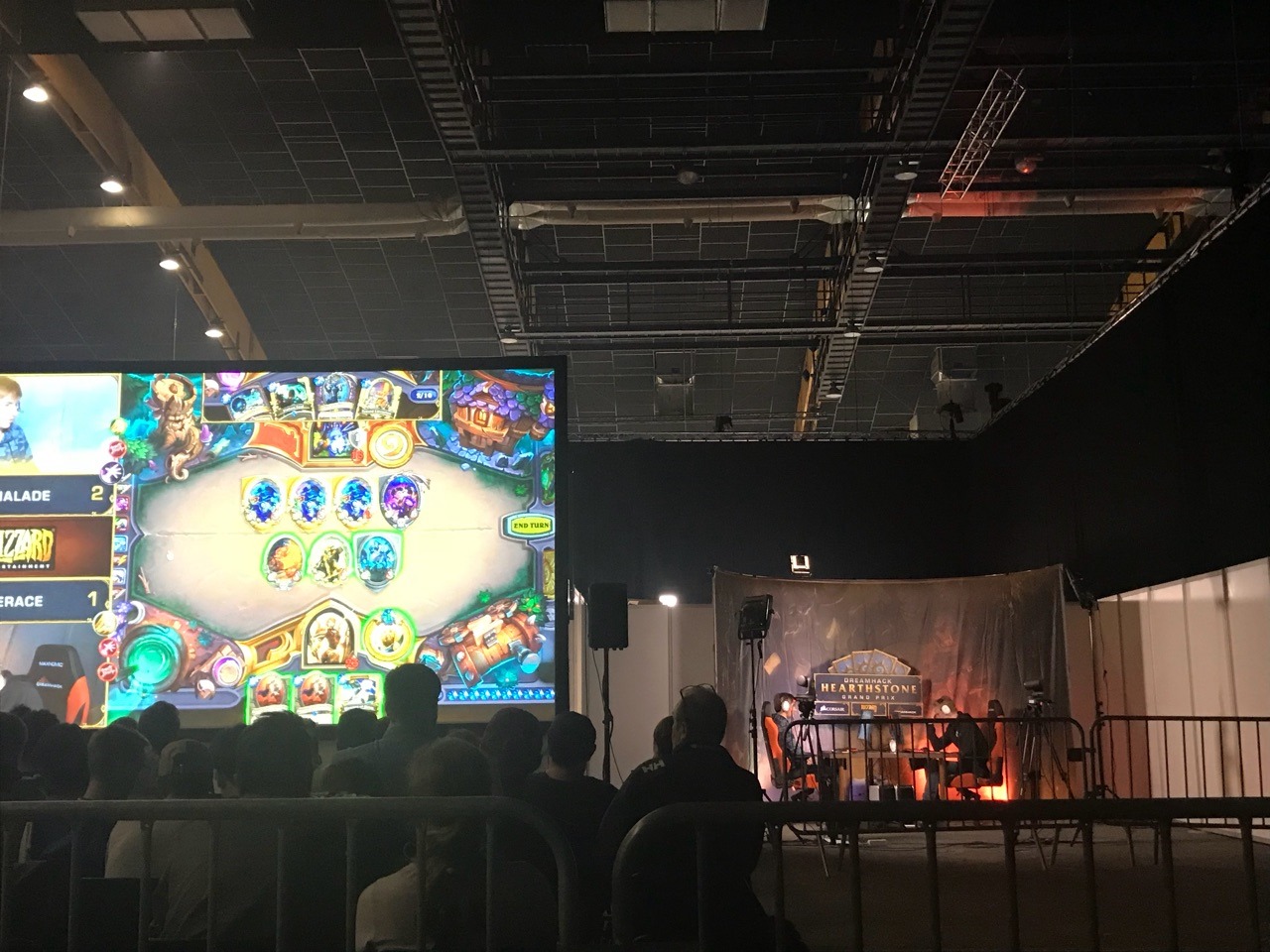 In the end, it came down to the last two cards remaining in my deck. One would win me the game and the other would do nothing. Unfortunately, I drew the wrong one, and Maverick managed to stabilise to the extent where the game was beyond reach. Cube Warlock was my only counter to Control Warrior left, so it was all down to this match. After a grindy game I managed to walk away with a 3-1 victory over Maverick, and a 5-0 score for the day. One of only seven undefeated players after day one.
The feeling of being undefeated on the first day was quite surreal, and after 12 hours of Hearthstone (we finished at 12:30 am), I'm not sure I had the mental energy to process it anyway. By the time we had finished, public transport was offline, and I had a long, but retrospective walk back to the hotel.
Enter day two
My first match on day two was against Janetzky. This series went poorly, going 0-3 against his Spiteful Druid. I just needed to win two out of the remaining three series. Next up was Zyrios, a player I didn't really know of beforehand, but one that I came to know after our game. After getting the series off to a good start with a win, Zyrios came back with a vengeance, winning three in a row with Control Priest to take the series 3-1. Now my back was against the wall, I needed two wins in my last two series to have a chance of making the top 16.
In round eight I faced Morrison, a French player. The series started off with a loss to his Odd Rogue. I needed to win three games to keep my hopes alive. I queued my Cube Warlock, needing to get at least two wins with the deck. It was close, and not my finest game, but I managed to scrape through with a 3-2 victory.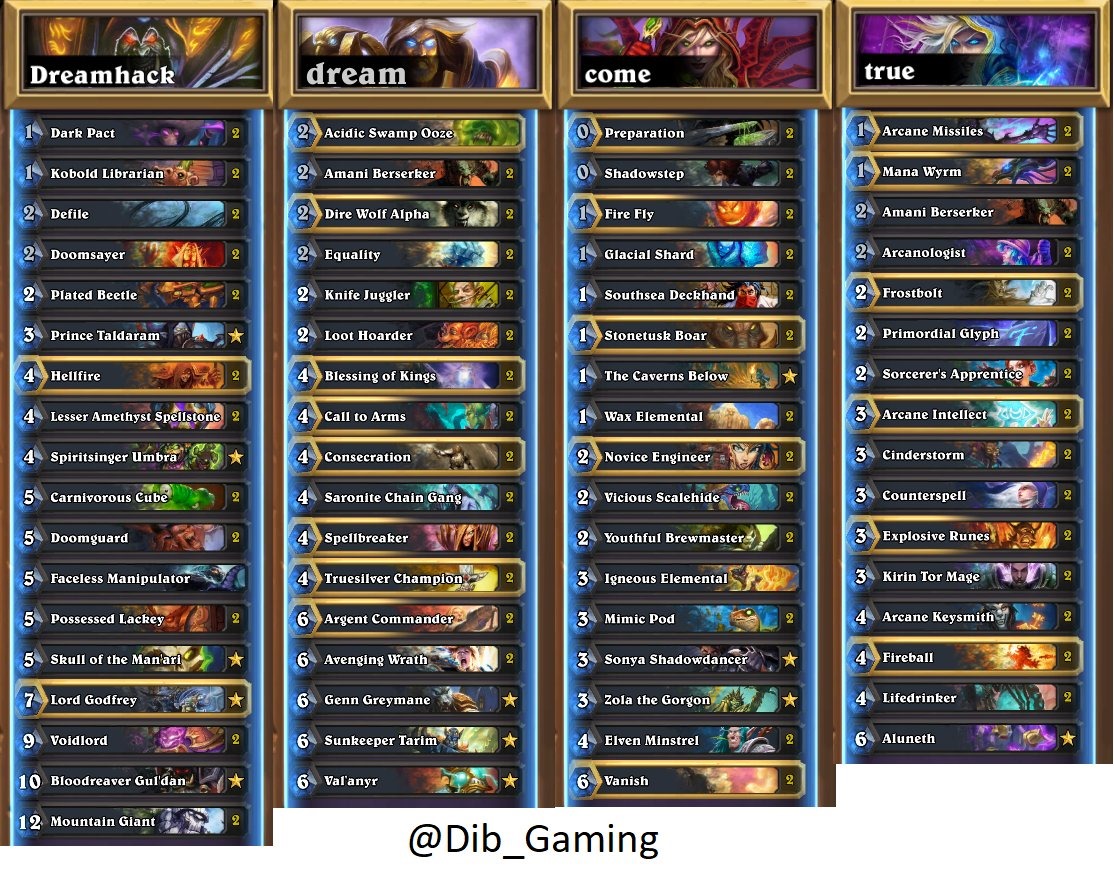 Now it was down to a "win and in" to make the top 16 at Dreamhack Tours. I was humbled by the continuous support and well wishes I was receiving from so many back home. Explaining to my parents what was going on was quite tricky, but those in the local Hearthstone, and esports communities had a better idea of the magnitude of this final game of the Swiss rounds. I had been updating them on my progress via Twitter and Facebook and was overwhelmed by the support.
Gleiber plays aggro mage. It's super effective!
My final opponent in the Swiss portion was Gleiber, another German player. My Aggro Mage deck got off to a hot streak, burning my opponent down twice, until I was 2-0 up and he only had his Aggro Mage left. The mirrors can always be a tight affair, after Glieber got off to an excellent start I managed to make a bit of a comeback, but it didn't prove enough as Aluneth came to Gleibers aid. With one unfavourable and one even matchup left I had to worry about getting reverse swept by the Aggro Mage.
I queued up my Cube Warlock and managed to outheal the damage that the Mage could muster. I had done it, I had won my last round game 3-1. This left me on an overall 7-2 record, and with Casie and Maverick both being 8-1, my tiebreakers were excellent, so I was confident that I would make the top 16 cut.
I wasn't quite finished for the day. The wait for the top 16 was long. Finishing the Swiss as 8th seed I knew I would be playing the 9th seed, Nights. I focused on researching his decks and figuring out my game plan for the match. It was single elimination now, and I needed to win to stay in the tournament and represent the South African community on stream. Time came for the top 16.
We set up for our game, the lineup was one I had faced before, after banning Paladin he had Spiteful Druid, Control Priest and Control Warlock available to him. The game was tense, and my memory of it fleeting. I remember falling behind in the final game, the sinking feeling of failure, of this being the end of the tournament for me. Unfortunately, it was. I would progress no further. Top 16 was as far as I would go in my first ever Dreamhack event.
Wrapping up Dreamhack Tours
Now let me take you back to when we were waiting for the top 16 to start. I was chatting with Casie, and a couple of other pros. He had been nice and friendly to me since after our game, despite having come out on the losing side. He mentioned that top 16 was an achievement to be proud of, that he was happy with his performance so far. Someone mentioned that as pros, to get two top 16s a year would be a good year. Even though they attend so many events.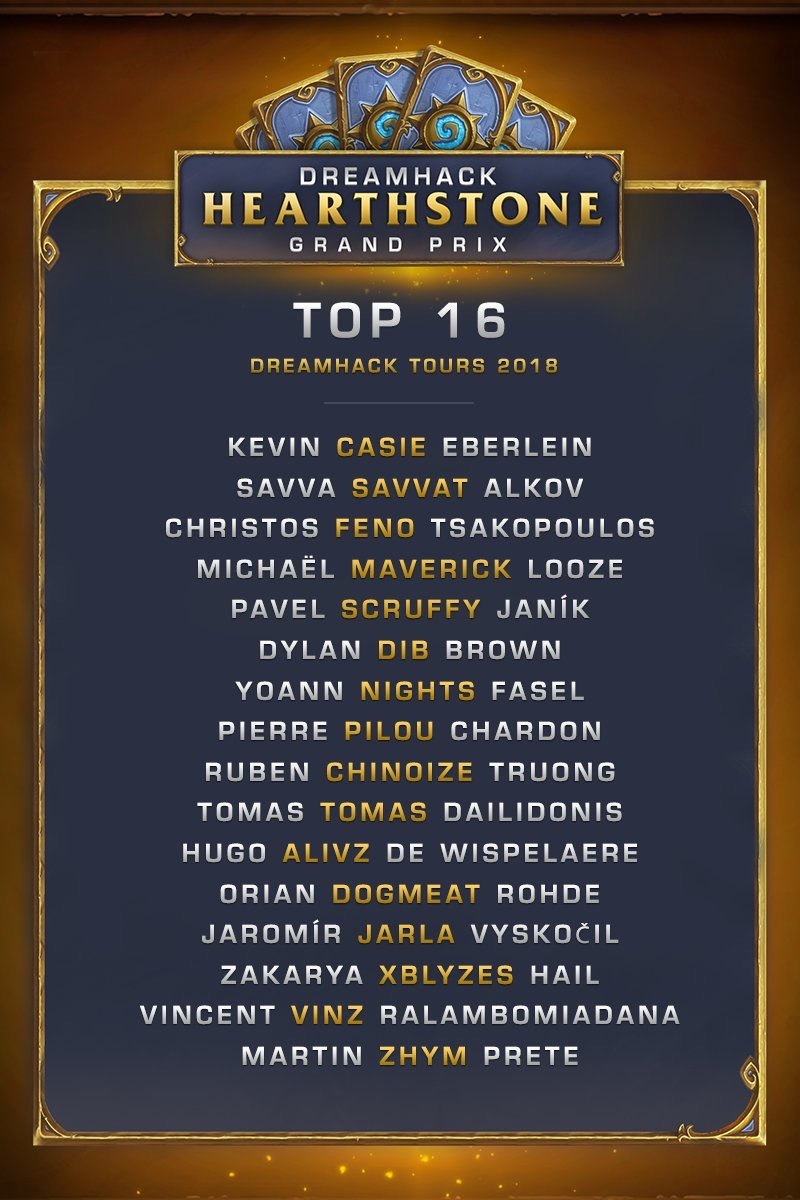 They were right. Top 16 is an achievement at an event like Dreamhack, but it didn't feel like that after losing. I wanted to keep winning, I wanted to help put South Africa on the map (after being ironically removed from the map of countries that host playoff events this year). I wanted to represent South Africa on stream.
Final thoughts
To be honest, I wasn't worried about prize money or HCT points. Even though the top 8 would have earned me $1000, enough to make a fair contribution towards travelling to another event. I only found out the prize money split after I was knocked out. I just wanted to go as far as I could. Looking back, I know that top 16 is a great achievement, and something to be proud of. It is something I can remember for the rest of my life, but on the long walk home that was not what I was thinking.
In truth I was also bitterly disappointed. I had contained my emotion all through the two days of gruelling competition. It finally poured out. I didn't want this to be my biggest achievement in esports, even though it was by far. I also didn't want my Dreamhack experience to end. Would I ever get an opportunity like this again? I wasn't sure if I'd ever even get the chance to attend a Dreamhack event again. Afterall, not many South Africans get to travel and compete at Dreamhack.
At the same time I was feeling proud, but incredibly humbled. Humbled by the support from all those back home, from my parents and friends, to the greater esport and Hearthstone communities in South Africa. It means a lot to me, and I didn't want to have disappointed them all. To all those that supported me, thank you. Hopefully, this helps you all understand what it meant, and continues to mean, to me. Hopefully we can give this same support to the next players that try and stake their claim on the international stage. Support means a lot, and I suppose I've never really understood the full impact that some supporting words can have, until now.
It might not affect people in the same way it affected me, but I'm sure it means a lot to them too. So get out there and support those that are trying their best to make South Africa proud. I hope one day I can be one of those people again, but for now I'll cheer on from the side. To all those that have taken the leap this year, and before, to Bravado's CS:GO team, to Castaway (Dota 2 player), to those representing us in Fifa, to those representing us as talent on the casting or hosting desks (or coaching), and to any and everyone that I might have forgotten, I wish you the best of luck. We are supporting you.
Like esports?
Check out esports central
Last Updated: June 5, 2018