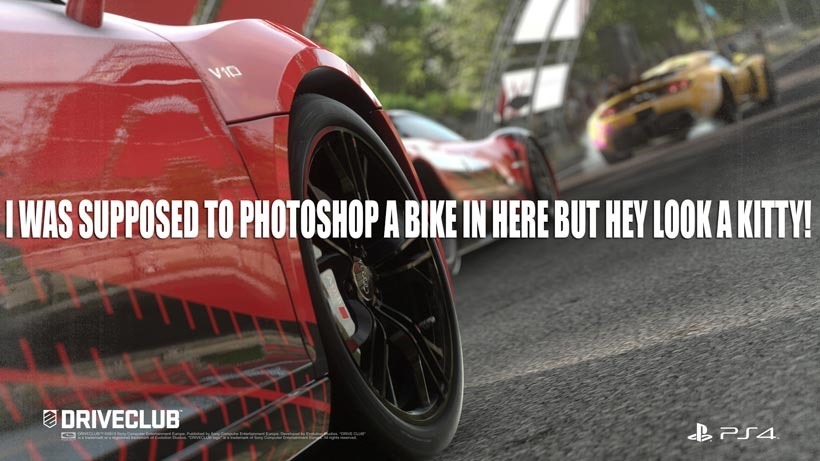 DriveClub: Rubbish game on launch, but really damn good a year later. DriveClub had the misfortune of launching not only in a broken state, but during a particularly strong line-up of racing games that included the likes of Forza Horizon 2, Mario Kart 8 and GRID: Autosport.
That's the equivalent of being the Blue Meanie during the height of the WWE's Attitude Era and expecting to be world champ ahead of Stone Cold Steve Austin, The Rock, Triple H and Mankind.
Anyway, DriveClub is better now. Much, much better and actually quite superb now that it isn't broken. But it's still lacking something. And by something, I mean two-wheeled pocket rockets.
Outside of the bare-bones riding experience found in MotoGP games, motorcycles are woefully underrepresented in racing games lately. But that might be changing soon.
The European games rating system listed DriveClub Bikes earlier this morning, in a listing that has since been removed. The original listing was for a standalone game.
And I'd be down with that. There's definitely a market for motorcycle games, especially proper ones done with some actual love and care. And with developer Evolution Games hinting at a Paris Games Week appearance tonight, I'd bet easy money that we'll see a reveal later on this evening.
At Manchester Airport with @PhenomEvolution, we're both super excited about PGW. What do you guys want to see most at #PlayStationPGW ?

— Paul Rustchynsky (@Rushy33) October 27, 2015
Look, I'm perhaps a tad bit over-excited about this news. Because it's the closest that I'll get to the Project Gotham Racing 5 game that I've been anxiously waiting for, for many a year. Make it so, Evolution.
Last Updated: October 27, 2015