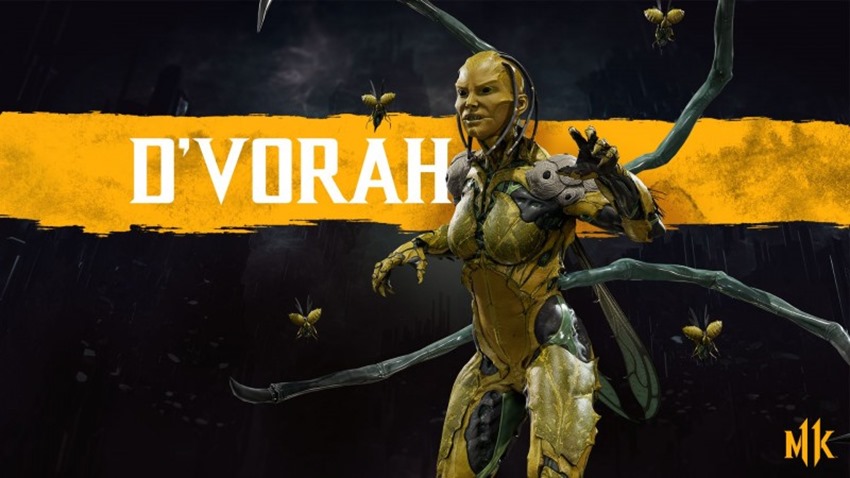 You know what I loved about Mortal Kombat X? It's that the first sequel to the brilliantly old school Mortal Kombat 9 reboot managed to fill its roster with a new generation of fighters. Gone were the days when you thought you knew what to look out for in fights, as the likes of Takeda, Cassie Cage and Erron Black brought with them some wild new ideas and tricks to the battlefield.
One of my favourite new faces? D'Vorah, who was just this delightfully weird hive of madness that would make anyone with Entomophobia lock themselves away in a panic attack room. In Mortal Kombat 11, D'Vorah's back and stranger than ever, with the insect queen now having a far trickier arsenal of attacks up her winged sleeves.
Her ovipositors are always out this time, whereas in Mortal Kombat X they only came out for moves," NetherRealm QA analyst Steve Brownback said to Game Informer.
So she uses them more than ever. [She has] moves that weren't even close to Mortal Kombat X moves. She has this new mechanic where she actually attaches insects to you, and they'll float around you, and then she can have them bite you when she chooses. There's an ability you can equip where, when she dies, one of her babies comes out of her, and you control the baby.

It has its own moveset, and then [your opponent has] to kill the baby to actually kill her.
That being said, D'Vorah will still have plenty of close-range options, just in case you favour getting your ovipositors dirty. Not like that, perverts. "She's still this really good mid-range character," Brownback explained, while also detailing a new overhead attack that sees D'Vorah launch a spin attack.
If you don't want to get in close, and you want to just pepper them with projectiles, she has one where a bug crawls out of the ground and will explode next to them. If you're playing a match where you just want to get in, do your mixups, you could use that overhead move.
While characters like Scorpion and Baraka shine on the main stage thanks to their massively powerful combos, it sounds like D'Vorah is going to be one of the more technical-orientated characters to master in Mortal Kombat 11. Which should make for some entertaining and fascinating matches on April 23. Hopefully someone's fatality for dealing a killer blow to D'Vorah involves the use of a REALLY big can of Doom.
Last Updated: April 11, 2019