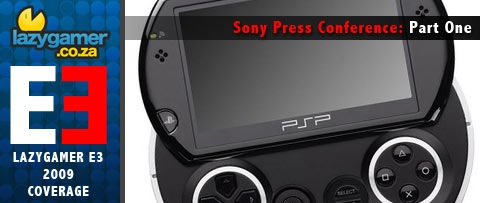 Many people were calling this years show as Sony's to lose. Sony has had the strongest looking line-up for 2009 thus far and really look like they are getting into their stride.
Microsoft surprised everyone with a bigger showing than anyone though, and Nintendo, well, didn't.
So it's time to take a look at what Sony brought to the party and to see if they bowled everyone over or left everyone expecting more.
Part One, Go!
Sony started off their Press Conference with a lot of talking. Maybe it's just me, but I don't think everyone really wants to sit through what was already known to be a 2 hour press conference because they feel the need to talk about how good they are a lot.
Yes, we get the point, you guys are awesome. Now show us some games!
Naughty, Naughty
Finally, they did, and it all started off very well when Naughty Dog walked out on stage. We were treated to live gameplay footage of Uncharted 2 and it is looking absolutely stunning in every way. The gameplay looks as good as ever, the visuals are magnificent and the game itself seems to be a lot more cinematic and epic than before, so more of that please, and as soon as possible.
So Many People To Shoot, So Little Time
M.A.G was up next and we were shown what was said to be a live 256 player (although obviously only 32 players per actual map) demo of the game doing it's thing. It's looking a little generic, but has a ton of potential. What I really liked is that as spawn points moved up, actual helicopters flew in and landed and where then the new spawn points. I am really going to keep my eye on this one because it could be a ton of fun.
Go! No Wait, Come Back!
Next up, the announcement that we all knew was coming, the PSP Go. It was finally unveiled and looks really nice and compact compared to the previous models. From what we could see at the conference, the screen size looks to have been made a little smaller and it also seems as if the aspect ratio has been changed from 16:9 to 16:10.
To try and get more support, Sony also announced that they have cut their development tools for the PSP by a massive 80%, so expect more developers to look into it from now on. As we already know, there is no more UMD drive and all games will have to be downloaded. They apparently have some sort of UMD kiosk that is going to allow people to convert their UMD's to a file on their memory sticks, but we don't know how well this is all going to go down in South Africa. It will be available this October.
Games On the Go!
Gran Turismo Mobile, after 3 years, is finally pretty much ready and was shown off. It has been promised to us that it is in no way a watered down version, and features 800 cars, 35 tracks/60 configurations and 4 player multiplayer. We did not get to see actual proper gameplay footage, but I am very excited for it and it is going to be releaseing on October 1st, pretty much alongside the PSP Go.
After his brief appearance on the Microsoft stage on Monday, Hideo Kojima was back for more surprises.
Metal Gear Solid: Peacewalker was announced and we are shown what is apparently a "true sequel" to the Metal Gear Series and a really solid looking game. It takes place place in the 1970's and features multiple Snake clones, and looks great so far.
We were then told that Resident Evil will also becoming to the PSP, but no major details were given, but that will definitely be another one to look out for.
We were shown a video of a lot of upcoming PSP games, but none were discussed or even named, but some of the ones that stood out were definitely LittleBigPlanet, Motorstorm and what looked like Fat Princess on the PSP as well. The line-up is looking very strong and it seems that Sony are very serious about breathing new life into the PSP.
Sony are now also launching a service that is going to make around 50 PS1 games available for download over PSN, starting with the almighty and fan favorite, Final Fantasy VII.
To be Continued…
Next up we have some new exclusives, incredible gameplay footage and an announcement that most people didn't see coming a mile off. Look out for Part Two of Sony's E3 Conference later today to read all about it.
Last Updated: June 3, 2009