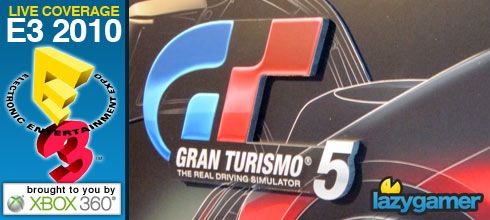 If you haven't already read my GT5 hands-on preview, I suggest you do so right now. I did originally say that I would be giving impressions of GT5 in 3D from E3, but thanks to limited time and some ridiculously long lines, I wasn't able to test it out.
What I was able to test out however, was GT5 running with a cam and head tracking enabled. On top of that, I slammed my car into some walls a few times to see how the game reacted.
More after the jump.
Let's get started with head tracking. With the use of the PS3 camera, you now have the ability to use your head to move the view around in the game by rotating your head left or right. This ability only seemed to work in cockpit view, but I gave it a good go to see how it holds up.
The truth is that the head tracking was not really very good at all. The major issue with head tracking is that you are rotating your head, but still need to keep your eyes in the same place.
While there were a few fluid moments where the game allowed me to keep my eyes on the exits of corners using slight movements or check out the side mirror, the majority of the time, the in-game camera often just shifted harshly to one side or the other, completely disorienting me and causing my car to go flying off of the track.
What I also noticed is that the camera was placed pretty much right in front of my face (just above the steering wheel) which gives me the sneaking suspicion that it will only really be possible to use at such a close distance.
To be completely honest, Gran Turismo 5 really doesn't need anything like head tracking. The game itself is so incredibly solid and everything works so well that it really doesn't need something like head tracking to add more to the experience.
I also decided to check out some of the damage as well. I had limited time, so I wasn't able to vary my test much. The game is also not complete, so take everything I say with a pinch of salt.
I was belting an Audi R8 around the Nurburgring and once up to some great speed, paneled the car nose first into a barrier to see what kind of damage it would show. At first, I didn't even think that their was any sort of damage model at all. I then slammed it into a wall again and the only thing I noticed was a slight (and I mean very slight) change in the bumper model on the front of the car, with nothing on the back.
If that is a true reflection of the damage model, needless to say, I am not impressed. If however, it's only due to the game being earlier code, then we will still have to wait and see.
Gran Turismo 5 launches in November.
Last Updated: June 18, 2010