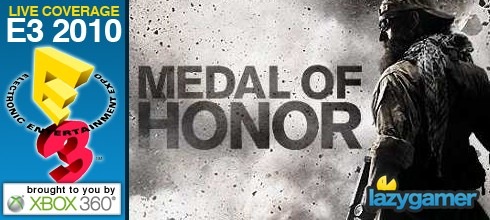 I've just popped out of an EA behind the scenes hands on with EA's upcoming shooter, Medal Of Honor.
The first thing I thought when I was watching the EA press conference the other day is that they have decided to take on Modern Warfare head to head which is an incredibly risky move but after having time with the title I think they may be onto something.
I was ushered into a small booth and sat down in front of an awesome setup which consisted of a 32″ LCD, PS3 Slim, 5.1 surround sound headsets and  off we went.
As we started playing the producer came over the headsets with an offer to make us really give it our all. The winner of our mini 8 man match was going to walk away with a free pair of Oakley sunglasses.
The game starts and we are actually all working together to take over a hilltop (Helmand Valley) from the bad guys, though who knows who the bad guys are anymore.
You get to choose the between 3 different classes
Rifleman
Sniper
Special Ops
I tried all three and all three worked well, the sniper is pretty obvious, the rifleman is your assault class and the special ops appears to be your engineers. I logged into the options screen and changed my loadout to equip my weapon with a red dot site and hollow shells which decreased my range but obviously boosted my stopping power.
The action is seriously hectic and the controls just feel 100% natural. We started our attack on the lower base and working together as an 8 man team we managed to clear that out without much hassle, once the base was secured we started up the hill towards the second base which was heavily protected by a machine gun turret and swarms of enemy soldiers.
I snuck up the left and threw a pile of grenades into the turrets and took out a couple of squads before being set upon by a new pile of guys. You then get to respawn on either the frontline or back at your last base and try again. Your spawns seem to be unlimited which is pretty standard nowdays and you are quickly back into the action.
The environment is tactically destructible and pulling out your rocket launcher and taking out the soft cover in front of the enemy and then finishing him off with your knife truly brings the game home.
To be truly honest I haven't seen anything really original in the game but at the same time the game feels like a more enjoyable experience than Modern Warfare 2. They have slowed it down a small amount and with the addition of destruction and spawning on the front line or base (ala Battlefield) it feels like a more solid game all in all.
Oh and about that competition!
I'm off to go try some Black Ops sometime in the next 2 days as well which should give us a good understanding of who is going to win the shooter wars this time around.
Last Updated: June 17, 2010