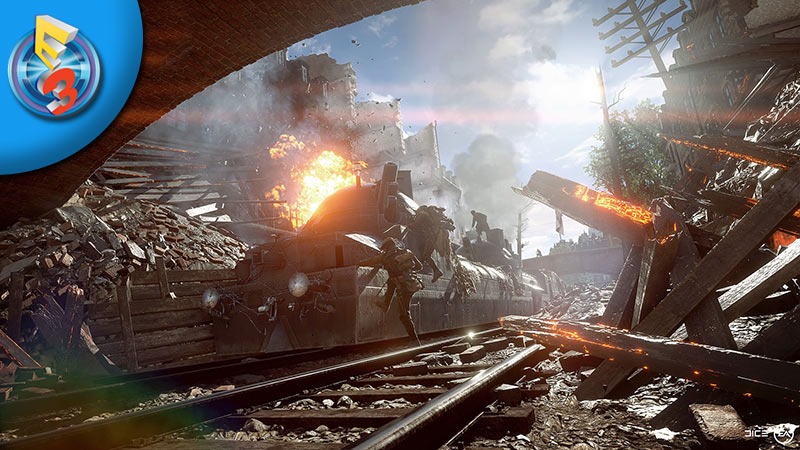 Usually, it's Microsoft that serves as the opening act for E3, setting the stage and getting fans and industry pumped up for the week ahead. This year however, it was Electronic Arts who got E3 off to a start. A spluttering start between a few promising reveals. Thanks to some leaks, two of the bigger announcements were already old hat by the time EA kicked off their E3 show: FIFA 17's story mode and Titanfall 2 having a single-player campaign.
From there, EA's CEO Andrew Wilson promised the audience "a taste of a bunch of great stuff that we have in development" and began pandering to influencers, while Peter Moore introduced the rugby mad nation of England to more Madden action. Vince Zampella from Respawn popped up to show off some Titanfall 2 footage that was actually new, a replay of that leaked single-player trailer and then Peter Moore spoke about Esports. A good time to catch 40 winks at that stage.
And then finally, a new look at actual in-game footage of Mass Effect: Andromeda. Besides the part where my heart melted when an Asari character smiled at me and only me, the footage was gorgeous and a breathtaking example of the power of the Frostbite Engine. EA also announced a new program for indies called EA Originals, new charitable drives and a death-stare competition between Peter Moore and Jose Morino that ended in the mother of all comebacks when Moore sweared allegiance to Liverpool.
Lots and lots of FIFA stuff then, as the gameplay apparently features overhauled physical play, new artificial intelligence systems and inspiration from young football talent. To end the night off properly, EA showed off more Star Wars and Battlefield 1 action, with the latter property revealing that Respawn Entertainment was working on a third-person action game while Visceral showed off the barest of teases.
So business as usual for EA's press conferences: Pure teases, Jamie Foxx showing the enthusiasm of a dead rabbit when he was trotted out like countless celebrities before him in EA press conferences of past and extremely little gameplay for the titles that fans are hungry for. In case you missed it, here's all the headlines:
E3 2016 – Battlefield 1 shows new shellshocking gameplay
E3 2016 – EA strikes back with plenty of Star Wars plans
E3 2016 – EA Originals offers support to indie developers
E3 2016 – MADDEN 17 focuses on eSports
E3 2016 – Bioware shows off Mass Effect Andromeda pushing boundaries
E3 2016 – Grapple in a first look at the Titanfall 2 multiplayer
E3 2016 – The journey begins in this FIFA 17 story-mode trailer
E3 2016 – Titanfall 2 drops from orbit on October 28
Tune in later, when Bethesda warms the LA crowds up with their sequel press conference.
Last Updated: June 12, 2016