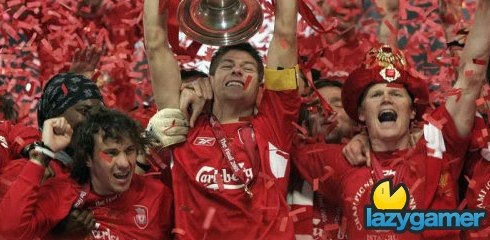 What do Liverpool winning the Champions League and an EA Games World Cup 2010 competition have in common?
Nothing… but us hard suffering Liverpool fans haven't seen such a joyous occasion in such a long time that I decided to abuse my powers and use that image instead of a related one.
In other news the draw was made today and congratulations goes to
Alan Fernandez & Filip Teles
Your names were randomly chosen from 180 valid entries received and you have both one a copy of EA Games upcoming FIFA World Cup 2010 on the platform of your choice… both being PS3.
Alan has a hankering for Brazil in the upcoming world cup while Filip is more prone to an Italian victory.
A big thanks goes out to EA for sponsoring the prizes, unfortunately they will be delayed thanks to that Icelandic volcano but we will ship them off as soon as they land in the country.
Please send your physical (courier) details along with a contact number to support@lazygamer.co.za so that we can organise to get them sent out.
Last Updated: April 23, 2010