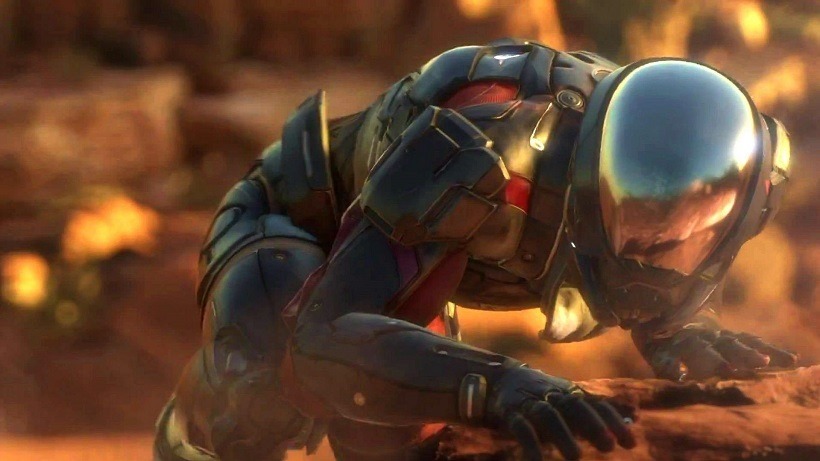 For a game that is supposedly launching within the next year, it's a little curious that we've seen (close to) nothing of Mass Effect: Andromeda's gameplay. EA and BioWare have spent the last two years talking about the setting and time period and new narrative approach for the new trilogy, but haven't actually shown off the exploration, gunplay role-playing aspects of their sequel. So we're just going to have to settle for a small leak that cropped up over the weekend.
Taken from a very old show reel, the short clip below shows some of the open-world exploration that players could expect when stepping into the new universe for the first time. The small scene shows off a jetpack that could aid in more complicated land traversal than anything before, with the past Mass Effect titles often restricting land-based exploration quite heavily.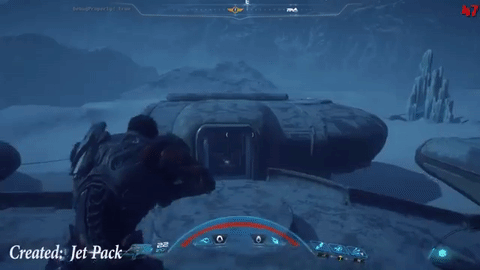 It's taken from a developer portfolio that supposedly originated in 2014, making the footage extremely old if true. That explains that lack of real visual detail in the shots, with the renders probably being small mechanics and artistic tests more than actual implementation. It also means many aspects such as the HUD, colour palettes and more could be drastically different now in 2016.
We won't know for sure until BioWare and EA actually decide to show off some gameplay for the first time, which will most likely come at EA's Play event during E3 week in June. Andromeda was a huge part of the show last year (even in its extremely limited capacity), and it's likely that it'll join titles like Titanfall 2 on stage to make big splashes for EA's next annual release schedule.
But for now, this is a neat early glimpse at something that may or may not even feature in the final game. It's out at the latest March 31st next year. It could, however, also be one of those silly April Fools things, given the clip's release timing. Hmm.
Last Updated: April 4, 2016