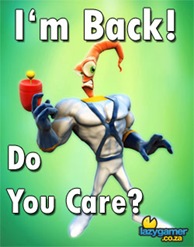 I have fond memories of launching cows as a large space-suited annelid on the Sega Megadrive back in the days of yore. Having recently replayed the first Shiny-developed game without rose-tinted nostalgia glasses has diminished the magnitude of that fondness somewhat; It's still a zany, fun game but there are aspects of the game that don't quite hold up as well as other platforming classics, such as Disney's Alladin or even Super Mario Bros 3.
Unsure of what sort of reverence gamers in general had for the franchise, I was a little surprised to discover it was being revived – this time by Gameloft and Interplay. According to Gameloft senior vice president Gonzague de Vallois (Bless you),
"We are delighted to partner with Interplay to bring Earthworm Jim to multiple downloadable platforms."

"The game, with its humorous and edgy style, is a great fit for today's gamer who craves a fully immersive experience that is fun and easily accessible. We look forward to delivering a fantastic game."
It seems Gameloft are intent on creating an all-new Earthworm Jim game – although they may opt to do a prettified remake of the original. I can only hope it fares better than the rather abysmal Earthworm Jim 3D. Expect the game on XBLA towards the end of the year, where it has a one month exclusivity before heading to other downloaded services.
Source : 1up
Last Updated: August 18, 2009