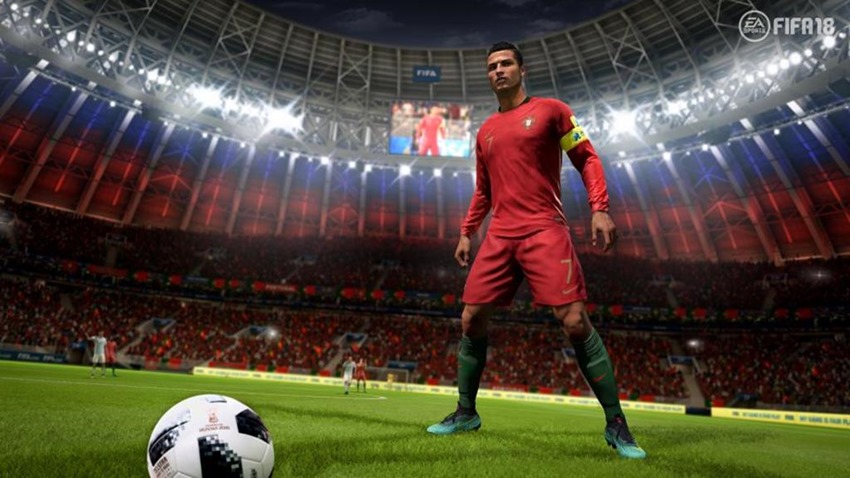 Electronic Arts and flak go together like Debonairs Pizza and bad taste (ba-dum tss). There's a lot that the publisher and the developer gets wrong, with 2017 being a Jurassic Park level of excrement for corporate greed. Every now and again though, even EA manages to do something right. I mean, just by the law of averages, it was bound to happen. Right?
Anyway, said gesture comes in the form of a free update for FIFA 18, which adds some small tournament mode called the World Cup or something, to the game. Patching FIFA 18 will give players all 32 teams involved (which excludes South Africa of course because we're apparently the Liverpool of soccer but it's cool we'll just have our own FIFA world cup with Blackjack and hookers) and the relevant kit that each squad wears.
All of that, for free. Usually, EA trots out a dedicated FIFA game to coincide with the tournament (2014's World Cup was another exception here for Ultimate Team, even though there was a dedicated game as well), that also hauls in a fair amount of coin. Here's the official breakdown from EA:
Electronic Arts today announced its bringing football's biggest tournament to EA Sports FIFA 18, giving players a 2018 FIFA World Cup Russia free content update. The 2018 FIFA World Cup update will deliver a complete and official tournament experience through official FIFA World Cup elements, including authentic teams, stadiums, kits, badges, Official Match Ball and the Official Winner's Trophy. Fans can download the update beginning May 29th on the PlayStation 4 computer entertainment system, Xbox One, PC and Nintendo Switch.

The 2018 FIFA World Cup Russia update lets players choose one of 32 qualified nations to live out their FIFA World Cup dream and write their own history from the group stage to the final in Moscow in Online Friendlies and Online Tournament modes. Dive into Custom Tournament mode to select any licensed national team in FIFA 18 to create a unique tournament draw with non-qualified nations, including Italy, Chile, USA, among others. Additionally, experience the authentic stadium atmospheres in a quick Kick-Off experience, either solo or with friends.

Feel the excitement on and off the pitch through official FIFA World Cup elements, from immersive atmospheres that include all 12 stadiums from Russia to authentic pitch environments, and national team banners. The official 2018 FIFA World Cup Russia graphic and broadcast package provides a genuine football experience thanks to the Frostbite engine on the PS4, Xbox One and PC versions, which delivers cinematic scenes that continue the FIFA World Cup experience long after the final whistle.
It's not exactly a jam-packed update, but then again it doesn't have to be. Merely having the cosmetics and setting up your own tournament should be more than enough for the most devout fans of soccer. Then again, maybe FIFA 18 and its various online modes are still raking in ridiculous numbers every day, so having more eyeballs on an existing service may be a clever and inexpensive move for EA.
That'll keep the football dream alive. Long enough until FIFA 19 arrives, anyway.
Last Updated: May 2, 2018