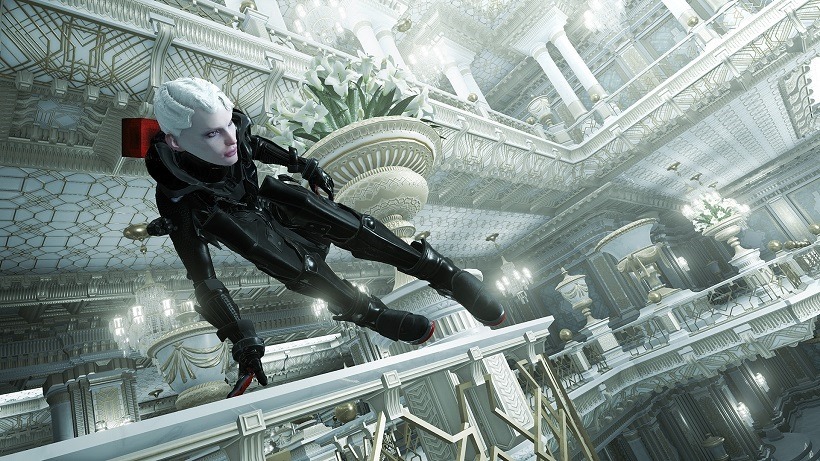 Many games have dabbled with ideas regarding rewinding time and storing player inputs. The easiest example that comes to mind is Super Time Force – a delightful 2D shooter that works on the premise of you storing small bits of gameplay and replaying them all back at once to progress. It's an incredible interesting mechanic that is being stretched in new ways. But no other game is as enticing so far as ECHO.
ECHO quite literally puts the power of your enemies in your hands. The third-person action title takes place in a rather gorgeous palace, with some truly violent AI seeking you out. The programming of the AI starts out simple, with their programming not allowing them to really do much other than move and hunt you. As you make your own way around the Palace, it watches you. Every time you vault over an obstacle, engage an enemy or draw a weapon it sees – and augments it into the next wave you'll face next.
It's a little easier to understand in motion, as the gameplay below show:
So essentially, ECHO challenges you to clear out waves of enemies in the most simple way possible. Unless you're confident in using an ability you don't mind your enemies having on the next round. It's a cleaver cat and mouse mechanic over traditional action tropes, that should have you thinking for more about you actions than normal. How that lends itself to player experimentation and alleviating tedium isn't clear yet, but I'd expect a game with a thought-provoking mechanic such as this not to skimp out on the most important details.
Developed by independent studio Ultra Ultra, ECHO is currently slated for release on PC and (unannounced) consoles. There's sadly no release date yet though.
Last Updated: September 7, 2016