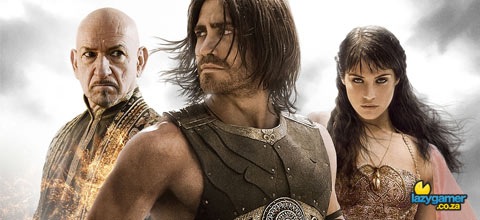 Last week Friday I was invited to go and see the new Prince of Persia movie starring Jake Gyllenhaal and Gemma Arterton.
I'm just going to cut to the chase here and say that I (as well most of the other journalists with me) actually really enjoyed its epic scale, great action and breathtaking special effects. Since my viewing though, I have seen a few people here and there saying that they weren't thaaaat impressed. Now, I review games, and I enjoy it but to be completely honest with you, I really don't have the first clue about reviewing movies, I just watch them and decide if it was an entertaining two hours or so.
What I do know is that Prince of Persia: Sands of Time is the stepping stone that could make or break our chances of seeing good adaptations in the future, and we need to support it because it deserves as much.
We need to stop being the problem.
Game to movie adaptions are usually shocking, this is common knowledge and a trend that really kicked off back in the day when Super Mario Brothers hit the silver screens.
Comic books are the prime example of how it takes time to create something spectacular. Batman in the 60's was a joke but then Tim Burton created something unique with his renditions, only to have the series destroyed by a couple of other morons. Now we have Christopher Nolan's films on the scene, changing what people thought they knew about movies based on comic book characters.
Game adaptations will also take time, but I believe that Prince of Persia is a massive step in the right direction, if not the first to actually land in that direction. While some people may burden the movie with the biggest insult of all, calling it 'average', they seem to miss the point of maybe even their own words.
Prince of Persia was fun, it was well crafted and somehow managed to stay true to the games of old, without ever feeling like it was trying to say "look, we just did that thing that you saw in the game that one time!".
Prince of Persia is hands down the best game to movie adaptation that I have seen since Silent Hill and joins the ranks of the only two game adaptations that I consider worthy of being films that can stand on their own.
Hollywood has woken up and realised that games contain some really good material that can properly translate over to the big screen. They are slowly starting to see that if they don't have good talent working on the films, and decent budgets, the movies will fail miserably.
The Halo movie was cancelled and the Gears of War movie is looking a little wonky at the moment, even though these are two massive franchises that could pull in loads of money for the production companies. They are all scared of flops, and you know what? It's our fault.
We need to stop being so incredibly cynical. When I heard that Bruckheimer had picked up the rights to the Prince of Persia movie, and they had cast Jake Gyllenhaal as the lead, I was really excited. No one else seemed to share my enthusiasm though. Many quickly passed it off as an instant failure, despite all the elements that pointed towards a possible good result.
It is very important that Prince of Persia does well, it needs to do well because it's one of the first game adaptations that really seems to get it, and if we all show our support and watch it, we will only encourage Hollywood to get off of their butts and deliver some spectacular movies to gamers in the future.
The Mass Effect movie is coming. It could be the best new thing to happen to Sci-Fi since the 70's (the new Star Trek excluded) and I really want them to pump some serious money into it, don't you?
So please readers, if you haven't already (I know it's not out everywhere just yet), then go and watch Prince of Persia and let us know what you thought about it in the comments below.
And for Pete's sake, don't pirate the movie. They have finally put a good budget into a decent game to movie adaptation, don't destroy a bright future for game adaptations by not supporting it.
Last Updated: May 26, 2010