I've attended the Electronics & Gaming Expo (EGE) for three years now and one theme always remains – esports is the winner. From the first time Cape Town hosted their now signature gaming expo, competitive gaming attracted the masses as they became wary of the then hidden industry which operated in the shadows. Since then we've come a long way with companies like ACGL, Orena, and VS Gaming. This year was VS Gaming's first EGE, and they stole the show. Their massive stage, similar to the one we saw at the rAge expo last year, took up close to half a hall, and right behind them were the African Cyber Gaming League (ACGL) who hosted competitions in Injustice 2, Call of Duty, and FIFA. Both stages (ACGL and VS Gaming) were packed, and like the years before them, esports dominated the weekend.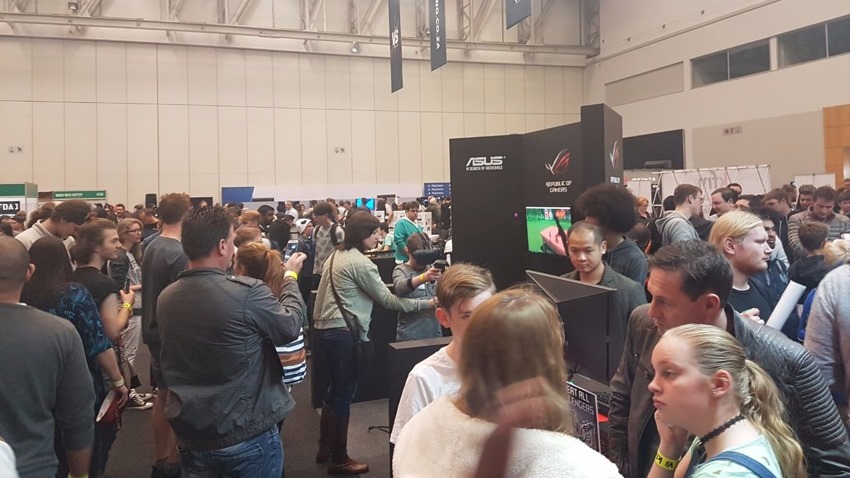 A packed expo over the weekend
EGE has grown to now take up two halls, and vendors are starting to see promise in the growing expo. I mentioned to a number of people that Saturday in particular reminded me of rAge as travelling from one side of the expo to the next was no easy task. Lines to get food took ages, and while these sound like bad things, they're actually really good. While the VS Gaming Dota 2 stage was reserved for their Masters Finals, the ACGL stage (and competitive area) invited expo-goers to take part in competitions. On Friday and Saturday, they ran an Injustice 2 schools league which saw a range of players take to the stage (with an audience) and play for R1000. Throughout Saturday too, the ACGL hosted more Injustice 2 competitions for people attending the expo with a "King of the Hill" style tournament. Sunday was reserved for the Call of Duty finals on stage, which ran alongside all the festivities in their own cordoned off area up until the final stages. Energy Esports managed to grab first place, and they too had their own packed crowd.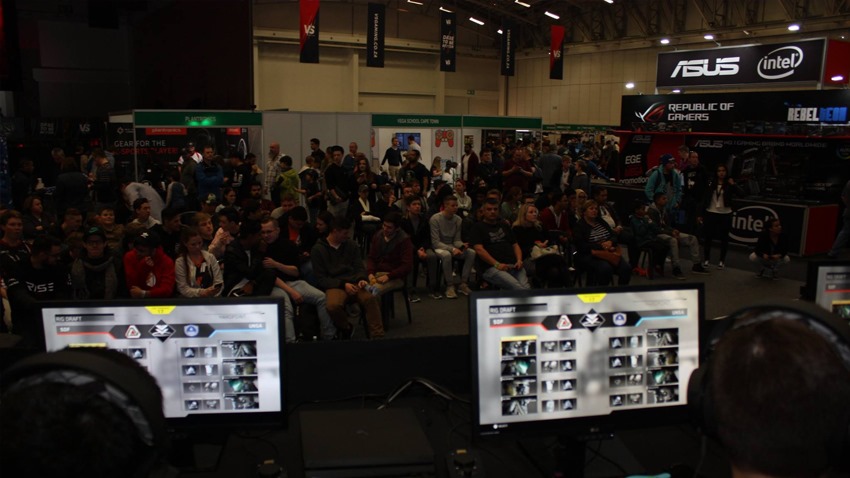 A view from behind the Call of Duty players, EGE – image by Zombiegamer
Throughout the expo there were a number of vendors who offered gaming as an incentive for visitors, including KFM who hosted a racing simulator competition. Interest was high, and with the success of the past weekend, it's clear that EGE is slowly becoming one of South Africa's finer showcases of South African esports. In the previous years, prior to EGE, rAge was the go-to spot for a gaming experience, the only issue was that the competitive side, or esports, was hidden away in the basement featuring all the top teams within the then Digital Gaming League (now VS Gaming).
Since about 2014 esports started to make its way on to the expo floor with the NAG Gaming League, and other competitions. Last year's rAge expo in both Cape Town and Johannesburg esports, and the latter had the Call of Duty World League endorsed event and a stage for the DGL Masters. Both featured international guests, and both were once again a huge hit lending to the fact that expos are becoming hot spots for esports. EGE is still new, and in my mind, they've already cemented themselves as a gaming expo with a large esports influence, and I'd love to see that grow to several halls dedicated to some of South Africa's biggest competitions.
This year's rAge is already shaping up to be a major esports showcase with confirmed, and rumoured, events to feature ESL CS:GO, VS Gaming CS:GO, Orena Fight Nights, and more. However, I already can't wait for next year's EGE where esports will undoubtedly steal the show once again.
Like esports?
Check out esports central
Last Updated: July 31, 2017