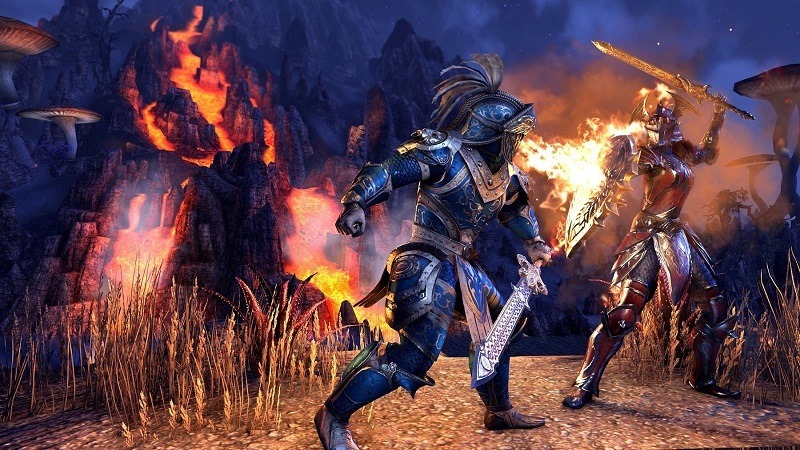 By their very nature, MMO's evolve – but as it stands right now, The Elder Scrolls online isn't a worthwhile investment. If you're an Elder Scrolls fan, you might want to give it a try but I do think you may be a teeny bit disappointed. If you're an MMORPG fan, there are some ideas here that you will certainly like.
That was my verdict on The Elder Scrolls Online when I reviewed it back in 2014. A lot has changed since then however. Apart from new DLC, bugs have been ironed out, and the MMORPG has dropped its subscription fee. That's all good and well, but the base product still costs cash, which many aren't willing to cough up in fear that they end up disliking the game.
If you're one of them, you'll be happy to know that an opportunity to explore Tamriel without spending a cent has just presented itself. It's been announced that the Elder Scrolls Online will be completely free to play from now, right through until November the 21st (via PC Gamer):
You've heard about One Tamriel, now come see what it's all about – experience adventure without limits in The Elder Scrolls Online during our Free Play Weekend on PlayStation 4 & PC/Mac.

You'll have access to the full The Elder Scrolls Online: Tamriel Unlimited base game, not including DLC game pack areas
Upon account creation, you'll get 500 crowns to spend in the Crown Store on fun costumes, unique pets, helpful scrolls, and more
After the Free Play Weekend ends, you can continue right where you left off! Any characters you create, Crown Packs, or Crown Store items you purchase, as well as any progress you make during the Free Play Weekend will carry over when you purchase the game
If you have a Xbox One, don't worry, you haven't been left out entirely – you'll be getting your own free weekend sometime in future. If you're on PC or PS4 on the other hand, I'd suggest you begin your download immediately. The last I heard, the main client was 80gb big, and that was back in April last year.
A host of DLC packs have been added to the game since then, so I think that download size has potentially swelled somewhat. If it has, well, I just hope that you have some proper fast Internet to take full advantage of this promotion if you are interested.
Last Updated: November 16, 2016