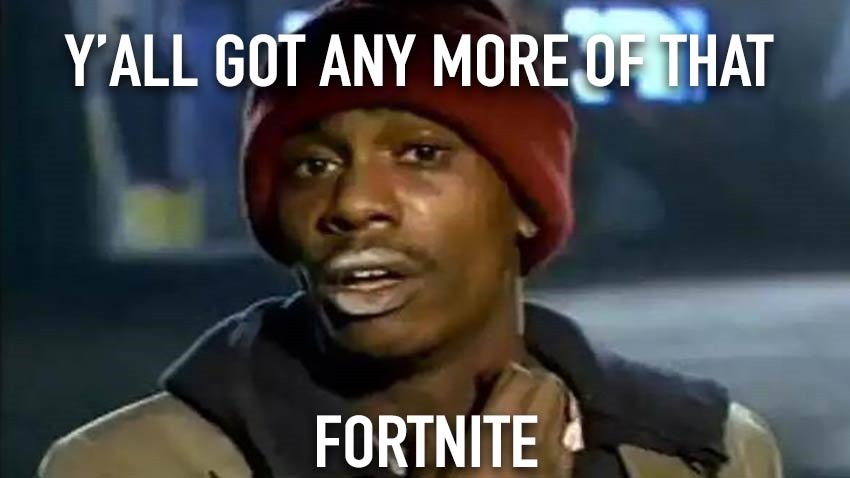 Epic Games is currently dealing with a class-action lawsuit around Fortnite, over this year's January data-breach which was millions of account details exposed. Law firm Franklin D. Azar & Associates corralled 100 complainants, claiming that Epic failed to "maintain adequate security measures and notify users of the security breach in a timely manner."
And now it looks like they'll be facing another class-action suit. This time though, it smacks of opportunism. Canadian law firm Calex Légal is preparing a class-action lawsuit against Fortnite maker Epic Games, accusing the developer of "knowingly" creating a "very, very addictive game."
"Epic Games, when they created Fortnite, for years and years, hired psychologists – they really dug into the human brain and they really made the effort to make it as addictive as possible," said attorney Alessandra Esposito Chartrand. "They knowingly put on the market a very, very addictive game which was also geared toward youth."
Chartrand likens this case to one in 2015 where the Quebec Superior Court found that tobacco companies didn't do enough to warn smokers of the dangers of setting fire to little rolled bundles of tobacco dipped in dangerous chemicals and inhaling the result. Wild.
Chartrand says that Epic willingly made the game the game "as addictive as possible" an d failed to inform children and parents of its addictive properties. The legal notice (which was filed on behalf of parents of two boys, aged 10 and 15) cites the recent WHO classification of gaming addiction as a disorder.
"In our case, the two parents that came forward and told [us], 'If we knew it was so addictive it would ruin our child's life, we would never have let them start playing Fortnite or we would have monitored it a lot more closely'," Chartrand said.
And that itself is telling. The fact that they even state that "we would have monitored it a lot more closely" shows a parental failure to manage and monitor what their children do online. I have a 15-year-old son of my own who plays Fortnite, but he's not allowed to play games at all during the week, and weekend gaming time is limited and monitored. While he enjoys Fortnite and plays it regularly, he's not caught up in that cycle of having to complete all of the challenges – and hasn't once even contemplated buying Battle Passes or any of that nonsense.
It's worth noting, however, that to play Fortnite, you give up the right to sue the company by accepting the game's terms. Chartrand however, believes that those terms "don't stand up in court in Quebec because the province's Consumer Protection Act requires companies to clearly disclose risks associated with products or services".
Anyway, it seems opportunistic to me; a lawsuit brought about by a failure to parent properly.
Last Updated: October 7, 2019