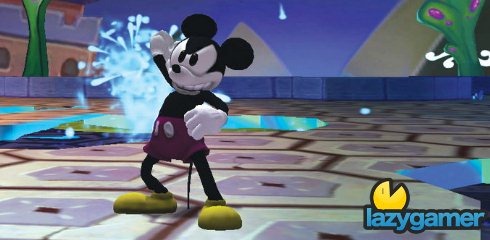 Can you imagine a world where Mickey Mouse is more recognisable than Super Mario? Well if you can you are likely more than 35 years old as our Italian plumber overtook Mickey as an icon in the early 90's and hasn't looked back since.
In Disney's latest attempt to fix this they have thrown oodles of cash at legendary game developer Warren Spector (developer of Deus Ex) and tasked him with creating the best game in the world to showcase their title character.
In a nutshell the game is a linear free roaming puzzle adventurer with a novel paintbrush effect which allows you to alter the environment you live in. It also has a strong moral based gameplay where you can either end up being a loner (but still a hero) or a much loved family favourite hero.
If that nutshell explanation confused you don't feel bad, the game doesn't sound like many things we have played before but according to the preview over at the Official Nintendo Magazine the game is looking great and could well live up to the hype that Warren Spector and his team are trying to create.
Epic Mickey is a Wii exclusive that has no release date but I would expect it to hit in either June or November this year.
Check out the full preview through the jump below.
Source: ONM
Last Updated: January 4, 2010