In 2015, when Psyonix released their hybrid football with cars, many felt Rocket League would revolutionize the then growing esports industry. The game had something to offer – It was fast paced, had pretty colours and was easy enough to understand. These points, among others, were a recipe for esports success, but why haven't we heard much about Rocket League over the past two years?
I'm not saying Rocket League hasn't grown as an esport, but it is foreshadowed by news regarding massive tournaments and sponsorships in games like CS:GO, Dota 2, League of Legends and the newly favoured Overwatch. Rocket League has in fact had an extremely successful year in 2016. Psyonix announced last week that the game has over 25 million players, it was the most downloaded game on the PSN Store in 2016, and Valve ranked it in platinum as one of the top grossing games of 2016. It's also extremely competitive noting that of the 1 billion matches played, 50% were competitive.
One BILLION games played! Thank you to our amazing players for continuing to make #RocketLeague one of the best communities & games around. pic.twitter.com/wAAVCVqkRd

— Rocket League (@RocketLeague) January 11, 2017
Rocket League also had it's first major tournament in 2016 where teams headed to Hollywood to compete for $75,000 and it was such a huge success, Psyonix immediately announced the second season. But why have we not read about Rocket League filling stadiums, or dominating viewership on Twitch and other platforms?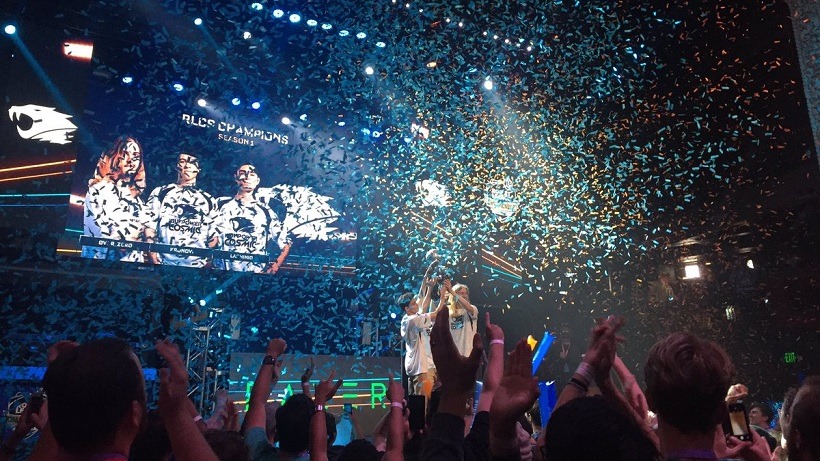 iBUYPOWER Cosmic, winners of Season 1 Rocket League Championship Series
The issue unfortunately lies in the nature of the game. Players are extremely skilled, but the repetitiveness of the game can obscure its complexity. While it's extremely simple to follow, the skill of players often goes unnoticed as the aim is to put the ball in the goal. This could be said about a lot of competitive games, but Rocket League never had the same funding and marketing when compared to games run by Valve and Riot. The global push for spectators and competitors was limited to those who actively followed the scene. This left very little room for growth in the sense of bringing in new viewers and sponsors. The game still thrives within its circles, but it's not on the top shelf like CS:GO, Dota and League of Legends.
The good news is that it's growing and the next season features a prize pool of $250,000. This has led to an increase of organizations getting into Rocket League and an overall growth, but it still feels far to casual-competitive, like a game you'd play with friends when there's nothing left to play.
Rocket League still has a shot at becoming one of the top tier esports titles, and I'm still hoping it gets there.
Like esports?
Check out esports central
Last Updated: January 20, 2017