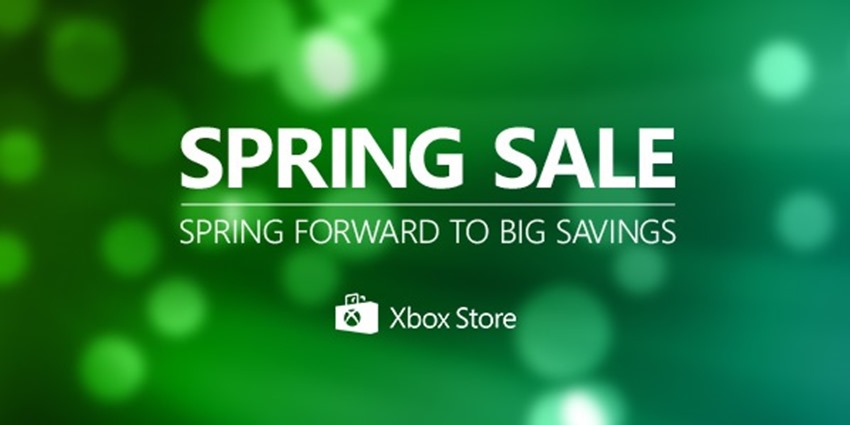 Ah Spring. If you're in the Northern hemisphere, you're most likely feeling the warmer side of climate change right now. And probably a stuffy nose as well, as Mother Nature attempts to pollinate your face off with a selection of spores designed to make you resemble a snotty blowfish. This time of the year is also a perfect reminder that staying indoors might be the best decision you'll ever make, especially when several video games are on sale.
Specifically, the games on sale through the Xbox store. It's been a while since Xbox had a properly massive sale, and they're slashing prices on just about every single game in their library. Steamy, delicious. Throw in a few backwards compatible titles for good measure, and there's plenty to gaze upon, especially if your Gold membership is up to date. Extra 10% off baby. Right now is the part of the day where I frost the tips of my hair, balloon in weight and welcome you to discount town as Guy Fierisale.
Anyway, here's the full list from VG247 of just how much of a discount you can expect from the regular retail prices of these games. You've got until April 17 (That's a Monday), to grab 'em before they're gone for good and you have to wait several more months for a sale to come on. Urgh, waiting is for chumps and chumpettes I say.
Xbox One
1000 Neverwinter Zen Add-On 5% – 15%
11000 Neverwinter Zen Add-On 15% – 25%
2000 Neverwinter Zen Add-On 10% – 20%
23000 Neverwinter Zen Add-On 15% – 25%
500 Neverwinter Zen Add-On 5% – 15%
5300 Neverwinter Zen Add-On 10% – 20%
7 Days to Die Xbox One Game 50% – 60%
Aaero* Xbox One Game 20%
ABZÛ Xbox One Game 25% – 33%
Adventure Pop – Exclusive Booster Bundle Add-On 40% – 50%
Adventure Pop – Pirate's Bounty of Gems (6500 Gems) Add-On 40% – 50%
ARK: Scorched Earth (Game Preview) Xbox One Game 30% – 40%
ARK: Survival Evolved (Game Preview) Xbox One Game 50% – 60%
Artifrex Mundi Essential Bundle Xbox One Game 40% – 50%
Assassin's Creed Syndicate Xbox One Game 50% – 60%
Assassin's Creed Syndicate Gold Edition Xbox One Game 50% – 60%
Assassin's Creed The Ezio Collection Xbox One Game 30% – 40%
Assassin's Creed Triple Pack: Black Flag, Unity, Syndicate Xbox One Game 60% – 67%
Assetto Corsa Xbox One Game 40% – 50%
Assetto Corsa – DLC Season Pass Add-On 40% – 50%
ASTRONEER (Game Preview) Xbox Play Anywhere 25%
Awesomenauts Assemble! Xbox One Game 40% – 50%
BADLAND: Game of the Year Edition* Xbox One Game 85%
Bastion Xbox One Game 20% – 30%
Batman – The Telltale Series – Season Pass (Episodes 2-5) Add-On 40% – 50%
Batman: Arkham Knight Premium Edition Xbox One Game 50% – 60%
Batman: Arkham Knight Season Pass Add-On 50% – 60%
Battle Ages – City of Gems (1200) Xbox One Game 60% – 67%
Battle Island Commanders – Pile of Gold (1200) Add-On 40% – 50%
Battle Islands – Pile of Gold (1200) Xbox One Game 60% – 67%
Battle Worlds: Kronos Xbox One Game 70% – 80%
Battlefield 1 Xbox One Game 30% – 40% Spring Sale
Battlefield 1 Deluxe Edition Xbox One Game 30% – 40%
Battlefield 1 Ultimate Edition Xbox One Game 30% – 40%
Battlefield 1 – Titanfall 2 Deluxe Bundle Xbox One Game 40% – 50%
BioShock: The Collection Xbox One Game 40% – 50%
Borderlands: The Handsome Collection Xbox One Game 60% – 67%
Call of Duty: Black Ops III Digital Deluxe Edition Xbox One Game 30% – 40%
Call of Duty: Black Ops III – Gold Edition Xbox One Game 30% – 40%
Call of Duty: Infinite Warfare + Destiny – The Collection Xbox One Game 35% – 45%
Call of Duty: Infinite Warfare – Digital Deluxe Edition Xbox One Game 15% – 25%
Call of Duty: Infinite Warfare – Digital Legacy Edition Xbox One Game 20% – 30%
Call of Duty: Infinite Warfare – Launch Edition Xbox One Game 25% – 35%
Call of Duty: IW Legacy + Destiny – The Collection Bundle Xbox One Game 30% – 40%
Candleman Xbox One Game 25% – 33%
Chivalry: Medieval Warfare Ultimate Edition* Xbox One Game 70%
Chivalry: Medieval Warfare* Xbox One Game 50%
ClusterTruck Xbox One Game 40% – 50% Spring Sale
Darksiders II Deathinitive Edition Xbox One Game 50% – 60%
DC Universe Online – Episode Pack I Add-On 25% – 33%
DC Universe Online – Episode Pack II Add-On 25% – 33%
DC Universe Online – Episode Pack III Add-On 25% – 33%
DC Universe Online – Episode Pack IV Add-On 25% – 33%
DC Universe Online – Power Bundle (2016) Xbox One Game 30% – 40%
DC Universe Online – Ultimate Edition (2016) Xbox One Game 30% – 40%
Dead Island Definitive Collection Xbox One Game 50% – 60%
Dead Island Definitive Edition Xbox One Game 40% – 50%
Dead Island Retro Revenge Xbox One Game 40% – 50%
Dead Island: Riptide Definitive Edition Xbox One Game 40% – 50%
Dead Rising Xbox One Game 40% – 50%
Dead Rising 2 Xbox One Game 30% – 40%
Dead Rising 2 Off the Record Xbox One Game 40% – 50%
Dead Rising Triple Bundle Pack Xbox One Game 40% – 50%
Deadlight: Director's Cut Xbox One Game 60% – 70%
Destiny – The Collection Xbox One Game 40% – 50%
Deus Ex: Mankind Divided Xbox One Game 60% – 70%
Deus Ex: Mankind Divided – Digital Deluxe Edition Xbox One Game 60% – 70%
Diablo III: Reaper of Souls – Ultimate Evil Edition Xbox One Game 60% – 67%
Dishonored 2 Xbox One Game 40% – 50%
Dishonored Definitive Edition Xbox One Game 40% – 50%
Doodle God: Ultimate Edition Xbox One Game 30% – 40%
DOOM Xbox One Game 30% – 40%
DOOM Season Pass Add-On 30% – 40%
Dovetail Games Euro Fishing Xbox One Game 40% – 50%
DRAGON BALL XENOVERSE 2 Xbox One Game 35% – 45%
DRAGON BALL XENOVERSE 2 DELUXE EDITION Xbox One Game 25% – 35%
Dying Light: The Following – Enhanced Edition Xbox One Game 10% – 17%
EA SPORTS FIFA 17 Xbox One Game 50% – 60%
EA SPORTS FIFA 17 Deluxe Edition Xbox One Game 50% – 60%
EA SPORTS FIFA 17 Super Deluxe Edition Xbox One Game 20% – 30%
EA SPORTS NHL 17 Xbox One Game 60% – 67%
EA SPORTS NHL 17 Deluxe Edition Xbox One Game 60% – 67%
EA SPORTS NHL 17 Super Deluxe Edition Xbox One Game 40% – 50%
Energy Cycle* Xbox One Game 33%
Enigmatis 2: The Mists of Ravenwood* Xbox One Game 30%
F1 2016 Xbox One Game 50% – 60%
Fallout 4 Xbox One Game 60% – 67%
Fallout 4 Season Pass Add-On 30% – 40%
Fallout 4: Automatron Add-On 30% – 40%
Fallout 4: Contraptions Workshop Add-On 30% – 40%
Fallout 4: Digital Deluxe Bundle Xbox One Game 40% – 50%
Fallout 4: Far Harbor Add-On 30% – 40%
Fallout 4: Nuka-World Add-On 30% – 40%
Fallout 4: Vault-Tec Workshop Add-On 30% – 40%
Fallout 4: Wasteland Workshop Add-On 30% – 40%
Far Cry Primal – Apex Edition Xbox One Game 40% – 50%
Farming Simulator 17 Xbox One Game 30% – 40%
Farming Simulator 17 – Premium Edition Xbox One Game 30% – 40%
Farming Simulator 17 – Season Pass Add-On 5% – 15%
FOR HONOR DELUXE EDITION Xbox One Game 20% – 30%
FOR HONOR Gold Edition Xbox One Game 20% – 30%
FOR HONOR Standard Edition Xbox One Game 15% – 25%
Forza Horizon 3 Car Pass Add-On 50%
Forza Horizon 3 Deluxe Edition Xbox Play Anywhere 35%
Forza Horizon 3 Expansion Pass Add-On 25%
Forza Horizon 3 Standard Edition Xbox Play Anywhere 35%
Forza Horizon 3 Ultimate Edition Xbox Play Anywhere 40%
Forza Motorsport 6 Deluxe Edition Xbox One Game 30% – 40%
Forza Motorsport 6 Standard Edition Xbox One Game 30% – 40%
Forza Motorsport 6 Ultimate Edition Xbox One Game 40% – 50%
Forza Motorsport 6 – Porsche Expansion* Add-On 75%
Game of Thrones – Season Pass (Episodes 2-6) Add-On 60% – 70%
Gears of War 4 Xbox One Game 50%
Gears of War 4 Ultimate Edition Xbox One Game 40%
Gears of War 4 – Run The Jewels Airdrop Add-On 50%
Gears of War Ultimate Edition Deluxe Version Xbox One Game 50% – 60%
Gears of War: Ultimate Edition – Day One Version Xbox One Game 40% – 50%
Gems of War – The Motherlode Add-On 25% – 33%
Geometry Wars 3: Dimensions Evolved Xbox One Game 60% – 67%
Goat MMO Simulator Add-On 25% – 33%
Goat Simulator Xbox One Game 50% – 60%
Goat Simulator: GoatZ Add-On 25% – 33%
Goat Simulator: PAYDAY Add-On 25% – 33%
Grand Theft Auto V Xbox One Game 40% – 50%
Grand Theft Auto V & Great White Shark Cash Card Xbox One Game 40% – 50%
Grand Theft Auto V & Megalodon Shark Cash Card Bundle Xbox One Game 50% – 60%
Grand Theft Auto V & Whale Shark Cash Card Bundle Xbox One Game 50% – 60%
Grim Legends: The Forsaken Bride* Xbox One Game 30%
Halo 5: Guardians Xbox One Game 40% – 50%
Halo 5: Guardians – 15 Gold REQ Packs + 5 Free Xbox One Game 25% – 33%
Halo 5: Guardians – 34 Gold REQ Packs + 13 Free Xbox One Game 30% – 40%
Halo 5: Guardians – 7 Gold REQ Packs + 2 Free Xbox One Game 10% – 20%
Halo 5: Guardians – Digital Deluxe Edition Xbox One Game 50% – 60%
Halo Wars 2: Standard Edition Xbox Play Anywhere 25% – 35%
Halo Wars 2: Ultimate Edition Xbox Play Anywhere 25% – 35%
Hasbro Family Fun Pack – Super Edition Xbox One Game 40% – 50%
HAWKEN – Starter Pack Add-On 40% – 50%
How to Survive 2 Xbox One Game 15% – 25%
Just Cause 3 Xbox One Game 67% – 75%
Just Cause 3 XL Edition Xbox One Game 67% – 75%
Just Cause 3: Air, Land & Sea Expansion Pass Add-On 67% – 75%
Kill The Bad Guy Xbox One Game 25% – 33%
Killer Instinct: Definitive Edition Xbox One Game 30% – 40%
Kyurinaga's Revenge* Xbox One Game 50%
Lara Croft and the Temple of Osiris Xbox One Game 67% – 75%
Lara Croft and the Temple of Osiris & Season Pass Pack Xbox One Game 67% – 75%
LEGO Marvel Super Heroes Xbox One Game 67% – 75%
LEGO Marvel's Avengers Deluxe Edition Xbox One Game 50% – 60%
LEGO Marvel's Avengers Season Pass Xbox One Game 50% – 60%
LEGO The Hobbit Xbox One Game 60% – 70%
LEGO Worlds Xbox One Game 25% – 33%
Life is Strange Complete Season (Episodes 1-5) Xbox One Game 67% – 75%
Line of Defense Tactics Xbox One Game 40% – 50%
Lumo Xbox One Game 25% – 33%
Mad Max Xbox One Game 40% – 50%
Marvel: Ultimate Alliance Bundle Xbox One Game 40% – 50%
Masquerade: The Baubles of Doom Xbox One Game 60% – 67%
Metro 2033 Redux Xbox One Game 67% – 75%
Metro Redux Bundle Xbox One Game 70% – 80%
Metro: Last Light Redux Xbox One Game 67% – 75%
Middle-earth: Shadow of Mordor – Game of the Year Edition Xbox One Game 40% – 50%
Mighty No. 9 Xbox One Game 50% – 60%
Minecraft: Story Mode – Adventure Pass (Additional Episodes 6-8) Add-On 50% – 60%
Minecraft: Story Mode – The Complete Season (Episodes 1-5) Xbox One Game 50% – 60%
Mirror's Edge Catalyst Xbox One Game 40% – 50%
Monopoly Family Fun Pack Xbox One Game 50% – 60%
Mortal Kombat XL Xbox One Game 30% – 40%
Murdered: Soul Suspect Xbox One Game 67% – 75%
MX vs. ATV Supercross Encore Xbox One Game 40% – 50%
NARUTO SHIPPUDEN: Ultimate Ninja STORM 4 Xbox One Game 25% – 35%
NARUTO SHIPPUDEN: Ultimate Ninja STORM 4 ROAD TO BORUTO Add-On 15% – 25%
NARUTO STORM 4 – Season Pass Add-On 60% – 67%
NBA 2K17 Xbox One Game 40% – 50%
NBA 2K17 200,000 VC Add-On 35% – 45%
NBA 2K17 450,000 VC Add-On 10% – 20%
NBA 2K17 Kobe Bryant Legend Edition Xbox One Game 25% – 35%
NBA 2K17 Kobe Bryant Legend Edition Gold Xbox One Game 30% – 40%
Necropolis Xbox One Game 40% – 50%
Need for Speed Deluxe Bundle Xbox One Game 60% – 70%
Nightmares from the Deep 2: The Siren's Call* Xbox One Game 30%
No Time to Explain* Xbox One Game 50%
NOT A HERO: SUPER SNAZZY EDITION* Xbox One Game 75%
Oceanhorn Monster of Uncharted Seas* Xbox One Game 33%
ONE PIECE BURNING BLOOD – Gold Edition Xbox One Game 60% – 67%
One Piece: Burning Blood Xbox One Game 60% – 67%
Ori and the Blind Forest: Definitive Edition Xbox One Game 40% – 50%
Overcooked Xbox One Game 30% – 40%
Overwatch: Origins Edition Xbox One Game 25% – 35%
PAYDAY 2 – CRIMEWAVE EDITION – THE BIG SCORE DLC Bundle! Xbox One Game 40% – 50%
PAYDAY 2 – CRIMEWAVE EDITION – THE BIG SCORE Game Bundle Xbox One Game 60% – 67%
PAYDAY 2: CRIMEWAVE EDITION Xbox One Game 40% – 50%
Pit People (Game Preview) Xbox One Game 15% – 25%
Pixel Piracy Xbox One Game 75% – 85%
Prison Architect: Xbox One Edition Xbox One Game 50% – 60%
Project CARS Digital Edition Xbox One Game 50% – 60%
Prominance Poker – Boss Bundle Add-On 40% – 50%
Prominence Poker – Made Bundle Add-On 40% – 50%
Pure Chess Grandmaster Edition Xbox One Game 40% – 50%
Quantum Break Xbox One Game 50% – 60%
ReCore Xbox One Game 50%
Rise & Shine Xbox One Game 25% – 33%
RWBY: Grimm Eclipse Xbox One Game 25% – 33% Spring Sale
Ryse: Son of Rome Season Pass Add-On 60% – 67% Spring Sale
Saban's Mighty Morphin Power Rangers: Mega Battle Xbox One Game 15% – 25%
ScreamRide Xbox One Game 67% – 75%
Shadow Warrior* Xbox One Game 80% DWG
Silence – The Whispered World 2 Xbox Play Anywhere 50%
Sleeping Dogs Definitive Edition Xbox One Game 67% – 75%
Sniper Elite 3 Ultimate Edition Xbox One Game 60% – 67%
Spheroids Xbox One Game 35%
Star Trek Online: 1000 Zen Add-On 5% – 15%
Star Trek Online: 11000 Zen Add-On 15% – 25%
Star Trek Online: 2000 Zen Add-On 10% – 20%
Star Trek Online: 23000 Zen Add-On 15% – 25%
Star Trek Online: 500 Zen Add-On 5% – 15%
Star Trek Online: 5300 Zen Add-On 10% – 20%
STAR WARS Battlefront Season Pass Add-On 40% – 50%
State of Decay: Year-One Survival Edition Xbox One Game 60% – 67%
STEEP Xbox One Game 40% – 50% Spring Sale
STEEP GOLD EDITION Xbox One Game 35% – 45%
Styx: Master of Shadows Xbox One Game 67% – 75%
Sunset Overdrive Xbox One Game 60% – 67%
Sunset Overdrive Deluxe Edition Xbox One Game 60% – 67%
Super Night Riders* Xbox One Game 50%
Sword Coast Legends* Xbox One Game 67%
Tales from the Borderlands Complete Season (Episodes 1-5) Xbox One Game 60% – 70%
Tennis in the Face Xbox One Game 40% – 50%
Terraria Xbox One Game 60% – 70%
The Dwarves Xbox One Game 30% – 40%
The Elder Scrolls Online: Gold Edition Xbox One Game 40% – 50%
The Elder Scrolls Online: Tamriel Unlimited Xbox One Game 60% – 67%
The Elder Scrolls Online: Tamriel Unlimited – 1500 Crowns Xbox One Game 15% – 25%
The Elder Scrolls Online: Tamriel Unlimited – 3000 Crowns Xbox One Game 25% – 33%
The Elder Scrolls Online: Tamriel Unlimited – 5500 Crowns Xbox One Game 30% – 40%
The Elder Scrolls Online: Tamriel Unlimited – 750 Crowns Xbox One Game 15% – 25%
The Escapists: Supermax Edition Xbox One Game 67% – 75%
The Escapists: The Walking Dead* Xbox One Game 75%
The Jackbox Party Pack 3 Xbox One Game 40% – 50%
The LEGO Movie Videogame Xbox One Game 60% – 70%
The Long Dark (Game Preview) Xbox One Game 40% – 50%
The Telltale Games Collection Xbox One Game 60% – 70%
The Telltale Undead Survival Bundle Xbox One Game 60% – 70%
The Walking Dead: A New Frontier – The Complete Season (Episodes 1-5) Add-On 15% – 25%
The Walking Dead: The Complete First Season Xbox One Game 60% – 70%
The Witcher 3: Wild Hunt Expansion Pass Add-On 30% – 40%
The Witcher 3: Wild Hunt – Blood and Wine Add-On 30% – 40%
The Witcher 3: Wild Hunt – Complete Edition Xbox One Game 40% – 50%
The Witcher 3: Wild Hunt – Hearts of Stone Add-On 30% – 40%
Thief Xbox One Game 67% – 75%
This War of Mine: The Little Ones Xbox One Game 60% – 70%
Titanfall 2 Xbox One Game 40% – 50%
Titanfall 2 Deluxe Edition Xbox One Game 40% – 50%
Tom Clancy's Rainbow Six Siege Xbox One Game 40% – 50%
TOM CLANCY'S RAINBOW SIX SIEGE + THE DIVISION BUNDLE Xbox One Game 40% – 50%
Tom Clancy's Rainbow Six Siege Year 2 Gold Edition Xbox One Game 30% – 40%
Tomb Raider: Definitive Edition Xbox One Game 67% – 75%
Toro* Xbox One Game 50% DWG
Trackmania Turbo Xbox One Game 50% – 60%
Trials Fusion: The Awesome Max Edition Xbox One Game 50% – 60%
Trials of The Blood Dragon Xbox One Game 40% – 50%
TRIALS OF THE BLOOD DRAGON + TRIALS FUSION AWESOME MAX EDITION Xbox One Game 50% – 60%
Uncanny Valley Xbox One Game 25% – 33%
Unravel Xbox One Game 67% – 75%
Warframe: 1000 Platinum + Rare Mod Add-On 40%
Warframe: 170 Platinum Add-On 30%
Warframe: 2100 Platinum + Dual Rare Mods Add-On 45%
Warframe: 3210 Platinum + Triple Rare Mods Add-On 50%
Warframe: 370 Platinum Add-On 35%
Warhammer: End Times – Vermintide Xbox One Game 50% – 60%
Watch Dogs 2 Xbox One Game 40% – 50% Spring Sale
Watch Dogs 2 – Deluxe Edition Xbox One Game 40% – 50%
Watch Dogs 2 – Gold Edition Xbox One Game 40% – 50%
Wolfenstein: The New Order Xbox One Game 60% – 67%
Wolfenstein: The Old Blood Xbox One Game 60% – 67%
World of Tanks – KV-1 Captured Elite Xbox One Game 10% – 20%
World of Tanks – Rare Rivals Xbox One Game 15% – 25%
Worms W.M.D Xbox One Game 30% – 40%
XCOM 2 Xbox One Game 40% – 50%
XCOM 2 Digital Deluxe Edition Xbox One Game 40% – 50%
Yasai Ninja* Xbox One Game 50%
Xbox 360
Alan Wake* Games On Demand 75%
Alan Wake's American Nightmare Arcade 65% – 75%
Assassin's Creed Rogue Back Compat 50% – 60%
Assassin's CreedIV Black Flag Games On Demand 50% – 60%
Batman – The Telltale Series – Season Pass Add-On 40% – 50%
Batman: The Telltale Series Games On Demand 75% – 85%
BioShock Back Compat 40% – 50%
BioShock 2 Back Compat 40% – 50%
BioShock Infinite Back Compat 40% – 50%
Blue Dragon Back Compat 50% – 60%
Borderlands Back Compat 40% – 50%
Borderlands 2 Season Pass Add-On 67% – 75%
Brothers: a Tale of Two Sons Arcade 60% – 70%
Bully Scholarship Edition Back Compat 40% – 50%
Call of Duty 2 Back Compat 40% – 50%
Call of Duty 3 Back Compat 40% – 50%
Call of Duty: Black Ops Back Compat 40% – 50%
Call of Duty: Black Ops II Games On Demand 50% – 60%
Call of Duty: Black Ops II Season Pass Add-On 30% – 40%
Call of Duty: Black Ops III – Bundle Games On Demand 50% – 60%
Call of Duty: Modern Warfare Bundle Games On Demand 40% – 50%
Call of Duty: World at War Back Compat 40% – 50%
Catherine Back Compat 75% – 85%
Chivalry: Medieval Warfare* Games On Demand 67%
Crackdown Games On Demand 57% – 67%
Crackdown 2 Games On Demand 50% – 60%
Dead Island Games On Demand 75% – 85%
Dead Island Riptide Games On Demand 70% – 80%
Dead Rising Games On Demand 60% – 67%
Dead Rising 2 Games On Demand 60% – 67%
Dead Rising 2 Off the Record Games On Demand 60% – 67%
Dead Rising 2: Case West Back Compat 20% – 30%
Dead Rising 2: Case Zero Back Compat 20% – 30%
Destiny: The Taken King Add-On 40% – 50% Spring Sale
Destiny: The Taken King – Digital Collector's Edition Games On Demand 40% – 50%
Destiny: The Taken King – Legendary Edition Games On Demand 40% – 50%
Deus Ex: Human Revolution Back Compat 67% – 75%
Diablo III: Reaper of Souls – Ultimate Evil Edition Games On Demand 40% – 50%
Dishonored Games On Demand 60% – 67%
Dragon's Dogma: Dark Arisen Games On Demand 60% – 67%
Dungeon Siege III Back Compat 67% – 75%
Escape Dead Island Back Compat 75% – 85%
Fable Anniversary Games On Demand 50% – 60%
Fable II Back Compat 50% – 60%
Fable III Back Compat 50% – 60%
Fable Trilogy Games On Demand 50% – 60%
Far Cry 3: Blood Dragon Back Compat 40% – 50%
Game of Thrones – Season Pass (Episodes 2-6) Add-On 60% – 70%
Gears of War Back Compat 40% – 50%
Gears of War 2 Back Compat 40% – 50%
Gears of War 2: All Fronts Collection Add-On 40% – 50%
Gears of War 3 Back Compat 40% – 50%
Gears of War 3 Season Pass Add-On 40% – 50%
Gears of War: Judgment Back Compat 40% – 50%
Geometry Wars 3: Dimensions Evolved Games On Demand 60% – 67%
Goat MMO Simulator Add-On 25% – 33%
Goat Simulator Games On Demand 50% – 60%
Goat Simulator: GoatZ Add-On 25% – 33%
Goat Simulator: PAYDAY Add-On 25% – 33%
Grand Theft Auto IV Back Compat 40% – 50%
Grand Theft Auto V Games On Demand 40% – 50%
Grand Theft Auto: San Andreas Games On Demand 40% – 50%
Hitman HD Pack Games On Demand 67% – 75%
Hitman: Absolution Back Compat 67% – 75%
Hitman: Blood Money Games On Demand 67% – 75%
How to Survive Arcade 60% – 70%
JUJU* Games On Demand 75% DWG
Just Cause 2 Back Compat 67% – 75%
Kane & Lynch 2 Back Compat 67% – 75%
Kane and Lynch: Dead Men Games On Demand 67% – 75%
KILLER IS DEAD Back Compat 70% – 80%
Lara Croft and the Guardian of Light Games On Demand 67% – 75%
Lara Croft Tomb Raider Anniversary Games On Demand 67% – 75%
Life is Strange Season Pass (Episodes 2-5) Add-On 60% – 70%
Lost Odyssey Back Compat 66% – 76%
Marvel: Ultimate Alliance Games On Demand 60% – 67%
Marvel: Ultimate Alliance 2 Games On Demand 60% – 67%
Mass Effect Back Compat 50% – 60%
Metro 2033 Games On Demand 75% – 85%
Metro: Last Light Games On Demand 75% – 85%
Mighty No. 9 Games On Demand 50% – 60% Spring Sale
Mighty No. 9 – Ray Expansion Add-On 40% – 50%
Mighty No. 9 – Retro Hero Add-On 40% – 50%
Minecraft: Story Mode – Adventure Pass (Additional Episodes 6-8) Add-On 50% – 60%
Minecraft: Story Mode – Season Pass Add-On 50% – 60%
Murdered: Soul Suspect Games On Demand 67% – 75%
MX vs ATV Reflex* Games On Demand 90%
MX vs. ATV Alive* Games On Demand 90%
NBA 2K17 Games On Demand 50% – 60%
Prison Architect: Xbox 360 Edition Games On Demand 50% – 60%
Quantum Conundrum Arcade 67% – 75%
Rayman Legends Back Compat 50% – 60%
Rayman Origins Back Compat 50% – 60%
Red Dead Redemption Back Compat 40% – 50%
Red Faction: Armageddon* Games On Demand 90%
Red Faction: Guerilla* Games On Demand 85%
Remember me Games On Demand 67% – 75%
Rio* Games On Demand 85% DWG
Risen Games On Demand 65% – 75%
Risen 2: Dark Waters Games On Demand 65% – 75%
Risen 3 Titan Lords Games On Demand 65% – 75%
Sacred 2 Fallen Angel Games On Demand 70% – 80%
Sacred 3 Back Compat 65% – 75%
Sacred Citadel Back Compat 70% – 80%
ScreamRide Games On Demand 50% – 60%
Sine Mora* Arcade 50% DWG
Sleeping Dogs Games On Demand 67% – 75%
Sniper Elite 3 Games On Demand 55% – 65%
South Park: The Stick of Truth Back Compat 50% – 60%
State of Decay Arcade 60% – 70%
State of Decay: Breakdown Add-On 62% – 72%
State of Decay: Lifeline Add-On 62% – 72%
Tales from the Borderlands – Season Pass Add-On 60% – 70%
Terraria – Xbox 360 Edition Arcade 65% – 75%
The Escapists Games On Demand 65% – 75%
The Walking Dead: Michonne – Season Pass (Episodes 2-3) Add-On 60% – 70%
The Witcher 2: Assassins of Kings Enhanced Edition Back Compat 75% – 85%
Thief Games On Demand 67% – 75%
Tomb Raider Games On Demand 67% – 75%
Tomb Raider Underworld Games On Demand 67% – 75%
Tomb Raider: Legend Games On Demand 67% – 75%
Watch Dogs Games On Demand 50% – 60%
XCOM: Enemy Within Back Compat 60% – 67%
Last Updated: April 11, 2017