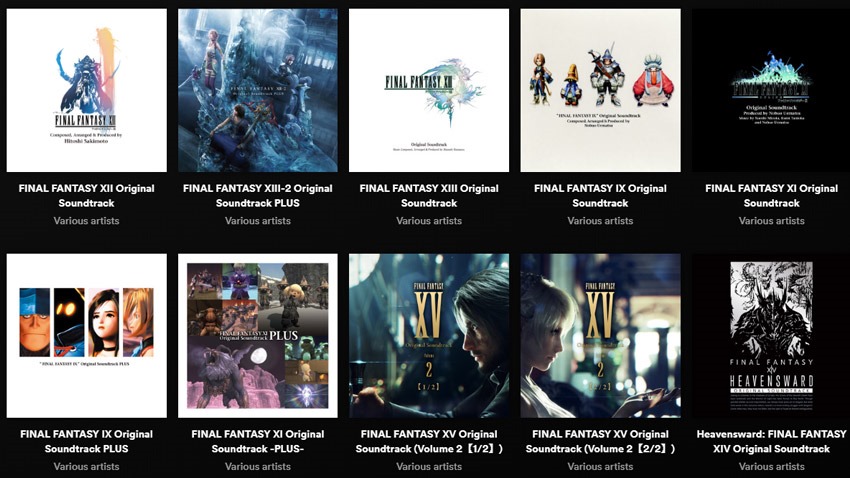 I don't know about you guys, but I kind of hate the sound of silence. I'm the type of fella who works best when there's a touch of music in the air, especially if said music is orchestral in nature. Or Hanson. Only god can mmmjudge me yo. Anyway, if you were ever looking for a video game franchise that has a banging selection of soundtracks to its name, then Final Fantasy has you covered.
Decades worth of games, each one having its own distinct orchestral flavour and lovingly composed primarily by musical mastermind Nobuo Uematsu makes for an unrivalled catalogue of pure audio bliss, which you can now listen to on Spotify and Apple Music. Square Enix has uploaded the entire catalogue of all 1 mainline games, including Final Fantasy VIII for once.
Just search for Final Fantasy Original Soundtrack and you'll be greeted with a tidal wave of brass instruments, subtle flute work and ear-tingling violins, all of which combines together to form the Voltron of video game soundtracks. It's just that good. While the more recent games benefit from increased efforts and production values, there's no denying that the classic Final Fantasy games still have plenty of magic within their own selected scores.
It's a trip down memory lane, where certain iconic sounds were established and themes that would last for decades would be composed. With Square Enix holding a concert this Sunday for Final Fantasy VII that features the various compositions performed in front of a live audience, the timing is exquisite. Trying to choose a favourite track from the library is like trying to choose your favourite nipple if you were some horribly mutated areola monster, but for now I'll end this post with one of my favourite tunes from the list:
No Eyes on Me though. That damn song is the main reason why we'll never see Final Fantasy VIII ported to other consoles.
Last Updated: June 6, 2019