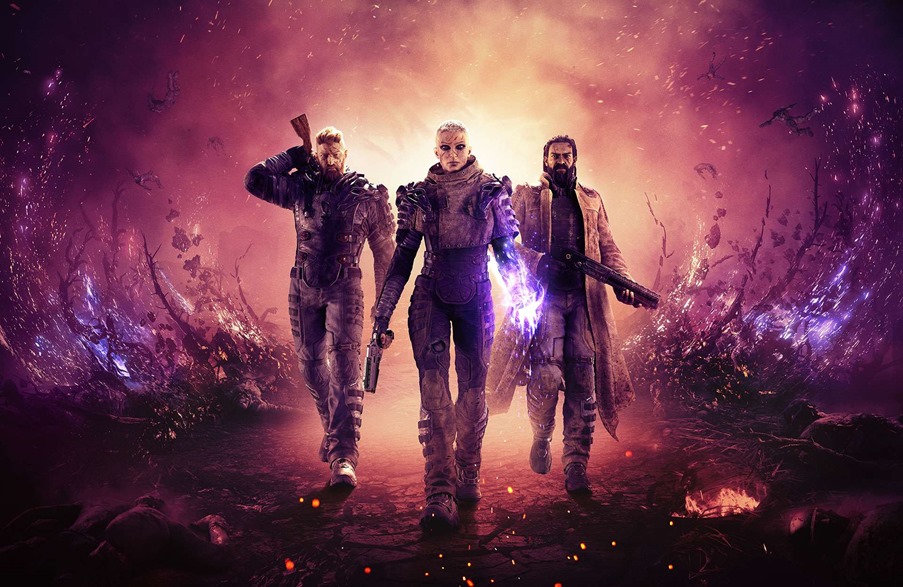 I'm starting this list out on a note of disappointment. On April 9, one of the games being released that day is called Say No! More. Described as the world's first NPG (NO!-Playing Game), SNM is set In a world where everyone sticks to the status quo of saying "YES" and you have to take on the role of an intern on a mission to change reality with the positive power of NO!
Sounds interesting enough, right? What upsets me is that if it was released just one day earlier, it'd be in prime position to take advantage of Rex Manning Day. I know there's no real link between the two other than some similar words mon amour, but missed opportunities and all that. I also can't believe these are the thoughts that live rent-free in my head.
Anyway, April's looking to be a solid month! The next 30 days on the calendar feature People Can Fly's space-hobos with powers aka Outriders taking to the stage, and that tough act will be followed by several midcard games. Star Wars Republic Commando will be yelling vowels at you through its revamped main menu, Cozy Grove looks charming, and JRPG fans have plenty to look forward to when SaGa Frontier Remastered and Atelier Mysterious Trilogy Deluxe Pack arrives.
On the main event stage, it's going to be a double-act: First we have Nintendo rolling out a brand new shutterbug experience with New Pokemon Snap, and then iconic developer Housemarque hits the scene with its first new game in ages, a Groundhog Day shoot 'em up on hostile alien territory called Returnal. I still think it sounds like the name for a sleeping tablet, but maybe it'll eventually make sense.
Here's a look at all the great games coming out in April for a wide variety of platforms.
April 1
Outriders (PC, PS4, PS5, Xbox One, Xbox Series X, Stadia)
April 6
Star Wars Republic Commando (PS4, Switch)
Oddworld: Soulstorm (PC, PS4, PS5)
Lost Words: Beyond the Page (PC, PS4, Xbox One, Switch)
April 8
Before Your Eyes (PC)
Cozy Grove (PC, PS4, PS5, Xbox One, Xbox Series X|S)
Island (Switch)
April 9
Say No More (PC, Switch, iOS)
The Legend of Heroes: Trails of Cold Steel (PC, Switch)
April 13
Demon Skin (PC)
Poison Control (Switch, PS4)
April 14
April 15
Ashwalkers (PC)
Godstrike (PC, Switch)
Shadow Man: Remastered (PC)
SaGa Frontier Remastered (PC, PS4, Switch, iOS, Android)
April 20
MLB: The Show 21 (PS4, PS5, Xbox One, Xbox Series X/S)
Maskmaker (PC VR, PSVR)
April 22
MotoGP 21 (PC, PS4, PS5, Xbox One, Xbox Series X/S, Switch)
Atelier Mysterious Trilogy Deluxe Pack (PC, PS4, Switch)
Scourgebringer (PS4, PS Vita)
April 23
Nier Replicant I'm Not Typing All Those Numbers Out (PC, PS4, Xbox One)
Judgement (PS5, Xbox Series X/S, Stadia)
April 27
Death end re;Quest (Switch)
April 28
Second Extinction (Xbox One, Xbox Series X/S)
April 29
Insurmountable (PC)
Legend of Keepers (PC, Switch, Stadia)
Total War: Rome Remastered (PC)
R-Type Final 2 (Switch, PS4, Xbox One, Xbox Series X|S)
April 30
Returnal (PS5)
New Pokemon Snap (Switch)
Terminator Resistance: Enhanced (PS5)
April TBC
Century: Age of Ashes – Steam Early Access (PC)
El Shaddai: Ascension of the Metatron (PC)
Last Updated: March 31, 2021