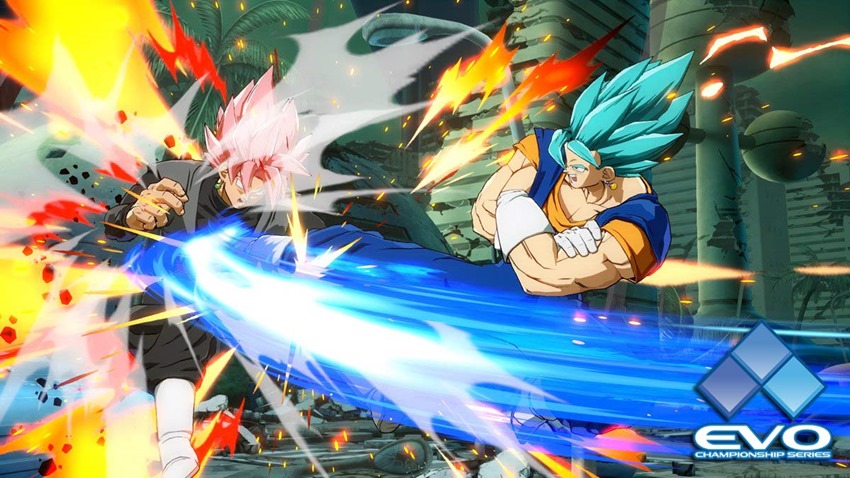 The video game industry may have plenty of Overwatch tournaments, DOTA championships and at least a half-dozen CS: GO events to tune into every year, but there is always will be only one fighting game championship that draws in thumbs and eyeballs from all over the world: EVO. Taking place from the original Sin City once again, the Las Vegas event is gearing up for its biggest year yet as old rivals and new challengers hit the scene.
So which games can you expect to see some fast and furious action in this weekend? These games!
Dragon Ball FighterZ
Street Fighter V: Arcade Edition
Super Smash Bros. for Wii U
Super Smash Bros. Melee
Tekken 7
BlazBlue Cross Tag Battle
Guilty Gear Xrd Rev 2
Injustice 2
Here's a handy-dandy infographic as well for the times that the competition will take place, which is currently set for US Pacific time.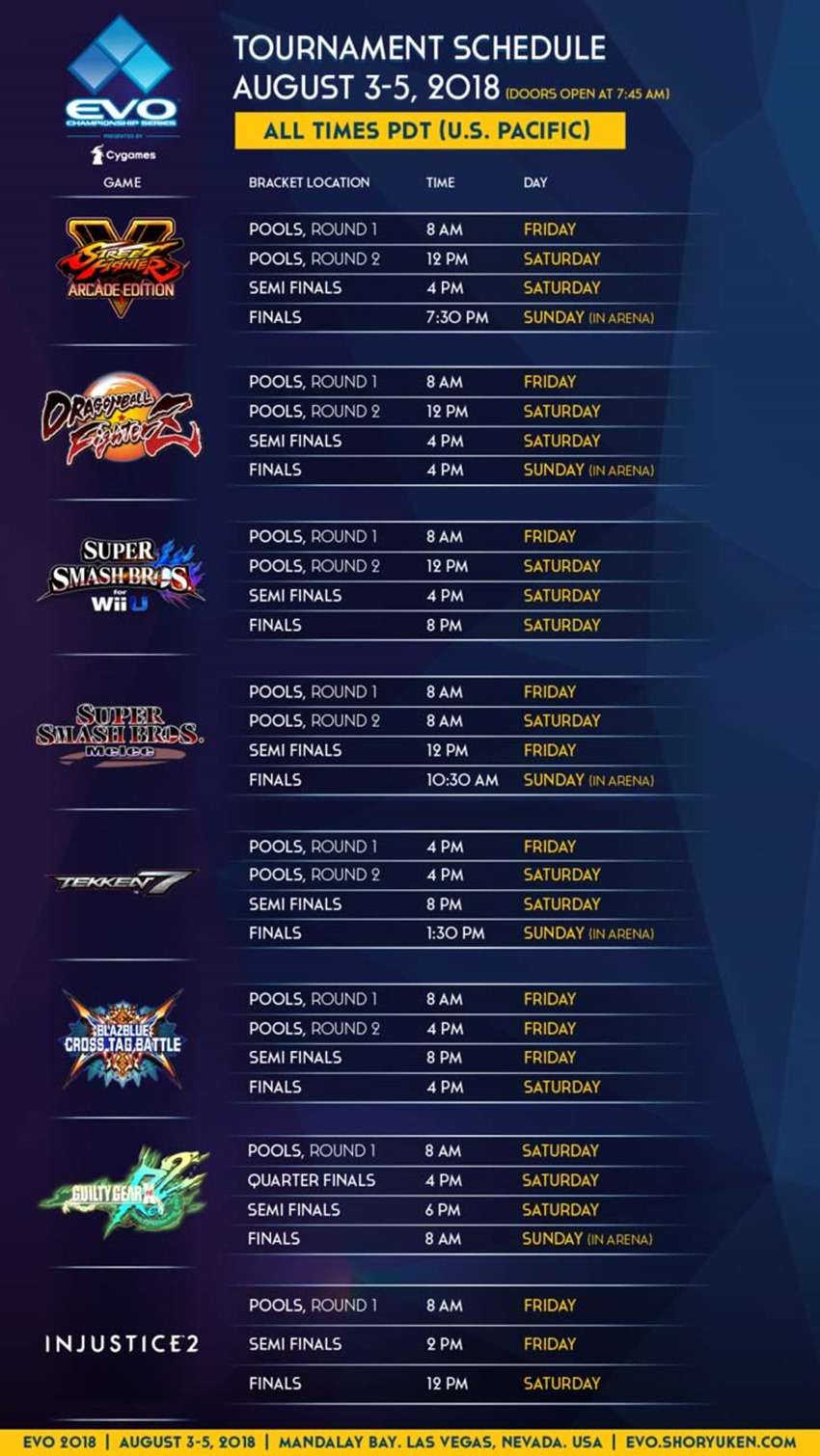 If you need to translate the ol' PDT into something that suits your time zone, then click here. So where can a person watch all of this action unfold? While it's probably too late to book a ticket to Las Vegas and see EVO in person, you can sit back at home and watch the event unfold through several livestreams. Here's the actual streaming schedule: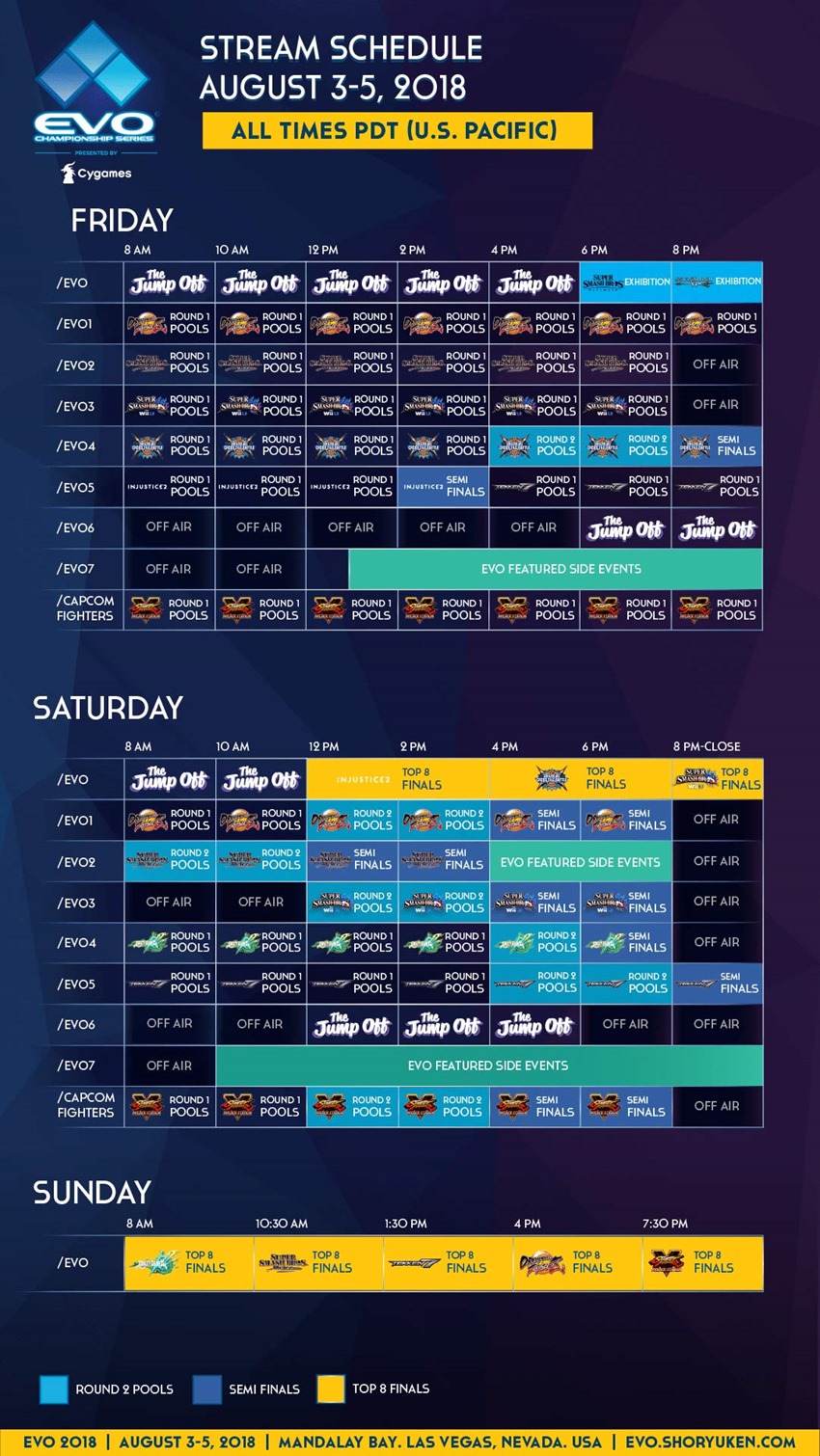 And here's the embed for the main EVO channel, although there will be up to seven streams running at any given time. Thanks Shoryuken:
If you're just tuning in for the finals instead, then here's a list of times for you as well:
8 AM PT / 11 AM ET/ 5 PM CAT – Guilty Gear Xrd: Rev 2
10:30 AM PT / 1:30 PM ET/ 7:30 PM CAT – Super Smash Bros. Melee
1:30 PM PT / 4:30 PM ET/ 10:30 PM CAT – Tekken 7
4: PM / 7 PM ET/ 01:00 AM CAT – Dragon Ball FighterZ
7:30 PM PT / 10:30 PM ET/ 04:30 AM CAT – Street Fighter V: Arcade Edition
This year looks like an absolute cracker. Dragon Ball FighterZ is the hottest game on the circuit currently, the legend Skullomania has returned to the ring and some big announcements are being teased for the weekend. Mortal Kombat 11 maybe? An HD remake of Eternal Champions? Hell, how about a proper return of the best fighting game to ever capitalise on Jurassic Park fever: Primal Rage.
I'd be down like a clown for that.
Last Updated: August 3, 2018