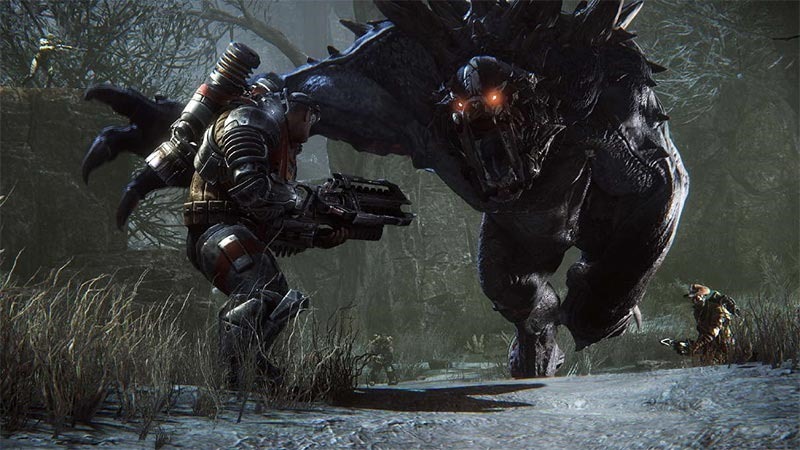 There's still 10 hours to go on Evolve's countdown timer, but it looks like the news is exactly what you're probably expecting it to be. Evolve is going to become a free-to-play game.
In a letter to the community, Turtle Rock co-founders Chris Ashton and Phil Robb explain why and how the game is going to become a free one. They don't specifically use the words "free to play," but that's exactly what's going to happen.
They realise that Evolve didn't quite have the reception they had hoped for.
"…when Evolve launched, the reception wasn't what we expected. Sure, there were some good reviews. There were also bad reviews. Yes, there was excitement. There was also disappointment – for players and for us. The DLC shitstorm hit full force and washed away people's enthusiasm, dragging us further and further from that first magical pick-up-and-play experience."
Evolve has already been pulled from Steam (the page is up, but you're no longer able to buy it), and later today, a beta for the free version of Evolve is going live. If you own the game, don't stress too much. People who bought the game will be given founder's status and granted rewards.
"We're going to make Evolve free on PC as a Beta starting on July 7. This is going to allow us to hit our new server infrastructure really hard and we need your help testing. Stuff could break, and that's our hope, because that will give us time to improve things as we go. We'll parse out major Beta revisions, updates and features over a period of weeks and months — a plan we're going to continually communicate here.

This allows us to test new features and major changes to make our game more accessible and ever closer to the joy we saw when we first showed our baby to the world. Just as importantly, this Beta plan gives us the flexibility and time we need to keep fixing bugs and making Evolve more stable."
In addition to going free to play, there are some other big changes and reworks coming to the game to entice players in – and hopefully keep them playing. Here's an example of the changes:
We're reworking the hunter classes to make the team less reliant on having experienced trappers and medics.
We're making improvements to the maps and UI.
We're improving load times, overall performance, and getting you into the game faster.
We're focusing on improving stability and fixing bugs.
We're completely reworking our progression system and tutorials.
We're adding more customization options
There's no word on what'll happen with the console versions – so questions on how console players will get founder's status and when the free-to-play version will launch in that space are still a mystery. If we're being frank, this maybe just the shot to the arm that Evolve needs. The core game idea is a solid one, it just needs more tuning and a larger player base – and going free to play should help with both of those.
Last Updated: July 7, 2016