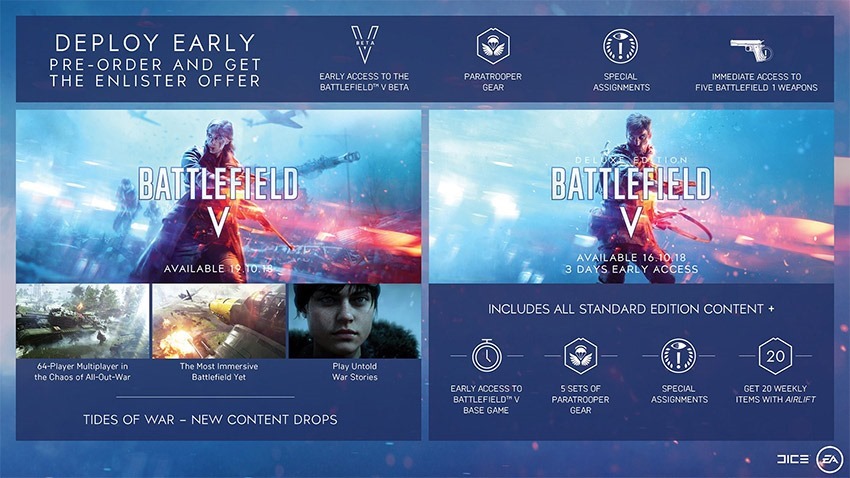 Battlefield V has more release dates than a game should have. It was first available to those who subscribed to EA's Origin Access Premier. Today, it becomes available to those who pre-ordered the shooter's deluxe edition. Next week, it'll become available to the general public, the unwashed, plebeian masses unwilling to pay extra for their games.
This sort of thing is becoming a bit of a growing trend. Shadow of the Tomb Raider, Forza Horizon 4, Assassin's Creed Odyssey, Hitman 2, and annual sports FIFA 19 and NBA 2K19 have all had at least two release dates. There's one for those who're willing to buy special editions, and another release for those who aren't. Turns out, quite a few people are willing to shell out extra for early access.
It's party to do with the increase in digital sales. While physical editions can bundle in extra useless junk like figures and other collectibles, it's hard to increase the value of a digital edition. Sure, many publishers throw in digital baubles, like skins and missions, but there's hardly anything with a real perceived value. Apparently getting to play the game earlier than everyone else is that value.
And it's not confined to digital, as it's working well for in-store purchases too. Select retailers have been able to sell early editions of games, and people have been buying them.
"Yes it is [proving effective]," UK video game retailer GAME CEO Martyn Gibbs told GI.Biz. "We are a big part of that. Some of those games have been exclusive to us from a retail perspective and there has been appetite for those experiences to come a little bit earlier. I don't think it's something that we want to see too wide spread, because it creates uncertainty in terms of release dates. But the trials that we have done, and the ones that we've launched so far this year, have worked really well.
""
While it must cause absolute havoc for retailers to have different release dates for the same game, it's a tactic that's working well for publishers. What that means is you can probably expect a lot more of this in the future.
Last Updated: November 15, 2018