The update looks to overhaul the visual style of your Steam Library and drag it out of that ol' 2003-Chic that got tired about ten years ago.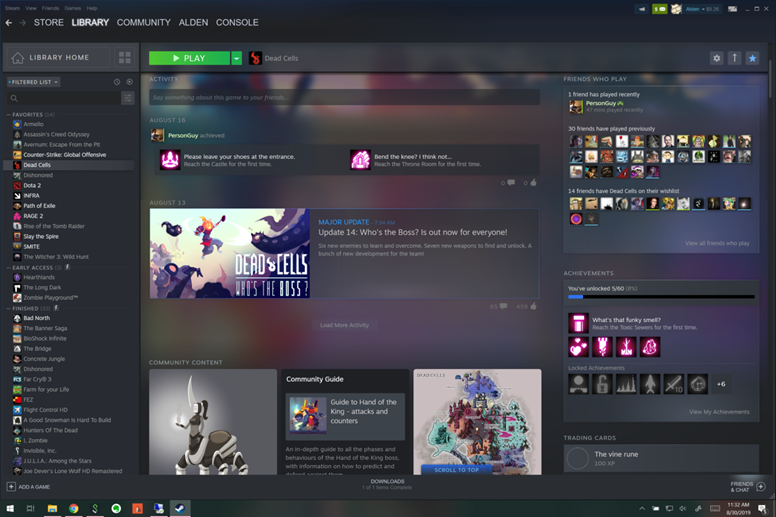 The "Storefront War of 2019" is about to reach its peak as both Steam and the Epic Store prepare for the tidal wave of the year's biggest games to flood the market. With both sides bringing forth secret weapons of their own, Epic unveiling their store exclusives early on in the fight and Steam utilising it's already large player-base to rally against the Fortnite behemoth, there's a conflict that neither storefront has yet to prepare for: Aesthetics. Both Steam and the Epic has issues with readability and user-friendliness but after an announcement last night it seems that Steam is finally taking steps to rectify what has been a long-standing issue with the platform.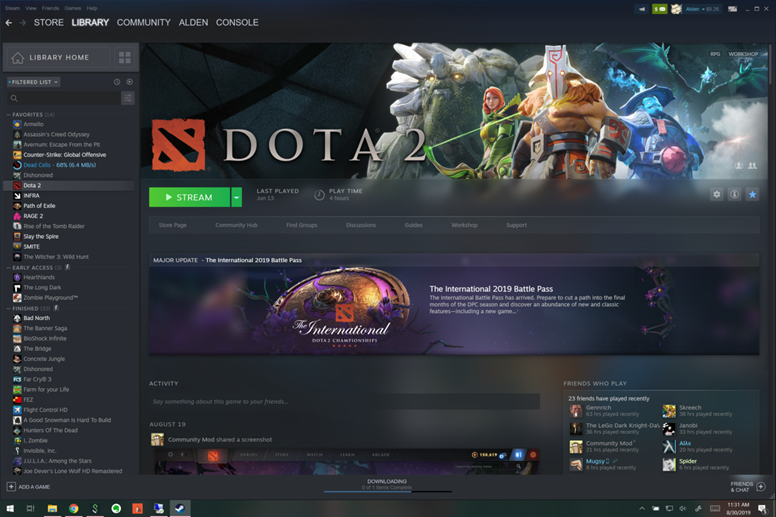 Launching as an opt-in beta on September 17, Steam's library will become not only easier to navigate for users but far less boring to look at. Steam's Library interface has remained largely unchanged since 2003 with the list of games that you own amalgamated into a plain text list on the left of the screen, with the right side highlighting relevant information regarding whatever game is selected, usually consisting of friends who own the game, achievements and news about the title. While it's arguably functional, it's definitely not the optimal way to display one's collection of games. It's difficult to navigate and find a specific title and despite users having the ability to create custom folders for games you'd want to group together but the process is unwieldy at best. Also, it's kinda nice to actually see all the games you own, right?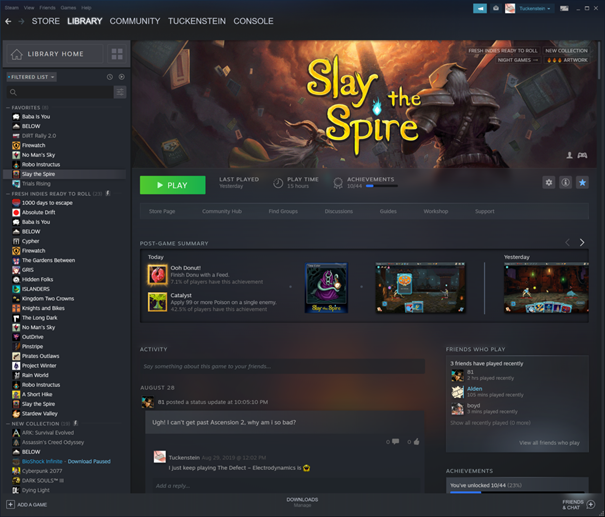 That's the thinking with this library update. Announced a few months back, the latest news coming out of Valve is that the new Steam library is all about being user-friendly. The left-hand column of alphabetically listed games remains largely unchanged, bar the addition of new dynamic sorting technics that allow users to better organise games through specific tags. Users will also be able to create custom folders separate from the widely utilised Steam tags so as to better customise their own library. On the right-hand side, when no game is selected, the screen serves a way to keep up to date with your collection. The "shelves" can be organised based on what you think is most important, but the default will highlight games that have been recently played by you, your friends or have recently received an update. Once a game has been selected, the new tab will close and a familiar breakdown of relevant information on the game will make itself available.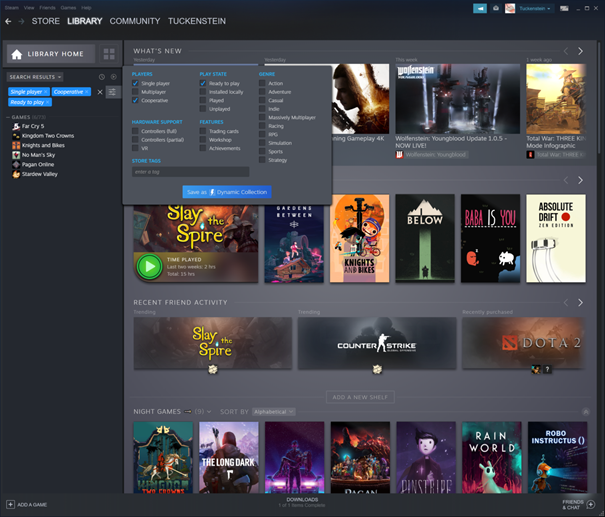 Below these shelves are your custom collections of games, made easily available to peruse with larger thumbnails of the games in each group. Also, to add games into these collections all you need to do is drag and drop them from the left column in an act of mercy so miraculous it's as if God himself decreed it so. Any new games that match the tags set in these collections will be automatically added to the list (and can also be removed if you think they belong somewhere else). I'm not sure how the Steam algorithm will prioritise games with multiple tags, but I suppose that's why you have the option to customise as you wish.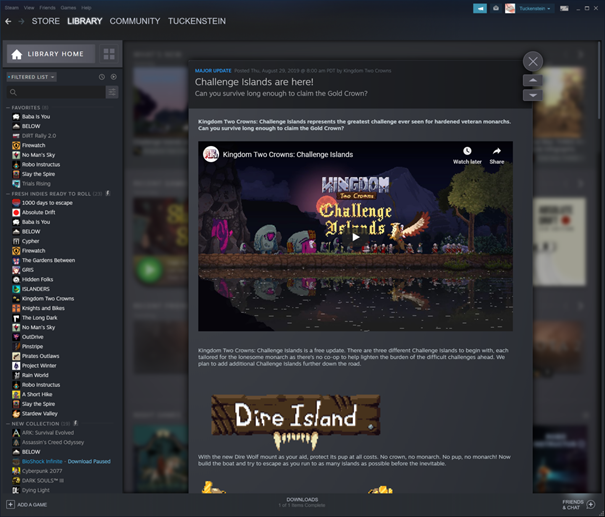 Over and above the usability of this new interface comes what's probably most important: Aesthetics. The new layout will feature some depth-of-field effects and some snazzy 3D icons to really make everything pop. You'll be able to turn these more visually intensive flourishes off if your graphics card asks for a raise or if you just want to save battery life on your laptop.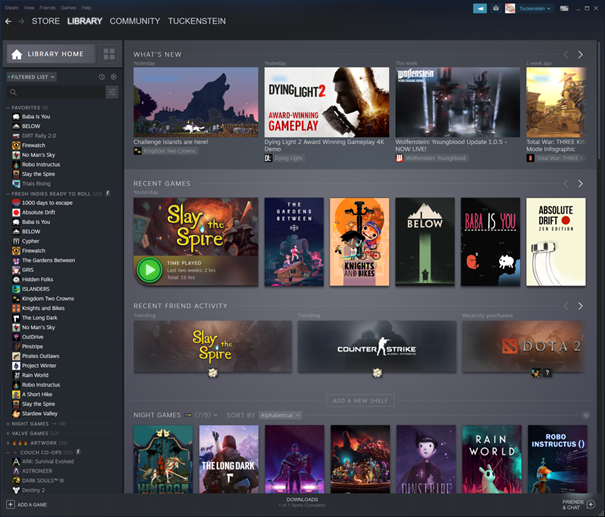 The last new feature added to the library is being billed as Steam Events, a tool for developers to hand-craft content for specific games that included embedded videos of streams, schedule announcements and update on new Steam Store listings. Valve is clearly aware of the potential for publishers and developers to utilise these tools as a means to flood their game's page with unnecessary Steam Events. Speaking to Ars Technica, Alden Kroll, a developer for Valve, stated, "For each player, the Steam Library's posts are personalized based on what they play a lot, recently, and in the past. An update from an unplayed game is less likely to pop up. We're implementing rate limiting to prevent six updates from the same game at the same time. Still, we want feedback from players on this."
The beta for this redesigned Steam library will be going live on September 17th and will be available for anyone wanting to spruce up their dusty ol' collection.
Last Updated: September 5, 2019