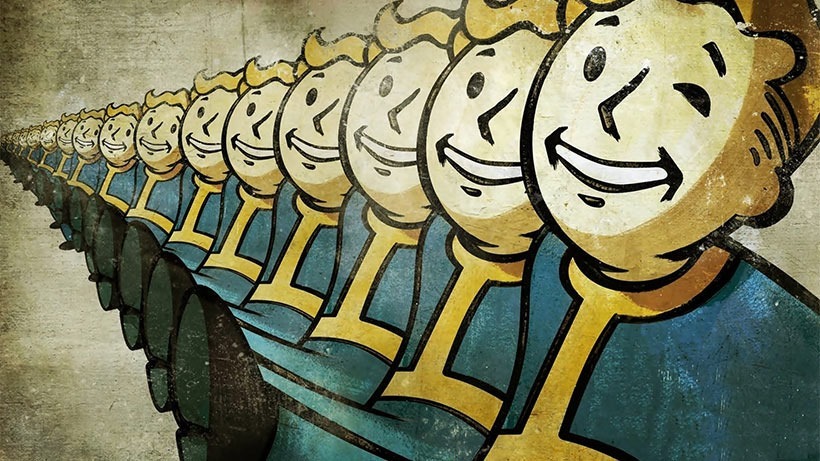 War. War never changes. My underwear, however, does. Frequently  – because I keep soiling myself whenever I see new Fallout 4 stuff.
Fallout 4 is coming- and it's coming in just about  two weeks. Like many of you, I expect I'll be spending weeks in the wasteland, finding stories to tell beyond the ones in the games narrative, thanks to the emergent gameplay stuff. Because I'm just not that sort of gamer though, I doubt I'll wrack up the full set of achievements or trophies for the game. While I understand how many people chase after the things, I don't like having to play any game in a specific way just to earn myself a digital accolade.
If you are that sort of gamer though, you'll be delighted to go through the list of trophies, which you can see below. There are no real spoilers – beyond a few activities, so you can happily go through the list without fear of having the story ruined.
Take a look, courtesy of Exophase:
Platinum TrophyCollect all other 50 Trophies for this Trophy
War Never ChangesEnter The Wasteland
When Freedom CallsComplete "When Freedom Calls"
Unlikely ValentineComplete "Unlikely Valentine"
ReunionsComplete "Reunions"
Dangerous MindsComplete "Dangerous Minds"
Hunter/HuntedComplete "Hunter/Hunted"
The Molecular LevelComplete "The Molecular Level"
The Nuclear OptionComplete "The Nuclear Option"
InstitutionalizedComplete "Institutionalized"
Mankind-RedefinedComplete "Mankind-Redefined"
Powering UpComplete "Powering Up"
Nuclear FamilyComplete "Nuclear Family"
The First StepJoin the Minutemen
Taking IndependenceComplete "Taking Independence"
Old GunsComplete "Old Guns"
Semper InvictaJoin the Brotherhood of Steel

Blind BetrayalComplete "Blind Betrayal"
Ad VictoriamComplete "Ad Victoriam"
TradecraftJoin the Railroad
Underground UndercoverComplete "Underground Undercover"
Rockets' Red GlareComplete "Rockets' Red Glare"
SanctuaryComplete "Sanctuary"
Community OrganizerAlly with 3 Settlements
Benevolent LeaderReach Maximum Happiness in a Large Settlement
Gun-For-HireComplete 10 Side Quests
MercenaryComplete 50 Misc. Objectives
ScavverGather 1000 Resources Used For Crafting
What's Yours Is MinePick 50 Locks
RobCo's Worst NightmareHack 50 Terminals
Armed and DangerousCreate 50 Weapon Mods
Wasteland D.I.Y.Craft 100 Items
Never Go It AloneRecruit 5 Separate Companions
LovableReach Maximum Relationship Level with a Companion
Fix-Er-UpperBuild 100 Workshop Items
Future RetroPlay a Holotape Game
…The Harder They FallKill 5 Giant Creatures
Ranger CorpsDiscover 100 Locations
Print's Not DeadRead 20 Magazines
Prankster's ReturnPlaced A Grenade Or Mine While Pickpocketing
MassholeKill 300 People
Animal ControlKill 300 Creatures
Homerun!Get a Homerun
Touchdown!Get a Touchdown
They're Not Dolls…Collect 10 Vault-Tec Bobbleheads
…They're Action FiguresCollect 20 Vault-Tec Bobbleheads
Born SurvivorReach Level 5
Commonwealth CitizenReach Level 10
Unstoppable WandererReach Level 25

Legend Of The WastesReach Level 50
Prepared for the FutureDecide the Fate of the Commonwealth
Last Updated: October 27, 2015