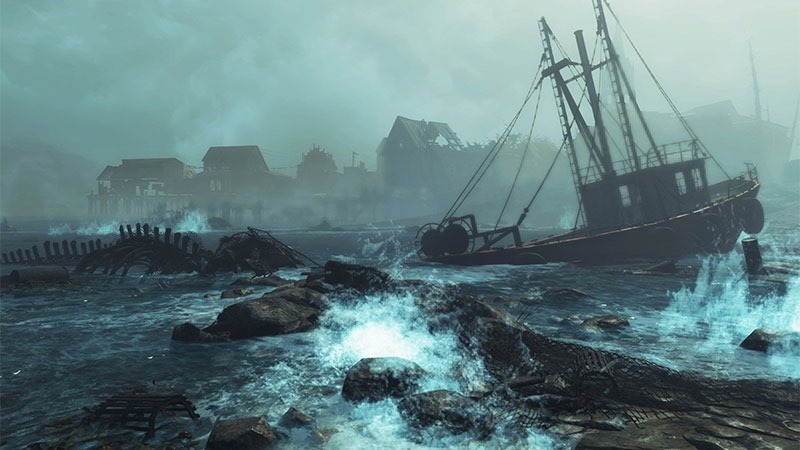 Fallout 4's first DLC, Automatron, didn't quite set the world on fire – even if it did starts a few flames in people's hearts. That's largely because, though it included a few decent quests, didn't really add anywhere new or present a compelling enough narrative.
The game's second bit of proper DLC, Far Harbor (yes it hurts to not put the "u" in there) is out today, and it adds quite a bit of content to Bethesda's dystopian, post-apocalyptic RPG action shooter.
It also wants you to die. Far Harbor, it seems, is not an especially welcoming place. "It's not like walking around the Commonwealth and maybe encountering some pockets of radiation," says Lead Producer Phil Nelson. "The island is radiation."
According to Bethesda, Far Harbor is the biggest digital land mass they've added to a game post launch, so it should even dwarf the Shivering Isles. More than just a new place to explore, it's home to a tougher terrain, and as a result, a more isolated and withdrawn populace.
"Maine has this very rocky, rough terrain and a dramatic coastline," says Art Director Matt Carofano. "We thought the rugged setting should inform how the characters are up there. They need to be more survivalist to live in the colder north, with its harsh environment."
There are new creatures, new weapons, new armour, new puzzles, new perks and even new crafting options. It's out on PC, PS4 and Xbox One right now, and is also part of the Season Pass.
Accessing the content inside the game requires that you've completed the "getting a clue" quest in Diamond City. It's a relatively early quest, so that shouldn't be much of a problem. Once you're past that point, use your Pip-Boy to pick up a radio signal from Valentine's Detective Agency.
That'll set off a chain of events that eventually leads to you taking a boat to Far Harbor. You'll probably want to take Nick along for the ride, as you'll find out a little more about him in Far Harbour.
Last Updated: May 19, 2016