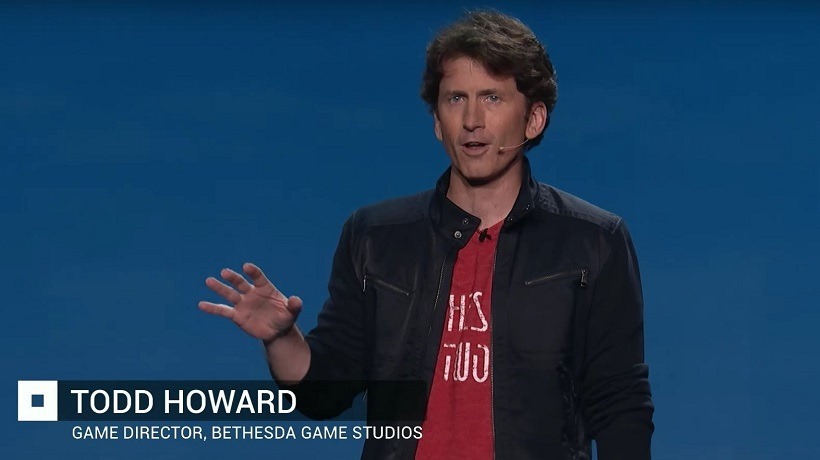 Todd Howard is no stranger to the eyes of Fallout and Skyrim fans, so it goes without saying that his speech at DICE last night was viewed with some excitement. Bethesda in general like to play their cards close to the chest, but everyone in attendance was hoping for a glimpse into their future. A glimpse into what comes after Fallout 4. And Howard offered a positive, if not reserved, sneak peek.
While dodging all sorts of questions about the future for Fallout, Howard confirmed that Bethesda were shaking things up internally. Apparently the studio is looking at new ventures, which have already kicked off with not one, but three new projects already underway. Howard described each one as large, but refused to elaborate further.
"We actually have three kind of longer term projects we're doing that are all—we'll talk about them at a future date—but they're different than anything we've done before, while also being a Bethesda-style game. Big and crazy, but in many ways different than things we've done before. It's an exciting time."
Bethesda have found a lot of success with Elder Scrolls and Fallout titles, but are still seeking to emulate that with some of their other in-house franchises. Having three new projects in development certainly is a surprise, especially since Howard and his team are still hard at work on Fallout 4's large (yet questionable) DLC.
And considering Bethesda love to keep things secret until absolutely the last minute, it's probably going to be a while before we get any sorts of details about any of them.  They might not all be new IPs, but it would be safe to assume that at least one of them is a new venture or some form of experimentation. And that's the game I really want to hear more about.
Last Updated: February 19, 2016