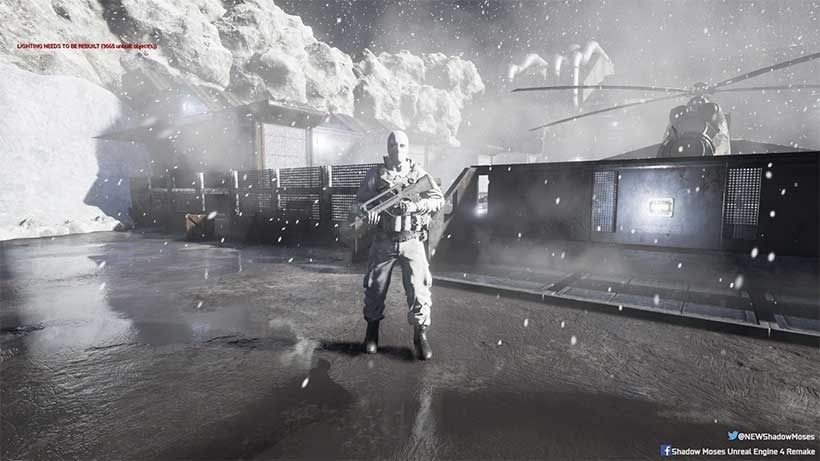 For a while now, a small team has been hard at work remaking the very first Metal Gear Solid in Unreal Engine 4. Called Shadow Moses, the unofficial, fan-built Unreal Engine 4 recreation of the original Metal Gear Solid has looked rather promising.
Back when the first trailer was released in October 2015, the team behind the remake had a message for hopeful, excited fans to help them keep that excitement in check.
"Konami owns the MGS copyright and therefore sooner or later we will need their full permission. We have therefore chosen to openly share this project from the beginning so that we can deal with any issues that may arise as they come.
We believe this is better than putting years of work into a project only to get it shut down."
That sharing may have been for naught anyway. The team behind the remake has unceremoniously shut the thing down, with a simple Facebook message.
"We have to cancel the Shadow Moses Project for reasons beyond our control," the developer said on the project's Facebook page. "We would like to thank everyone for the tremendous support we have received."
It was originally created to function as a bit of a digital museum.
"The first objective of this project was to recreate just the Shadow Moses environments and make a "museum game" to those who wanted to explore the base with current technology," said creator Airam Hernandez on the game's Facebook page. "My surprise was that after a few weeks, everybody was talking about it! So many online magazines started writing articles and I received a lot of messages offering help and support. That's the reason I decided to remake the entire game!"
There's nothing to suggest that Konami or its army of lawyers is behind the project's termination, but it's probably quite likely. In fact, I have no idea who the team thought they'd get this far in the first place. I can't say I'm remotely surprised it's been canned.
Last Updated: March 7, 2016