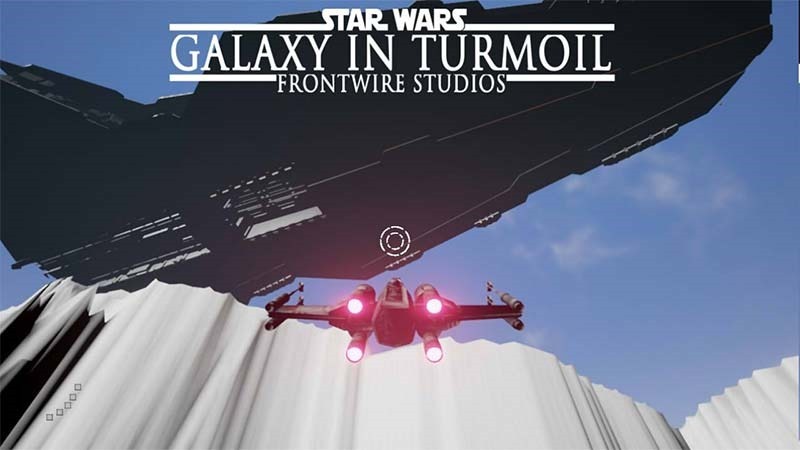 We told you before how Frontwire studios was forging ahead with Galaxy in Turmoil. It's a fan-made Star Wars game that'd fill in the void left by Star Wars Battlefront 3's cancellation. It's a hole that EA's own Licenced Star Wars: Battlefront has, for many, failed to fill.
Last month, we suspected that the game would run in to legal troubles, largely because its creators have no real idea what does or doesn't fall under the terms of "fair use."
Surprise, surprise. It's been shut down. According to Frontwire president Tony Romanelli, Frontwire received a cease and desist from Lucasfilm.
"On Wednesday June 22, 2016, we received a letter from Lucasfilm requesting that we halt production of Galaxy in Turmoil with any Star Wars related IP at once. Rather than laying down at the first sign of trouble, I requested a meeting with the Lucasfilm executives to discuss our project and to find some common ground to work with. Honestly, I didn't expect too much negotiation to occur. But much to my surprise, executives at the top of Lucasfilm agreed to meet. A week later, that meeting took place."
"I was told that Lucasfilm had already spoken with EA about Galaxy in Turmoil and that EA expressed no desire in letting our project continue," Romanelli added. "Their main concern was due to the possibility of Galaxy in Turmoil taking away attention from their Battlefront franchise.

"I tried to pitch the idea about putting Galaxy in Turmoil behind EA's paywall but was told that EA had previously rejected that proposition as well. Due to their exclusive contract with EA, Lucasfilm was contractually obligated to deny our request for the use of the Star Wars IP for Galaxy in Turmoil based on EA's decision. We tried to reach out to EA directly for more information, but we have so far gotten no response."
So the game will still be made, but everything relating to Star Wars will be excised – along with any real reason for Galaxy in Turmoil to exist.
"Going forward, Frontwire Studios will be pivoting away from Star Wars and embarking on a mission to create a new, original game in a never before seen universe. Our game will still have massive 64-player battles, ground-to-space combat, destructible capital ships, and a full single-player campaign. We will also still be releasing Galaxy in Turmoil on Steam as planned and it will remain a free game."
Last Updated: August 1, 2016