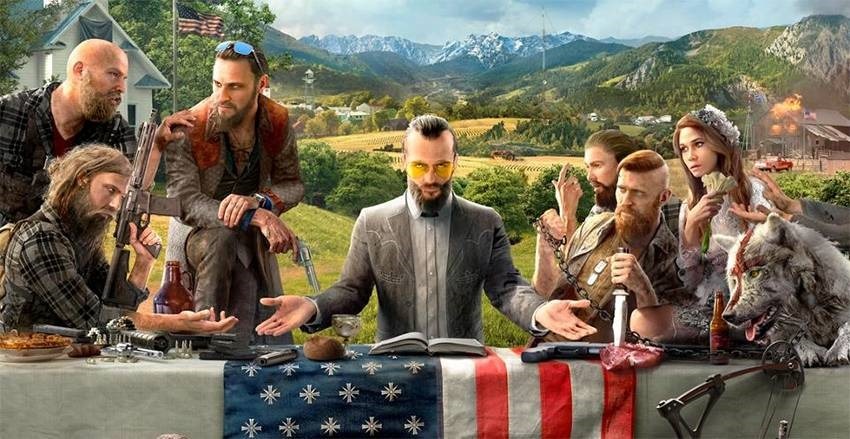 As you might expect given how much most consumers seemed to love it, Ubisoft's open world shooter Far Cry 5was the best-selling game of March 2018 in the US. What makes that especially impressive is that it was released right at the end of March, with just 5 days to reach its place on the podium. To be fair, it didn't really have that much competition in March. That said, it was the best seller on both PS4 and Xbox One, and has become 2018's best-selling game overall, topping Monster Hunter World's numbers.
Rare and Microsoft's Sea of Thieves fared well, racking up enough sales to come in second. As we already know, the game has been Rare's best-selling game to date – and that's without the benefit of Game Pass. Interestingly, Kirby's Switch debut has had a very strong start, coming up fourth. While other releases include digital sales, Kirby's sales do not, so it could in fact place higher.
Amazing, GTA V continues to chart, proving why it's the biggest single media property of all time. Here're the charts.
March 2018:
Far Cry 5
Sea Of Thieves
MLB 18: The Show
Kirby Star Allies – does not include digital sales
Grand Theft Auto V
Call of Duty: WWII
Mario Kart 8 – does not include digital sales
Ni No Kuni II: Revenant Kingdom
NBA 2K18
Monster Hunter: World
Xbox One:
Far Cry 5
Sea Of Thieves
Playerunknown's Battlegrounds
Call of Duty: WWII
Grand Theft Auto V
Monster Hunter: World
NBA 2K18
A Way Out
Tom Clancy's Rainbow Six: Siege
Assassin's Creed: Origins
PS4:
Far Cry 5
MLB 18: The Show
Ni No Kuni II: Revenant Kingdom
Grand Theft Auto V
Monster Hunter: World
Call of Duty: WWII
NBA 2K18
A Way Out
Dragon Ball: FighterZ
FIFA 18
Switch (excluding digital):
Kirby Star Allies
Mario Kart 8
Super Mario Odyssey
The Legend of Zelda: Breath of the Wild
Splatoon 2
Mario & Rabbids: Kingdom Battle
Pokken Tournament DX
Bayonetta 2
Elder Scrolls V: Skyrim
ARMS
Last Updated: April 25, 2018