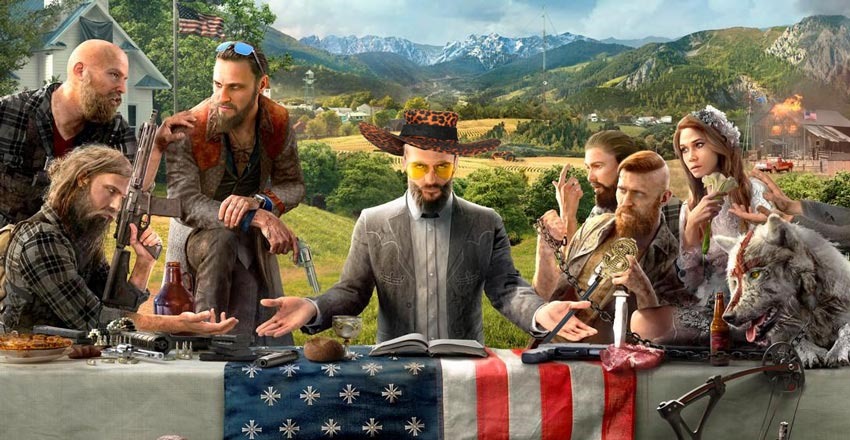 Just over a week after it launched, and how is Far Cry 5 doing? Pretty damn well! Positive reviews, a marketing campaign that was on point and the fact that the game is actually pretty darn enjoyable all added up to huge success for Ubisoft. According to the French publisher and developer via VG247, Far Cry 5 is now the fastest selling game in the series, the second biggest launch for an Ubisoft game and has so far managed to rake in over $310 million in sales from both physical and digital units being moved.
Even when you subtract all the various costs involved in producing, shipping and marketing Far Cry 5, that's still going to leave Ubisoft with a healthy chunk of change in their pocket and an even bigger smile on their face since they managed to tell Vivendi to voetsek. Other interesting stats include:
8651 players have been ambushed by those bastard Pepe le Pew skunk fiends
5.1 million fish caught by master baiters
Nick Rye has been the most popular gun for hire (how?)
Boomer has been the most popular Fang for Hire, thus proving that Tarryn is now double-wrong
177 million people have been saved, and presumably murdered shortly afterwards by a mountain lion
Over 35 million sticks of dynamite have been thrown
You can see more development trivia below, in a handy dandy infographic.

Far Cry 5 is out now on PC, PS4 and Xbox One. If you've ever wanted a first-person sandbox that juxtaposes its heavy themes of violent religious fanaticism with side missions that involve you hunting down livestock for their delicious testicles, then this game might be up your alley.
Last Updated: April 5, 2018